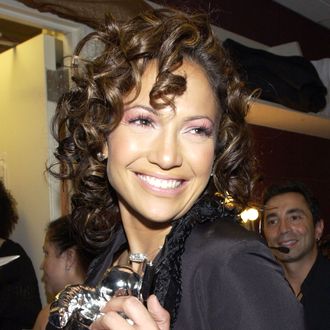 Sorry J Lo. Not this year.
Photo: KMazur/Getty
You're crazy if you think the MTV VMAs have anything to do with actual music videos, but a nod for Video of the Year is still one that most pop stars crave. So surely there's space not only to recognize the work of Beyoncé and Eminem, but also to remember the videos from last year that were actually quite good? We won't go all Kanye on you, but here are some suggestions:
Rihanna, "Pour It Up"
Rihanna got nominated alongside Eminem for "The Monster," which apparently made the "The Academy" forget all about her video for "Pour It Up." This is a shame; it was a masterpiece of jorts and twerking.
Mumford & Sons, "Hopeless Wanderer"
Even if you're not a Mumford fan, you have to appreciate that this music video got Will Forte and Ed Helms to make out. It also featured Jason Bateman and Jason Sudeikis, and was probably the best use of a barn in a music video this past year.
Janelle Monae, "Dance Apocalyptic" (with a nod to "Primetime")
Janelle Monae is always good, and so is this video for "Dance Apocalyptic." It came out last year in July, so it might not be eligible (the rules are unclear), but because she only got nominated once last year, this snub stands.
Metronomy, "Love Letters"
This Michel Gondry–directed video from Metronomy deserves as much (or perhaps more) praise than the latest OK Go video, but it wasn't even included in one of the artsy categories (like Best Art Direction or Best Cinematography).

Bob Dylan, "Like a Rolling Stone" (2013)
Remember that incredible interactive Bob Dylan music video that came out last year? The one that everyone on the internet flipped out over? Deservingly! It was a really cool way to honor the release of The Complete Album Collection, Vol. 1., and a really original way to make a music video. If the VMAs were as "with the times" as they claim, they'd find a way to spotlight videos like this.
Bruno Mars, "Gorilla"
Bruno was one of the stars of last year's VMAs with four noms, but the video for "Gorilla" came in October and might even be better than the one for "Locked Out of Heaven." It's as sexy as the song itself and has a ton of guest-stars.
Jennifer Lopez ft. French Montana, "I Luh Ya Papi"
Robbed.