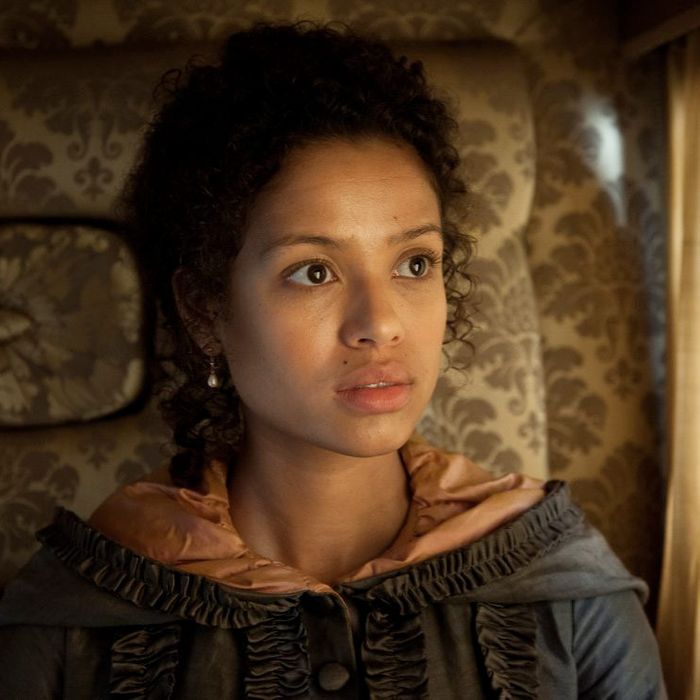 Photo: Fox Searchlight Pictures
As a film director, Amma Asante shrinks from very little — to mount a film of considerable scope, like her hit costume drama Belle, requires a surplus of confidence that the warm and direct Assante exhibits in spades. Still, as she walked up the stairs of Oprah Winfrey's Montecito mansion last May for a garden party that the media mogul threw to honor Belle, Asante clutched the hands of her actors, Gugu Mbatha-Raw and Sam Reid, and began to panic as she drew nearer to her idol. "I remember saying to Sam, 'I can't tell you how nervous I am!'" Asanta recalls to Vulture, laughing. "I think it was a bit disconcerting, because I was their director — I'm supposed to always have it together and have all the answers. Suddenly, it was them holding my hand, telling me, 'It's going to be okay!'"
It's been more than okay for Asante since Belle earned the coveted stamp of approval from the mighty O: This past week, the movie (released in the U.S. on May 2) crossed the $10 million mark, solidifying its status as a summer sleeper hit. Remarkably, Belle earned that eye-popping gross on no more than 525 screens at its peak, and when it comes to specialty releases this year, only The Grand Budapest Hotel and Chef have done better. Indie entries like Under the Skin, Veronica Mars, Obvious Child, and The Rover may have gotten more ink, but when it comes to theatrical runs, Belle has now outgrossed all four of those movies combined.
"Something really special is happening with American audiences, and they are embracing this film in a way that I really couldn't have dreamed of," the British-born Asante told Vulture. "You can't plan for these things. You can only put together a movie that touches you, and hope that once you get it out there, it's going to move other people as well."
The success of Belle is enormously gratifying for Asante, who sparked years ago to the movie's unusual true story and cast rising star Mbatha-Raw as Dido Belle, a mixed-race woman born into an influential British family and raised as an aristocrat in 18th-century England. Dido's provenance presents several challenges: Though she is a wealthy heiress, her suitors and their families don't quite know what to make of her race, even as Dido herself begins to fall for a white lawyer who's several stations below her class. The movie has a mind for political intrigue and delves into the fascinating intersection of racial and class prejudice, but many of its elements (including the lavish dresses, the horse-drawn carriages, and the upper-class courtship rituals) will be familiar to anyone raised on a steady diet of costume dramas and Jane Austen novels.
And while the film clearly succeeded in attracting those moviegoers, Belle's big grosses suggest that additional cross-currents were in play, says Jezebel deputy editor Dodai Stewart. After seeing the film at two Fox Searchlight screenings last spring, Stewart wrote an article for Jezebel entitled, "For a Woman of Color Who Loves Jane Austen, Belle Is a Dream Come True," and she says black audiences have been hungry to see a film like this for a long time, especially since it's directed by a black, female filmmaker (still an unfortunate rarity in Hollywood, though talented up-and-comers like Ava DuVernay and Dee Rees are now making their mark).
"I feel like there are a lot of people out there who probably felt the same way I did, like, Oh my God, this was made for me! These are all the things I want in a movie," Stewart told Vulture. Compared to a harrowing feature like 12 Years a Slave — "Where you know you have to see it," Stewart said, "but you sort of brace yourself because you know it's not going to be the most pleasant thing to sit through" — Belle is the rare period film with a black protagonist that offers swoon-worthy romance and doesn't tip too far into tragedy. "It feels more like a treat that people are going to the movies for," Stewart said.
And Searchlight kept that audience very much in mind during the film's steady expansion. "The theaters we chose, we dug very deeply," said Frank Rodriguez, the studio's senior vice-president and general sales manager. "Instead of just going to traditional art-house theaters, we tried to gain acceptance from the mainstream audience and we tried to appeal — and did — to the African-American filmgoer, who really sought out the film as well." That word of mouth helped Searchlight program Belle in black enclaves where Austen-inspired films rarely screen. "I don't know how many art-film costume dramas have played in Baldwin Hills, for example," said Rodriguez, "but it performed well, and it told us that there's an audience out there who might not normally see this sort of film but they were going to try and come to this. It was unique in the marketplace."
Stewart concurred. "People are underestimating how much black people want to see black people onscreen," she said, "and how much anyone wants to see stories that are not just about white guys blowing things up."
Word of mouth on the film has continued to power high grosses — Rodriguez noted that as the film enters its 11th week in 100 theaters, "We actually had a higher per-screen average than we've had since the sixth week" — and a wave of high-profile Twitter touts from the likes of Winfrey and Shonda Rhimes haven't hurt, either. But it's the tweeted tales of moviegoers who drive two hours out of their way to see Belle that truly move Asante; she was encouraged to get on the social-networking platform by one of her Belle stars, Harry Potter graduate Tom Felton, and she calls it "a gift that he gave me, because it meant I was able to measure the reaction to the movie."
Said Asante, "I started to get these pictures tweeted at me from all sort of people — young black girls, young white girls, old ladies, young ladies — taking their photos next to the poster and then tweeting it to me. People are still tweeting me photos of their tickets today! I get goose bumps. I felt, Surely this isn't normal, is it? Surely this is special? They feel connected to this story in a way that's quite incredible."
And that connection sustains Asante as Belle continues its march into other territories (even as the film makes its home-video bow in the U.S. next month). "It's very exciting to get those tweets from Italy or South Africa saying, 'When is it coming out here? I'm dying to see it!'" Asante said. "One girl said to me, 'I've never been to the theater on my own, but I want to go by myself to see this movie!' And I said to her, 'Go, go! I promise you that you won't feel alone.'"