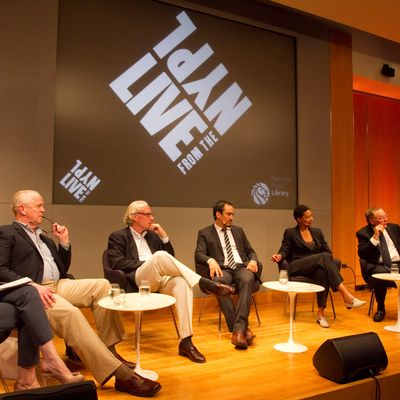 Photo: Chasi Annexy/The New York Public Library
"We are all here tonight because this is an issue that involves all of us, and it involves America, and it involves democracy," said Tina Bennett, the important literary agent whose employer, William Morris Endeavor, had rather hastily arranged last night's sold-out (albeit free) panel at the New York Public Library, "Amazon: Business As Usual?"
It was "a loya jirga for book people," Bennett said. On the agenda was What Is to Be Done — if anything — in the matter of Amazon versus Hachette.
The mix of seven panelists included some broad thinkers — not just Amazon bête noire James Patterson (a Hachette author) and outspoken Grove Atlantic publisher Morgan Entrekin, but anti-Amazon attorney Bob Kohn, "net neutrality" coiner and advocate Tim Wu, and political theorist Danielle Allen. All of them had something informed and levelheaded to say about the e-tailer's increasingly aggressive drive to control publishing.
And then there was David Vandagriff, an attorney and agent for a lot of self-published authors. Amazon refused to send someone to the panel but recommended Vandagriff, who also runs the once-anonymous blog The Passive Voice. "Let me clarify my relationship with Amazon," he said off the bat. "Most of my previous interactions with them have been banging heads with their lawyers on behalf of my clients." All they did was "pay for my plane ticket."
Vandagriff began by pointing out a glaring discrepancy in Amazon's favor: It pays self-published authors 70 percent of profits on their e-book titles, compared to 25 percent from the major publishers — something Bennett agreed was awful. "I wish we could change that tonight, if we could all agree to that in this room." No takers yet.
But then Vandagriff kept saying things. "What do the people who work at Amazon think of when they get up in the morning and go to work? They are entirely, completely focused on pleasing and delighting the people that shop there." When Bennett asked what the company, after killing off publishing, would do to fund "heroic nonfiction" that requires "venture capital" (i.e., large advances), Vandagriff suggested Kickstarter, which got a few chortles out of the well-behaved room. "Amazon's e-commerce platform is a world of sublime genius," he said later, in the course of explaining how its search function is completely transparent and fair — never mind that the company has openly admitted to understocking Hachette books and leading customers to alternatives.
The panelists first debated how dire the situation was on a DEFCON-style scale of 1 to 5. Entrekin, as a smaller publisher, was relatively sanguine (3), praising Amazon for spending millions on a "smooth transition to digital" and "allowing us a living margin for the time being." The question was whether that would keep happening, and why either publishers or writers — the purported focus on the panel — should trust a company whose CEO had advocated approaching publishers the way a cheetah would approach a gazelle. Patterson, provider of the evening's comic relief, agreed it was a 3 for now, but added, "If it hunts as a cheetah, if it bites as a cheetah, if it calls itself a cheetah, it's a cheetah."
Wu (4) gave the larger perspective on Silicon Valley, a collection of budding monopolist "adolescents" who need to be taught to grow up (probably via regulation). Bob Kohn (5) condemned the Department of Justice's ruling against the publishers for colluding against Amazon, leading Wu to mutter, "they made the small mistake of fixing prices." Wu instead suggested the FTC should get involved, on the grounds that Amazon was deceiving customers into thinking its search algorithm was fair.
Everyone acknowledged the elephant in the South Court: The public was not with the publishers. "Amazon has an argument that is very simple but apparently strong, and one that a lot of people have bought into," said Kohn, "and that is that consumers are always better off with lower prices." But he and Wu argued that books weren't just commodities — not even legally. We could have played a drinking game with products they said books shouldn't be compared to: rubber boots, cheap plastics, ball bearings, bicycle helmets. Entrekin and Bennett argued, primarily, for the right to be inefficient — to overpay writers as a form of "research and development," hoping some obscure foreign novelist becomes the next Borges. But even after an audience member came up to ask, "How is Hachette going out of business bad for readers?" the best Bennett could do was: "The book has to exist." Which is a great point, if you understand or care about how publishing works.
While the industry waited for consumers to catch on to the dangers of monopoly, and Amazon's stand-in tried, Amazon-like, to monopolize the conversation, the company itself came out with its first on-the-record statement about Hachette. Senior vice-president Russ Grandinetti talked to TheWall Street Journal's Jeffrey Trachtenberg for a piece that went up less than an hour before the talk. He confirmed, as suspected, that the dispute was over e-book pricing, and he conceded that Amazon was making a calculated risk. But it was willing to let its reputation suffer in the short term to keep prices low "in the long-term interest of our customers." It wasn't the world's strongest argument, but it was pretty simple.
The loya jirga may not have settled on how to convince customers otherwise, but it did manage to puncture what Bennett called "a kind of ominous silence" among publishers fearing for their business. "I don't know if it will make a difference," she said. "But it might make us feel a little better."