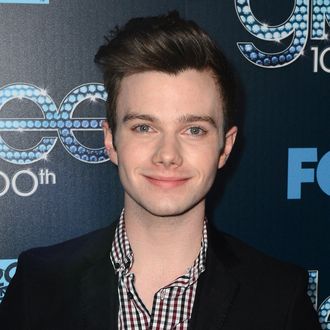 R.I.P. Kurt Hummel … Maybe.
Photo: Mark Davis/Getty Images
Chris Colfer is not leaving Glee. According to the actor's manager, his Twitter account was actually hacked by someone who thought it'd be a fun pre–Independence Day prank. But that doesn't mean we each didn't have 20 glorious minutes imagining how Ryan Murphy might get rid of Kurt Hummel. His years on American Horror Story qualify him to do something spectacular. Here are our suggestions:
1. Brad the Piano Player finally grows some balls after being bossed around by a bunch of teenagers and kills him. With the piano. It falls on Chris's head.
2. There was a joke/real rumor that Ryan Murphy was going to send Kurt to Russia. Maybe they'll actually just send him to Russia, where he gets into an unfortunate situation with the Russian mafia.
3. Rachel and Kurt's friendship-slash-rivalry finally edges itself firmly into the dark side when Kurt is cast as Fanny Brice in the made-for-TV movie version of Funny Girl. Rachel poisons him with cookies that read "I"m sorry."
4. Mike Chang accidentally kick-flips him in the face during a complicated dance move and he smashes his head into something hard.
5. Turns out the New York Academy of the Dramatic Arts (NYADA) was just a front for an elaborate drug-smuggling ring. The students are all sent to Thailand on a "trip" and Kurt ends up in jail. Forever.
6. Tina Cohen-Chang finally gets what she's wanted all along: She murders Kurt (smashes him over the head with a William McKinley High tuba) to finally be with Blaine.
7. Did someone say crossover? Marie Laveau from American Horror Story: Coven magically appears and Kurt ends up the victim of a Voodoo spell.
8. Kurt and Mr. Schue's long con finally pays off: After years of secret flirtation, they off Blaine together and escape to Maine to live as lobster catchers. (Until Kurt gets trapped in some netting and drowns in the Atlantic.)
… Or! 9. Fiancé Blaine discovers that Kurt has been cheating on him with Mr. Schue all along. He strangles Kurt with a bow tie.
10. Fox executives trick Chris Colfer into signing documents that bind him to Glee and Fox forever. They turn him into a zombie and create a Glee zombie spinoff hit called The Singing Dead, in which Kurt exists as the teacher of a group of misfit zombies who have to work together to find their voices to really live.
11. Kurt is just replaced by a different actor with no explanation.