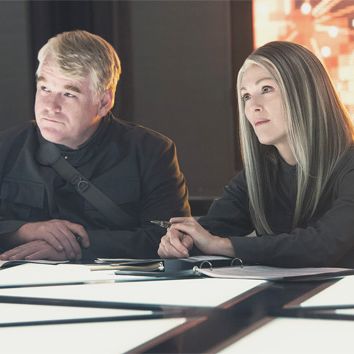 Are you completely obsessed with those effective teasers for The Hunger Games: Mockingjay, Part 1 that feature a brainwashed Peeta (Josh Hutcherson) and Johanna (Jena Malone), dressed all in white with distressingly blank looks on their faces? Then you'd better get your fill of both those characters while you can, because the brand-new trailer for Mockingjay that just debuted at Comic-Con doesn't feature Peeta or Johanna. In fact, it barely shows our heroine, Katniss (Jennifer Lawrence).
Lionsgate didn't book a Comic-Con panel this year, but what the studio set up to tout the new trailer might be even better: Alongside sponsor Samsung, they've built a Capitol space in San Diego's Hard Rock Hotel where fans can design Hunger Games shirts and other apparel, mingle with some truly weird Capitol cosplayers, and pose alongside spinning holograms of Peeta and Johanna. (I offered holo-Peeta my Cronut, but he was unresponsive; the Capitol must have him on a no-carb diet.) Once they've gotten their fill of the Capitol lifestyle, fans are ushered upstairs to check out the brand-new trailer in advance of its general release on Monday.

What they'll see — and you soon will, too — is a well-executed tease. The trailer begins not long after Catching Fire left off, with Katniss, Haymitch (Woody Harrelson), Plutarch (Philip Seymour Hoffman), and Beetee (Jeffrey Wright) spirited away to a rebel stronghold, where the latter two men confer with rebellion leader Alma Coin (Julianne Moore). "No one else can do this but her," Plutarch tells Coin, referring to Katniss — but Coin is skeptical that the Hunger Games victor can be of any help to her rebels. "She won't be able to handle it," sniffs Coin. "The games destroyed her."

Meanwhile, Snow and his minions seek to quell the uprising, sending baddies into the forest to pursue the rebels, who climb up trees to escape. "Any association with the Mockingjay symbol is forbidden," Snow intones gravely.

As for Katniss, we've only gotten brief glimpses of her throughout this minute-long trailer, and they're all shot from behind as she tentatively enters a bunker full of rebels, dirty faces looking up at Katniss. Her reputation has proceeded her. "Are you fighting, Katniss?" asks one hopeful rebel. "Are you here to fight with us?"

Finally, we get a hero shot of Jennifer Lawrence, her eyes wide and her manner resolved but haunted. "I am," answers Katniss. "I will."

And that's it! You'll be left wanting more, but that's been a classic marketing strategy throughout this series — remember, the trailers for the first two movies always cut off as the games began. Something a whole lot bigger is beginning in Mockingjay, Part 1, but you're going to have to wait a little longer to find out exactly what.