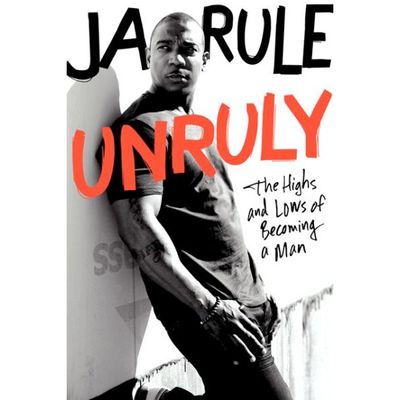 At its base, the celebrity memoir is a form of service journalism: Do we, the insatiable public, get to know a celebrity's inner life? Ja Rule's memoir Unruly, which came out earlier this week, is significantly better than others Vulture has read this year because it does just that. Interspersed with journal entries from his recent stint in prison, Ja Rule, born as Jeffrey Atkins, talks openly about his violent beef with 50 Cent, his absent father, and his days hustling as a drug dealer. He also mentions the following songs, which have worked as mileposts in his life.
1. James Brown, "The Payback"
2. The Tavares, "She's Gone"
His mother, Debra (whom he simply calls "Moms"), met his father, William Jeffrey Atkins, a baker from Queens, at a party where these songs played in 1974. While their courtship was smooth (they got married within the year), his father went off the rails, doing drugs and beating his mom. She decided to leave him when Ja Rule was 4 years old, leaving him without a strong father figure. It's a question that he revisits throughout the book as he becomes a father himself at the age of 19: How does each generation keep from repeating the sins of the one that preceded it?
3. N.W.A., "Fuck tha Police"
Ja Rule sang this song with his friends when they ran out with the food from a Chinese restaurant without paying. "We wanted the Chinese man to know that we weren't scared even if he did call [the police] on us." The illegal behavior ran deeper than this: He robbed houses, held up a pizza man at gunpoint, drank 40s, smoked weed, and sold drugs before he was 18.
4. Boogie Down Productions, "Love's Gonna Get'cha (Material Love)"
Ja Rule says that the music video of a junior-high-school kid going from a nobody to a somebody through dealing drugs told "the story of my life and the life of everyone that looked like me." Dealing was a no-brainer as a way to get out of poverty. At first, he and his friends sold crack vials with shavings of Ivory soap for $5. Soon, Ja would quit school and work the morning shift in the neighborhood, pulling in $1,000 a week. He kept recalling the line from the song: Tell me what the fuck am I supposed to do?
5. Rick James, "Mary Jane"
Self-explanatory.
6. Ja Rule, "Story to Tell"
This is the song that Ja does for Irv Gotti — then known as DJ Irv, before Jay Z christened him Gotti after the (in)famous mobster — and eventually what gets Irv interested in working with Ja Rule. Gotti suggests he get together and form a group with O and Chris Black. They signed a contract with Steve Gottlieb at TVT, who had success with Mic Geronimo's "Shit's Real." But Black got arrested soon after they signed, and Gottlieb kept them in a holding pattern for the next five years. According to Ja Rule, TVT "could have been Def Jam," but was clueless and passed on a lot of nascent hip-hop artists like Dr. Dre, Snoop, Jay Z, and DMX.
7. Jay Z ft. Foxy Brown, "Ain't No Nigga"
Ja met Foxy Brown, whom he said "embodied all the things that the hip-hop world was fiending for," at the Q Club in Queens. She asked him to come over and chat because she knew about his group's song "Get tha Fortune," and they exchanged numbers. She called him up and set up a meeting for him with Lyor Cohen at Def Jam, which eventually started his career.
8. Jay Z ft. Amil and Ja Rule, "Can I Get A …"
Ja Rule says that he wrote "Can I Get A …" for his own album, but because he couldn't get out of his contract with TVT, he gave the song to Jay Z as long as he could be on the track, and if he would also guest later on "Kill 'Em All." For the music video, director Brett Ratner saw Ja Rule doing push-ups and asked him, "What are you like under there?" and suggested he take off his shirt. "That was the night I became Ja Rule, not the guy on J's record. It gave me an identity. After that I don't think I ever put on a shirt again."
9. Ja Rule, "Holla Holla"
"Holla Holla," the lead single off his first album, Venni Vetti Vecci, propelled him to stardom. The album went platinum and got him on the Hard Knock Life Tour, which included DMX, Jay Z, and Method Man, among others. Ja Rule felt the tour and the stage were vindications of black manhood. "When we're on that stage, everybody wants to be us and be with us." He writes that he gets why Kanye West can claim godhood. "I get it. I understand the feeling. But people are not comfortable with a Black man calling himself God … What's wrong with Kanye saying that. Aren't we all God's children."
10. 50 Cent, "Life's on the Line"
From Ja Rule's contention, the beef started because he had asked Black Child to be on his record over 50, which supposedly prompted 50 to make the dis song "Life's on the Line," in which he raps, "Murder, I don't believe you" (referencing his company, Murder, Inc.). Ignorant to the goings-on between the two, a promoter booked 50 as the opening act for Ja Rule at a show in Atlanta in 2000. When Ja confronted him about it, 50 kept "copping more pleas." Ja called him a "bitch-ass nigga" and says, "I don't know why, but that set me off." 50 tried to punch him, but he missed, and then Ja Rule began to wail on him with a Louisville Slugger (he had a bat?), and he and his crew beat him up while 50's crew ran off. "I was young and reckless and didn't give a fuck," he writes. "When provoked, there is no turning me off. That's what Moms used to say about my father."
The beatdowns would keep coming, as well as the dis tracks. Eventually he had a conversation with Louis Farrakhan, who said he had to "think more broadly about the impact of two successful Black men publicly arguing." After the conversation (50 Cent was originally supposed to be there, too, but he was a no-show), Ja Rule says, "My nonsense felt weak in the face of his clarity."
11. Ja Rule ft. Lil Wayne, "Uh-Ohhh!"
When Lil Wayne performed at the Beacon Theater in New York, he did a surprise performance of "Uh-Ohhh!" which was on Ja Rule's independently released album, The Mirror. Afterwards he got pulled over for speeding, and they searched a car and found a gun in the side compartment. Not incidentally, Lil Wayne also got arrested that same night for the same charge. That plus a tax-evasion charge forced Ja to turn himself in. He got 26 months to run concurrently, which only happened after he gave a tearful speech to the judge to let him out in time to see his firstborn, Brittney, graduate from high school:
"Your honor, I never graduated from high school. I dropped out in the 11th grade. That has been a shame that I carry with me to this day. My moms, who you see behind me, has never gotten to attend a high-school graduation except for her own. I'm her only child. My sister was stillborn in 1982. I have disappointed my mother and my family too many times. I worked so hard for years so my own children could stay on the right track. I was crazy before but I now understand how important education is. It's the least I can do for my children."