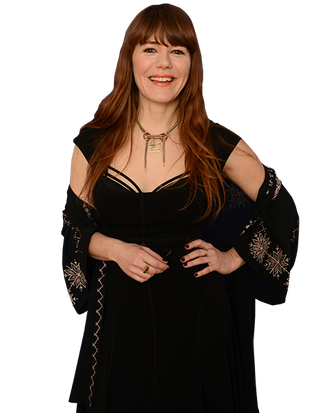 Photo: Larry Busacca/Getty Images
Jenny Lewis has always been a bright voice in a sea of downers. She's moved on from her child-star beginnings (The Wizard!) to become a force for good in the indie scene with Rilo Kiley, and now with her solo career. Lewis is one of the more theatrical songwriters this side of Dolly Parton, and her sugary delivery of even the most heartbreaking lines (e.g., "Crawl back into bed to dream of a time / When your heart was open wide / And you loved things just because / Like the sick and the dying") elicit visions of sunbeams and sparkles. Lewis's latest album, The Voyager, is out this week, and since it features some of her most mature, insightful, and humorous work to date, Vulture had to call her up for a chat.
You've been wearing that fantastic rainbow blazer and white pants, all designed by artist Adam Siegel, on tour this time. Why did you go with a full suit when you're mostly playing outdoor festivals all summer?
That is a good question, and I will certainly pay the price. It was a little warm at Governor's Ball, I must say. I didn't plan on taking off my jacket, but I had to. Luckily I had, like, a weird white tank-top on. I was gonna faint in there if I didn't take off my jacket. I need to have some escape-hatch plan, like some Velcro.
Or a little miniature fan inside, pointed up at your face.
Right. But that's always what happens … you plan a record so far in advance of its release. I was plotting this shit in January [thinking], Yeah, it'll be great! And then there's Lollapalooza [next weekend], where I'll have a stroke in a rainbow suit.
Didn't something similar happen, only in reverse, on Rilo Kiley's Under the Blacklight tour in 2007?
Yeah, I was scantily clad for that.
Did you purposely plan the release of this album so far in advance, or was it a "this is as soon as it can come out" thing?
I think it always takes longer than you want it to. As an artist, you're so excited about your new material, you just wanna get it out there. But you have to wait at least four months — unless you're Beyoncé, of course. Then you can just drop that shit overnight and crush the universe.
This record took a while for you to release, right? I imagine songs like these are the kind of things that take time to take shape.
And life, sometimes, takes time. You have to separate your personal struggles from your work, and you have to reflect on your life. It's a weird, funny, blurred line, you know? … Not to reference Robin Thicke. [Laughs.] But, you know, taking care of yourself when you have to, when there's pressure to keep going as an artist but also as, like, a mini-business.
It's weird that your emotions are basically a business, and that you have to wait for them to happen and process them before you can actually continue with your career.
It's kind of fucked up.
You've said that Ryan Adams, who produced The Voyager, kind of hijacked the record when he came in. How long had you been working before he took over?
Years! I'd been working on it for years. And he hadn't heard anything. He didn't want to hear it. I didn't play him anything I'd been working on. He hadn't heard any of the songs. He didn't care to hear it. He just took it. We were only supposed to record one song at [his studio] PAX AM, but by the end of the day he asked if I wanted to re-cut my whole record with him … so I did.
That's a very boot-camp sergeant situation.
Yeah. Like pinball-playing boot camp.
What, was there a lot of pinball playing going on?
Oh, he's a big pinball-machine collector. All the machines, I don't even know, I'm the worst.
Did you know there's actually a map of all the pinball machines and bars in New York? Did you know there was a big pinball community here?
No! Do you mind actually sending that? I want to forward that to Ryan, he'd be stoked.
To each his own, I guess.
Everyone's gotta find something to collect, right?
So what do you collect?
I used to be a huge collector, and my big thing was stickers. I had a book filled with Lisa Frank stickers — which kinda brings it back around to my album art, actually.
Yeah, wait — The Voyager is a really mature album … but all the art is girly rainbows.
That's what Adam [Siegel] came up with, and luckily it resonated with me as like an 8-year-old girl. I think also there's things that you reject in your teens that you liked when you were a little kid. If things were too girly, at least for me, I was a tomboy, so I could never admit that I actually liked My Little Pony. But I'm in my 30s, and [at this age], you just kind of return to the things that were a little bit magical and mystical.