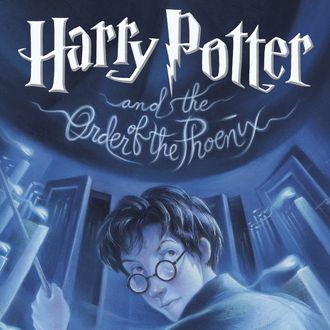 J.K. Rowling has written a new where-are-they-now update about the beloved members of Dumbledore's Army, including Harry, Ron, Hermione, Neville Longbottom, Luna Lovegood, and various members of the Weasley clan. Over at Pottermore, where the saga of the Wizarding World continues, the Quidditch World Cup is underway, and Rowling's update comes as gossip columnist Rita Skeeter's latest screed in the Daily Prophet:
… [Harry] Potter took his young songs James and Albus to visit the players' compound, where he introduced them to Bulgarian Seeker Viktor Krum.

About to turn 34, there are a couple of threads of silver in the famous Auror's black hair, but he continues to wear the distinctive round glasses that some might say are better suited to a style-deficient twelve-year-old. The famous lightning scar has company: Potter is sporting a nasty cut over his right cheekbone. Requests for information as to its provenance merely produced the usual response from the Ministry of Magic: 'We do not comment on the top secret work of the Auror department, as we have told you no less than 514 times, Ms. Skeeter.'
Ginny Potter, née Weasley, has been the chief Quidditch Cup correspondent for the Daily Prophet, and has been filing updates since mid-April, in case you were wondering how the various Quidditch teams of the world have been faring. Also present in the story are Ron and Hermione; Ron's "famous ginger hair is thinning slightly," and Hermione is the deputy head of the Department of Magical Law Enforcement and "is now tipped to go even higher within the Ministry." Neville Longbottom is still "a popular herbology teacher" at Hogwarts, Luna Lovegood is "still delightfully eccentric," and Charlie Weasley is "still unmarried." Notably absent from the update is Draco Malfoy, but maybe he doesn't get to attend big sporting events.
In smoochier news, teenagers Teddy Lupin and Victorie Weasley (daughter of Bill Weasley and Fleur Delacour) have been spotted "snogging" at the tournament, which means a whole new strain of fanfic has officially been born.