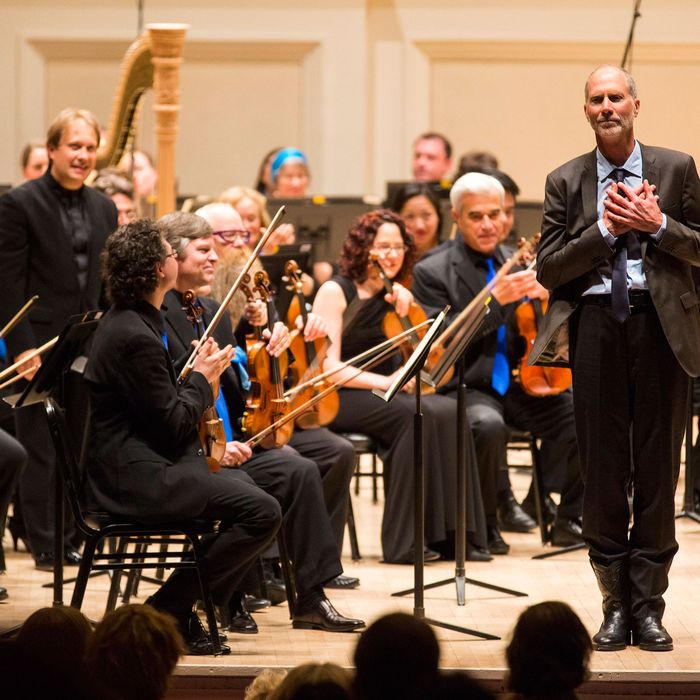 John Luther Adams joins the Seattle Symphony onstage at Carnegie Hall in May 2014.
Photo: Chris Lee
If you happen to be crossing the Lincoln Center campus around 6 p.m. on July 25 or 26, you may pass a group of barefoot singers standing ankle-deep in the reflecting pool. If you don't just shrug off the sight as another inexplicable oddity of life in New York City, you might look up and notice a formation of woodwind players lined up along the edge of the floating lawn. If your timing is right, you may feel a low B-flat rumbling up from the earth, or sense a rain of brass sounds falling from atop the Vivian Beaumont Theater, or find the string players stationed among the trees; and at that point, it may dawn on you that you have wandered into a deliberate musical event.
On a sweltering afternoon, the lanky composer John Luther Adams, is sitting in the shaded grove alongside the Metropolitan Opera, wearing a straw hat and sunglasses, eating a gelato, and listening to an ambulance siren shred the steamy quiet … well, relative quiet, anyway. The flanks of the Met, Avery Fisher Hall, the Vivian Beaumont, and the Lincoln restaurant enclose the space almost nobody knows is called Hearst Plaza, and they block out the worst of Manhattan's din. But it takes only a few seconds to start cataloguing the urban orchestration that will thread through the world premiere of Adams's Sila: The Breath of the World, commissioned by Lincoln Center for  the Mostly Mozart Festival and Lincoln Center Out of Doors. Eighteen-wheelers thunder up Amsterdam Avenue, buses down Broadway, and a motorcycle whumps along West 65th Street. Phones ring nearby, a helicopter chukka-chukkas overhead, a group of kids shouts in the middle distance. Adams doesn't wince.
"During the performance, if that siren mixes with a high-string tremolo, it might actually amplify the beauty of both sounds," he says. To prove his point, he tells an anecdote about attending a street festival in Chiapas, Mexico, where a trio of old men kept plucking softly away on their tiny guitars while a brass band marched by and teenagers set off homemade explosives. "That counterpoint of extremes made the music that much more beautiful," Adams recalls.
The composer is more curious than concerned. He has not, he acknowledges, "reached the plane of consciousness" necessary to enfold the city's soundtrack into his conception of the music, the way John Cage might have done. He would, on the whole, prefer listeners to hear the notes he wrote than the chance cacophony all around. "I don't know how fragile it is yet," he says.
That's partly because Sila is actually five separate scores — one each for strings, winds, brass, percussion, and chorus — that can be performed concurrently in any combination, from one section at a time to all five together. "If you just perform it with strings, then it's pretty delicate, like a Japanese rock garden," Adams says. But gather the whole thing into an ensemble that is 80 strong, and the result should be able to hold its own. "There's a lot of sound in this piece."
Adams is just getting used to city noise. He spent decades living on a hillside in Alaska, listening to winter winds and springtime fauna. Though his music comes from nature, he has mostly written it to be heard in the acoustic swaddling of a concert hall; the Seattle Symphony Orchestra performed his latest hourlong symphonic work, Become Ocean, at Carnegie Hall, just weeks after it won the Pulitzer Prize. A few years earlier, he ventured outdoors for Inuksuit, in which percussionists colonize a park, mingling their drumming, crashing, and tolling with the local repertoire of noise. That piece has turned out to be both popular and robust — and, the composer claims, doesn't really work indoors.
Sila is different. Whether separately or together, all five groups follow a slow, hourlong climb from that tectonic B-flat to a stratospheric breeze of sound. Adams specifies that performers stick to the precise microtonal tunings of the natural overtone series, not the standard approximations normally used to tune a piano. Recently, he heard the vocal group the Crossing rehearse their section in a Philadelphia church, and he was thunderstruck by the sound. "There's a formality to Sila that I didn't appreciate until then," he says. "It felt right in a church. How will it work in a big noisy public space? Dunno. But that uncertainty, that danger, is part of the fun. Composition is a continuous process of risking failure."