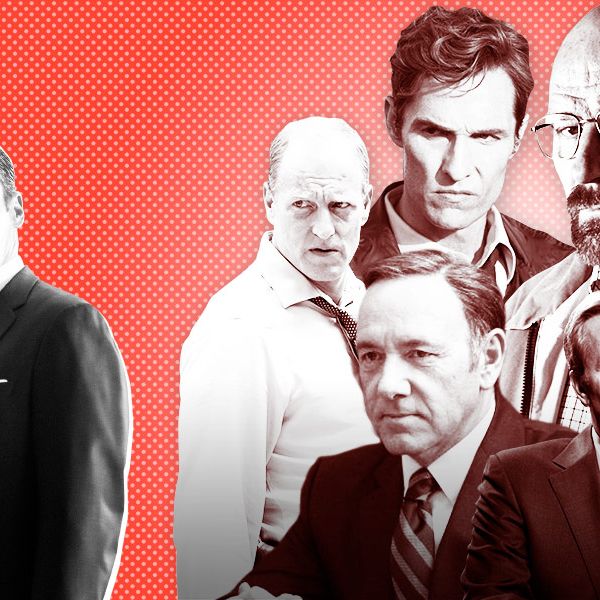 Photo: Maya Robinson and AMC, HBO, and Netflix
Emmy nominations were announced this morning, and Jon Hamm has again been nominated for outstanding lead actor in a drama series for his riveting work on Mad Men. This is his seventh nomination in the category, and the nods are all richly deserved. Except …  Jon Hamm has never won. (He's been nominated three times for his guest work on 30 Rock, too. And he didn't win those times, either.) Might this be his year? Let's look at the competition.
Bryan Cranston, Breaking Bad
Why Cranston might win: Emmy voters have been in Cranston's corner since the get-go. His first win for his portrayal of Walter White came in 2008, when BB was not on many people's radar, and he won twice more since then. This is Breaking Bad's final hurrah, so voters might be swayed by the fact that this is their last chance to honor the one who knocks. Plus, in this final arc of episodes, Cranston was terrifying, vulnerable, manipulative, and resigned — and sometimes all four at once. When you think of what lead actors in TV dramas were asked to portray this year, he might have had the hardest to-do list.
Why he might not: Well, he hasn't won since 2010. Since then, Kyle Chander, Damian Lewis, and Jeff Daniels have all beat him. Maybe voters have adopted a more "share the wealth" approach.
Jeff Daniels, The Newsroom
Why Daniels might win: He won last year. (No, that shock has not yet worn off.) The Newsroom is one of those shows that Emmy voters are looking for ways to honor because it seems like an Emmy-bait show — HBO and Aaron Sorkin and the soaring music and the rhetoric about America, etc., etc. It sort of just feels inevitable for someone from that show to win something, and if it's gotta be someone, it might as well be Daniels.
Why he might not: Because The Newsroom is not very good, and Daniels's Will MacAvoy could be described as "like Keith Olbermann, but shoutier and with more self-regard."
Kevin Spacey, House of Cards
Why Spacey might win: Like The Newsroom, House of Cards really seems like an Emmy kind of show, and Spacey's a serious actor with a lot of cred built right in — even though in this race he feels sort of like an underdog, which could endear him to voters. His Frank Underwood is kind of evil, something voters have been drawn to in the past; but he's also entrancing. And he talks right to us!
Why he might not: Spacey's great and all, but watching the show, it's hard not to think that Robin Wright is really more of the star.
Woody Harrelson, True Detective
Why Harrelson might win: True Detective picked up 12 Emmy nominations, and the series might as well have come in a box stamped "Prestige Show." Harrelson's tortured, violent Marty Hart grounded the entire series, bouncing between scary snarls and snappy zingers, but holding everything together while the rest of the show swirled around him. Plus, this is his one and only chance to win for the role — so voters might feel a sense of urgency.
Why he might not: He and McConaughey could split the TD votes. Or voters could realize that True Detective is a goddamn miniseries and shouldn't be competing in this category at all, and thus punish Harrelson, McConaughey, and HBO for category-fudging.
Matthew McConaughey, True Detective
Why McConaughey might win: Have you heard people quote that "time is a flat circle" line? Yeah, so has everyone else. The McConaissance is a powerful force, and Emmy voters could get swept along by its current. Also, McConaughey was fantastic on TD, making a lot of the dreamy — bullshitty? — dialogue for Rust Cohle seem worthwhile and even profound. He can play super-scraggly drunk hobo and super-skinny clean-cut sad cop with equal aplomb, and Emmy voters can only praise that this one time.
Why he might not: Alright, alright, alright, same reasons as above: True Detective should be competing in the miniseries categories, and voters might reasonably be split between Harrelson's and McConaughey's performances. Some people are impressed by the guy flying the kite, and some people are impressed by the kite itself.
So where does that leave Hamm? Same place as always: as a very worthy contender who is probably still going to lose. He had a strong season, though compared to other Mad Men outings, this wasn't the craziest year for Don — we've seen Hamm do heavier lifting. He'll have another chance of being nominated (or even winning) next year, with Mad Men's final season, at which point Cranston, Harrelson, and McConaughey will be out of the running. Let's call it now for Hamm in 2015, folks. Long-awaited victory will feel twice as sweet.