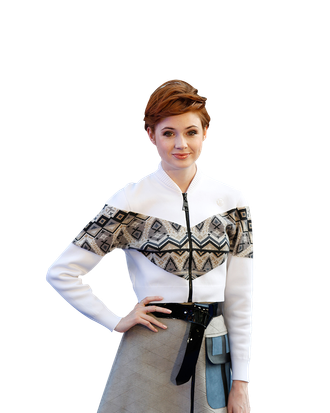 Karen Gillan.
Photo: Tim P. Whitby/Getty Images
Scottish actress Karen Gillan is best known for playing leggy, headstrong Doctor Who companion Amy Pond. That could all change very soon. On Friday, she debuts in Marvel's Guardians of the Galaxy as the bald, blue assassin Nebula, and this fall, she'll play a modern-day Eliza Doolittle in the ABC rom-com Selfie. The delightful Gillan was promoting the latter at the Television Critics Association summer press tour this month, so Vulture used it as an opportunity to get her thoughts about her supervillain turn and how studying superficial women at SoulCycle factored into her work on Selfie. But, of course, any conversation with a former companion must begin with Doctor Who.
How did you feel about the fate of Amy and Rory?
[Doctor Who boss] Steven Moffat didn't give us any warning about what would happen. He just sent us the script. Arthur Darvill [who plays Rory] read it immediately, but I refused to read it until just before we had to film it. I was in denial about the whole thing — even though it was me and Steven who came up with the idea of leaving at this point. When it actually came, I was like, "No." Arthur would call me and go, "Read it so we can talk about it already!" and I was like, "Nope. Not happening." Finally I did, and it was the best exit I could have asked for. And also Arthur got his heroic moment!
When they jump off the building together …
They suspended us upside-down for a long time, to the point where all the blood vessels in my face burst. There was red dots all over me. It was really funny. And we had to kiss upside-down, which was messy. Arthur and I were like, "This is disgusting!" But I cried when I watched it. I cried when I filmed it. I was crying the entire time.
Me too. Both of your Who co-stars headlined musicals in the last year — Arthur in Once, and Matt Smith in American Psycho. Did you get a chance to see them?
I did! Of course! I'm devoted. I was like a proud sister to both of them.
Who did a better job?
Oh my God, I can't say that. Terrible! My God, they'd kill me. I enjoyed both of them loads. I was really excited by American Psycho though, because it's a new musical and I'm a huge fan of the film. I think Matt makes a perfect Patrick Bateman, which is not necessarily a compliment.
Did you know Matt could sing?
I'd heard him sing a little bit, but I didn't know he could sing that well.
Can you sing? Selfie's a take on My Fair Lady, so I was hoping for a musical episode.
Can I sing? Well, I initially wanted to be a singer when I was younger, so hopefully I can hold a tune.
I'm putting that out there.
Do it. It would be fun!
What kind of music do you sing?
I sang a lot of musical theater, actually. But I wanted [to be] and ideally would be a jazz singer. That would make me really happy. I haven't done theater in a while. There's a video of me at 16 belting songs from Cabaret though! One day I'll put it online.
I assume then that you also know My Fair Lady.
[Begins singing "Wouldn't It Be Loverly"] All I want is a room somewhere, far away from the cold night air … I'm so ready.
You just need to get John Cho to agree.
I think he'd be onboard, I really do.
Had you met John before doing the pilot for Selfie?
No. I mean, I know him from American Pie and Star Trek. He's one of the funniest people I've ever met in my life. He's so deadpan and dry, and that's my favorite style of comedy. The first time I met him was a very brief "Hullo!" and then straight into the table read, so we kind of met in character, which was really strange.
Between you two, you've got the Star Trek and Doctor Who fanbases locked up. In theory, Selfie should be a massive hit.
I know! I hope they like the content of the show [laughs]. The cast is very much a sci-fi ensemble.
Instead of a cockney accent, your modern-day Eliza takes nude selfies. She's in need of some real help.
Yeah, that's what I liked, though. Underneath all of it is a pretty universal story of someone who's addicted to something and trying to overcome it. That's compelling to me.
Do you have any obsessions?
I make random pieces of art. I'm not obsessed with them, but when I start making one, I become OCD about it and I'll lose days to finish something. That to me is always weird.
What kind of art?
Paintings, mostly. Or I put glitter on things.
How do you feel about selfies in general?
Um, I'm passive on selfies. If you want to take a selfie and it makes you happy, go for it. I don't take many myself.
Does John take many selfies?
He does not.
You said on the TCA panel that you went to SoulCycle to research the type of person Eliza is. What gave you that idea?
I'd done a few classes before, and then I really noticed this sort of new trend of the way girls talk these days — I sound like an old woman right now! I'm the same age! But I did think, Oh, they have a really specific way of talking here. This is perfect for the character.
What kinds of things did you pick up on?
Just their intonations more than anything else. Upward inflections, things like that. Qualities that are nasally or on the croak of the voice. It sounds really specific now that I'm talking about it. I practiced a lot. It was good.
You wore a wig in the pilot that was really distracting to me. It looked like a cheap copy of your actual hair.
Yeah, before Eliza gets a makeunder, I had a bad wig. But afterwards, it's my own hair, and that's what we'll have for the rest of the show, thank God!
What was it like to shave it all off for Guardians of the Galaxy?
I laughed hysterically when they got rid of it. Like, it was scary, but mainly funny. Then I fell asleep for two hours afterward, which was really weird. It felt very strange waking up without it. I couldn't touch my head for awhile because I was freaked out by it.
You play the deadly assassin Nebula in the film. Was it worth going bald to play her?
Oh, yeah! I'd never played a bad guy before, and this character was particularly fun because she slopes in and out of things and she's completely sadistic. She's got a very interesting sisterly relationship with Gamora, played by Zoe Saldana. There's a lot of bitter jealousy going on there. I also get to put men in headlocks, which is something I aspired to, frankly.
Superhero movies are usually a boys' club. Did you feel that way here?
No, I never thought of it that way. Zoe and I had so, so much to do. Nebula and Gamora are really strong females. They're not just talking about the men the whole time, which is a very common thing, for women to just be there to advance the plot of the men. It wasn't like that at all. That was something our director James Gunn was very aware of, just fleshing out these female characters. Zoe and I were like, Thank God! [Laughs] We also happen to have the film's most epic fight sequence.