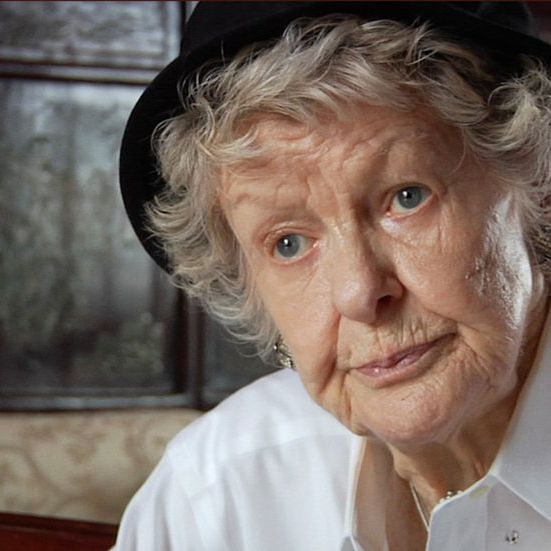 Photo: Tribeca Film Festival
Elaine Stritch wasn't the star of Company, but she sure as hell made herself the star of its making-of documentary. Dean Jones and the rest of the actors be damned; the drama of her failure to master her big number, "The Ladies Who Lunch," all but commandeers D.A. Pennebaker's 1970 chronicle of the marathon recording sessions for the musical's cast album. Muttering and grimacing, and looking in her bucket hat like a geezer at the end of a weeklong fishing trip, she keeps tripping over the notes and especially the feelings of the Stephen Sondheim showstopper, as if she were just learning it. Then, having begged for and been granted an expensive extra day to record, she returns all coiffed and made up and totally nails it. Presto, the film has its arc and its climax.
She may not have done it on purpose, but that was Stritch at her Stritchiest: creating problems so she — and only she — could solve them. (Her alcoholism fit the pattern, too.) But many neurotic stars operate that way. What Stritch, who died earlier today at 89, had beyond the vehemence of her narcissism was a kind of innocence that rubbed in the other direction. The combination kept her fresh and surprising onstage (and onscreen) decades after many actors stiffen into an effigy of themselves; a kind of muscle memory overcomes their creativity. Stritch had no muscle memory; when she sang "Zip" in Pal Joey in 1952, Richard Rodgers said, "Every time I see you do a number, I never believe you'll be able to do it again." It wasn't much different, late in her career, when her actual memory deteriorated. Her final cabaret performances at Café Carlyle (she lived upstairs for years in room 309) and onstage as Madame Armfeldt in A Little Night Music in 2010 were sometimes scavenger hunts for her lines. But insofar as life is often a scavenger hunt, she was able to make that part of the drama.
This sense of not knowing, of forgetting or still learning the proper notes and feelings, was part of what made her so indelible in "sophisticated" roles. (Noël Coward loved her, writing her the lead in Sail Away.) Her conservative upbringing in Michigan, where she was educated by nuns at the Sacred Heart Catholic Girls School, may have left her flummoxed by Rock Hudson's gayness (she wanted to marry him) and scandalized by Marlon Brando's appearing, at the end of a date with her, in his jammies, but it provided her with a lifelong knowledge of the lie beneath the bon mot, the anxiety beneath the fancy hat. Even at the Carlyle, she was still a rube, a provincial, and not just sexually. In her most soigné roles — Claire in Albee's A Delicate Balance, Diane in Woody Allen's September — she often didn't seem to understand what she was saying. Her recording of "The Ladies Who Lunch" is definitive, but she later admitted that this quatrain, in which, as Joanne, she sings about the obligatory cultural responsibilities of idle urban women —
Another long, exhausting day,
Another thousand dollars.
A matinee, a Pinter play,
Perhaps a piece of Mahler's.
— mystified her. She didn't know what "a piece of Mahler's" meant. She thought it was maybe a candy bar.
But not knowing didn't make the performance any less trenchant; perhaps it made it more so. Does Joanne really know what "a piece of Mahler's" is? Or is she, too, just acting?
Though she was good at playing pretenders, Stritch herself didn't pretend. She spoke frankly about everything from her drinking problems to her frustrated ambitions to her first orgasm (onstage in Who's Afraid of Virginia Woolf?). She contradicted herself and dared you to catch her, and seemed to enjoy it when you did. She may have been, as she often said, horribly insecure, but that too was useful to her as an actor, allowing her to fight, as we all must, from the depths of character to some semblance of social presentability. Of course that semblance always disassembles. Even in a comic throwaway — her extended cameo on The Late Show With David Letterman in 1996 — you see how her hauteur is constructed from found bits of technique held together with spit and gumption, and how it comes apart at the end. Has anyone ever dared such death-defying pauses? She walked right up to the cliff; no wonder Rodgers thought she would never be able to do it again. She really was learning it new each time. Apparently, she had to. "It's amazing," she said, "the bravura things shy people do."