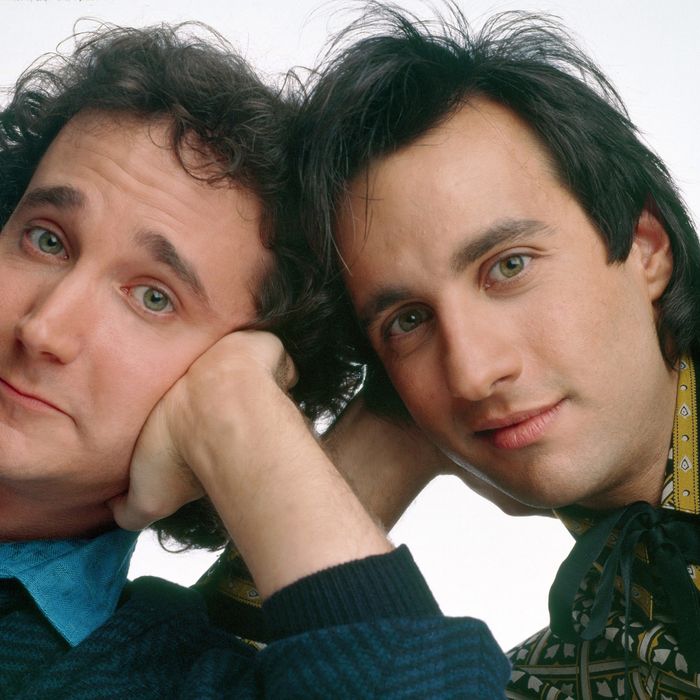 Fans of classic sitcoms who watched this past Sunday's episode of The Leftovers likely said "don't be ridiculous" when a character brings up a bizarre factoid about the mysterious disappearances central to the HBO show's plot: The entire cast of Perfect Strangers is said to have been raptured. Bronson Pinchot? Raptured. Mark Linn-Baker? Raptured. Melanie Wilson and Rebeca Arthur, who played love interests of Pinchot's Balki and Linn-Baker's Larry, respectively? Raptured.
Vulture has its own Perfect Strangers–related coincidence going on: We'd just assigned best-selling novelist Jeff VanderMeer to conduct an interview with Pinchot about the actor's second career as a voice actor for audiobooks when we saw the episode (read their discussion here). VanderMeer followed up with Pinchot, who was gracious enough to weigh in on the very important matter via email:
Jeff VanderMeer: Did HBO by any chance get in touch with you about that reference beforehand?
Bronson Pinchot: No, nobody said "boo." (No pun intended.)

How do you feel about awesome Perfect Strangers references like this?
Well, if nothing else it's a perfect illustration of what one is (unknowingly) inviting when one goes onto mainstream TV. The line between my personal space and the character I created is, in the public consciousness, nonexistent. One can spin it for oneself as a grand left-handed compliment. Once, at an airport, there was a hubbub about some celebrity disembarking a plane. The huge midwestern man next to me nudged me in the ribs and said, "LOOK, BALKI! IT'S GREGORY HINES!!!"

And do you have anything to say about going out like that with your former castmates?
Well, there's a poetic rightness to it, isn't there? I mean, where else do characters go when you stop playing them?
The great throwaway moment in the episode — which comes about during a conversation between Justin Theroux's Chief Garvey and his father, played by Scott Glenn — followed a similar one in the pilot, in which a cable news channel reports on the various celebrities who disappeared in the Rapture-like event depicted on the show. The list of dearly departed pop-culture figures included Jennifer Lopez, Salman Rushdie, and Gary Busey, among others.
At HBO's premiere party for The Leftovers, we asked showrunner Damon Lindelof if he could explain how the Perfect Strangers gag came to be. "That [came from] a writer on the show — Jackie Hoyt is her name," he said. "She was just like, out of nowhere one day, 'Wouldn't it be amazing if the entire cast of Perfect Strangers departed?' And we were all like 'That would be awesome.' And what was interesting was, Mark Linn-Baker later came in and read for a part on the show without being aware that we had done this. And he was good, too. But it was like, "Oh, we can't cast him, because Mark Linn-Baker as himself is no longer there."
We are certain you will agree that this is all so completely not ridiculous.
Additional reporting by Renata Sellitti.