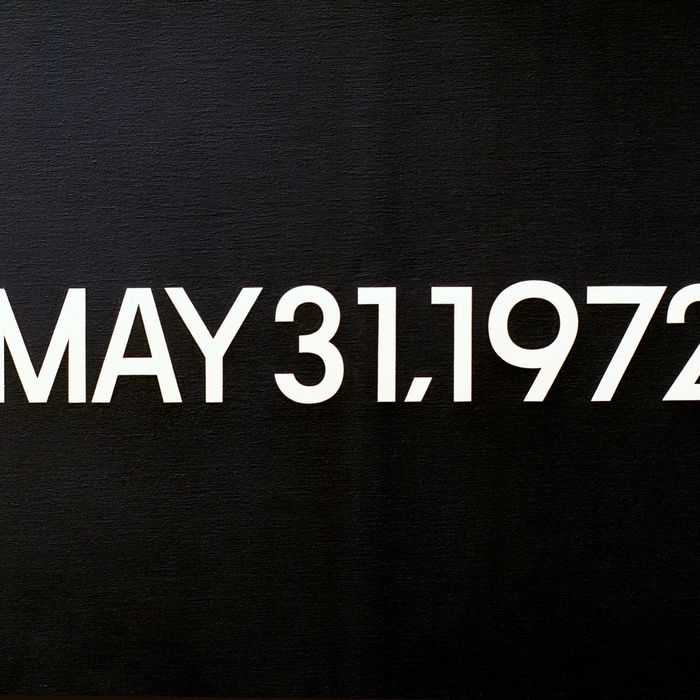 On Kawara's 'May 31, 1972.'
Photo: akg-images/Newscom
The great Zen-proto-conceptualist, On Kawara, has died at the age of 81. In a time of art stars, overnight sensations, and flashes in the pan, Kawara's long artistic river has glided silently through the art world. On January 4, 1966, he began making thousands of straightforward alphanumerical paintings of dates that were destroyed if not completed in one day; in 1969, he began a many-decade performance work in which he had people count one million years, one at a time, producing a multi-volume typed document, a tomb of the recitation. This enigmatic geomancer of invisible infinities finally reached the ultimate algorithm.
Like the knowledge that a Vermeer painting is out there, Kawara's art — as dry and cerebral as it can seem — reassures in its healing presence on earth. He never publicized the date of his birth, refused to be interviewed, and shunned being photographed. For years, friends knew of his whereabouts from postcards simply stamped with the words "I am still alive," or "I got up at … " with the time filled in.
In early 2009, I was lucky enough to "get up" with Kawara, sitting in a silent chamber in the center of the Zwirner Gallery's otherwise almost empty space and was recorded (along with painter Molly Heron) as we alternately read the 875 years between 38,685 C.E. and 39,533. Before we went into the booth, the sound engineer instructed us, "Don't read ironically." He added that the woman "has the harder job because she reads the even dates and is responsible for going to the next line without losing her place." I remember thinking about the implications of women being more aware of the cycle of time. In that performance, I misread the number 38,697, and the sound engineer came on and said, "Jerry, could you read that one again." Amid this transcending of genres, as I was turned into a puppet, Kawara was trying to achieve perfection. I also recall that my body became this raga, making sounds with cadences and tonality. Time stretched out.
Kawara is a kind of overcoded conceptual counterpart to artists like Agnes Martin, who selflessly mined visual structure in subtle gridded paintings, and Brice Marden, who brings a sensuousness and materiality to space. Like these artists, Kawara defamiliarizes the everyday and creates a polycentric poetics with traces of something primordial. Kawara's enthralling art, written in abstract Sanskrit, is a sutra to oceanic time, gathering awareness, syntactical slippage, inchoate absurdity, and the ineluctable being of art.