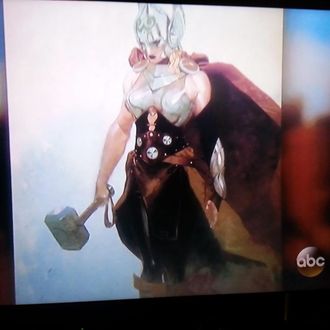 Where do comics fans go when they want breaking news on their favorite superheroes? ABC's The View, obviously. This morning, Marvel Comics (which, like ABC, is owned by Disney) took to everyone's favorite lady-oriented morning talk-show to make a big announcement: Thor — Norse god, Avenger, and possessor of a Y chromosome — is about to be replaced by a woman.
The announcement came with very few details, but we can guess a few things about what's going on here. In the Marvel universe, Thor's magic hammer, Mjolnir, can only be wielded by individuals who are "worthy." As was teased in a recent issue of Jonathan Hickman's Avengers series, Thor is about to be deemed unworthy for reasons yet to be revealed. Subsequently, it would appear, a worthy lady will take up the ancient weapon (as well as Thor's sweet winged helmet) and fight for cosmic justice. No word on who it will be, but a likely candidate is the mononymous Angela, a no-nonsense warrior who was recently revealed to be Thor's long-lost sister. We'll undoubtably get more info at next week's San Diego Comic-Con.
This is, oddly enough, not the first time we've seen a female Thor. In the late-'90s dystopian-future story Earth X, Thor had his gender switched due to a wacky trick from his evil brother Loki. Female allies have stood beside the thunder god using code names like Thor Girl, Thordis, and Valkyrie. And, of course, there's the awesome moment in a Marvel/DC crossover event where Wonder Woman was deemed worthy, picked up the hammer, and for some reason also had a magical costume change. Hey, for all we know, Marvel will introduce Jenny McCarthy as a character and give Mjolnir to her, so she can beat back the forces of vaccination.