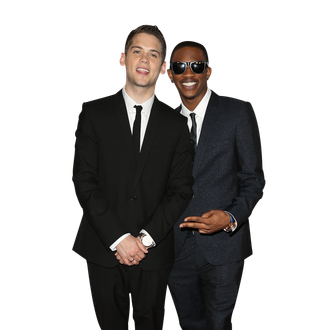 Photo: Graham Denholm/Wire Image/Getty Images
It's true: Malcolm David Kelly, who once played the illusive Walt on Lost and the ill-fated Lil Saint from You Got Served, is now one half of MKTO. Tony Oller ("TO") is the other half, and together they've got a song you might have already heard on the radio. "Classic" is insanely catchy, the type of song deserving of the Song of Summer title. What's it like having the power to infect the world with an earworm? We asked the boys of MKTO:
I know "Classic" actually came out last summer, and you guys have been touring with it for a while. Does it feel like it's gotten too old to perform? Are you over it yet?
Malcolm: No, you never really get that feeling. Sometimes it feels like we're performing it a lot, but it's actually a good time. Every time we perform it and everybody is singing along, that thought of, Oh, man, we gotta do this song again just goes out the window. Being an artist, that's one of the big things you want — having everyone sing along to your song. That's also a good sign, but it's a good thing if your music is timeless. It's good that it's been hanging around this long. It can hang around for a little longer.
I guess the song is technically about a song that is classic and that you don't get sick of hearing. That's the goal.
Malcolm: Yeah.
If you had to choose another favorite song on the charts right now, what would it be?
Tony: A song that we recently started covering that I really like is "Am I Wrong" by Nico and Vinz.
Malcolm: I love it. I love it. I love it.
Tony: I've always liked how if it's a good song, it's a good song and it speaks for itself. I think that and "Rude." There's a lot of good music out there.
Malcolm: We also love Sam Smith. Ed Sheeran. Lorde. We just love good music.
You said you did a cover of "Am I Wrong" at your show — do you have any others planned?
Tony: Yeah, we have a couple. I want to get in "Rude" by Magic!. That's one of our favorite songs. At some point we'll add in some twists. We definitely like Iggy Azalea.
You should just do all the songs of summer as a medley! This is a great recommendation. Do "Fancy," "Rude," "Am I Wrong," and Becky G's "Shower."
Malcolm: Look at you! You're our emcee. You're our musical director! You should come on the road with us.
Surely. What kind of music did you listen to growing up?
Malcolm: Growing up, definitely our parents had us influenced by their time of music, which was a lot of '70s Motown, Elvis, Jimi Hendrix. My dad played a little guitar and the drums, so he had me listening to every instrument in the song, pointing them out. Just letting our time of music influence stuff as well. "Classic" is a feel-good song you could take home to Mom.
Speaking of your younger selves …  Malcolm, you're doing music, but people still come up and yell "WAAALLTTT" at you. Or even "R.I.P., Lil Saint" [From 2004's You Got Served]. Do you hate it?
I love it! When they come to the shows and they have a Walt sign, that's just like … it's crazy, man. It's hitting all demographics, and I love it. It puts a big smile on my face each and every time. The fact that you brought up Lil Saint, some people don't know about that.
Are you kidding? You Got Served is the best movie. It had its ten-year anniversary this year!
Lost just had its ten year anniversary and now you've got this ten years. It's all going by so fast.
Both of those characters, Walt and Lil Saint, are cult heroes. Does that crack you up?
With the power of the internet and how much it's grown! I found a page where somebody was making "R.I.P. Lil Saint" shirts. I was like, What is going on? My face was on a shirt and I'm like, Oh my God, it looks like I'm dead out here.
I think the ultimate sign of a great character is where somebody can make a private joke about one of their favorite movies and you're the character they choose.
I always get the "I'm surprised you're still alive!" Or on Lost, it was "You're found now!" I love it. It never gets old.