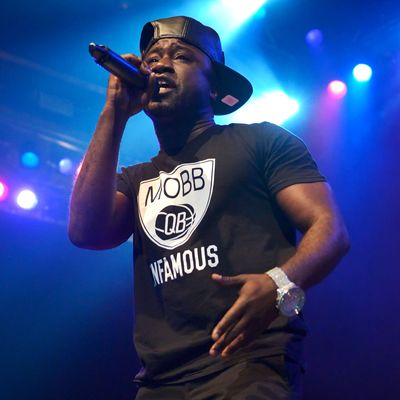 Photo: Michael Tullberg/Getty Images
A few hours before their "homecoming" concert in Queensbridge Park last Thursday night, Prodigy and Havoc, the two halves who make up the whole of the rap group Mobb Deep, were philosophizing as to why "The QB," which is what the giant public-housing project adjacent to the park is often called, has produced so many hip-hoppers. It is a roster that includes the great Nas, Capone (of Capone-N-Noreaga), Marley Marl, Roxanne Shanté, and Mobb Deep itself, whose 1995 album The Infamous is considered a classic of hard-core urbanity, a formidable East Coast response to Dr. Dre's immortal Cali-based The Chronic. The QB's fecundity was a product of "time, space, and motion," said Prodigy, the erstwhile boy genius who, like his equally diminutive partner (neither tops five foot six), turns 40 this year. Much is owed to the Queens housing project's sheer size, said Prodigy; it was the biggest one not only in New York City but in the entire country. But more than that was "the location."
Unlike many New York projects that were set out in remote parts of Brooklyn and the Bronx, self-contained islands of despair that often felt like reservations, Queensbridge, 50-plus acres pitched along the banks of the East River, was "right there," said Havoc, who grew up in the six-story red brick building (which resembles the 95 other red brick buildings nearby) at 41-19 12th Street. From the roof of the place you could see "the whole city — the boats on the river, the cars on the bridge, the Empire State Building like you could touch it."
That was the "dichotomy" of the landscape, the artistic tension, said Prodigy, something of a dichotomy himself in that he grew up in Hempstead, Long Island, the grandson of jazzman Budd Johnson (who played with Louis Armstrong, Count Basie, Coleman Hawkins, etc.) but didn't find his "true voice" until he met Havoc and made his "spiritual home" in Queensbridge. "Inside you could get killed, there was always gunfire," Prodigy remarked, "but out there were the dreams — big dreams." Sometimes he and Havoc would simply kick back on a project staircase, watch the planes head for La Guardia, and shoot the bull — and then, wham, a hit song would come out.
There were so many memories of Queensbridge, stuff that just "floated up, when you weren't even thinking about it," said Havoc, recalling how he first met Prodigy, the way "P was this crazy motherfucker and I was a little more calm except being around him made me a crazy motherfucker too." That was why tonight's show was going to be so special, the group returning to the roots after so long.
"The truth is, we didn't set it up," said Havoc. "I just looked at the list of where we were playing and saw Queensbridge. 'Fuck,' I said. 'We're playing Queensbridge. We never played Queensbridge. Not for real. That's when it started to hit me. What it all meant, the full circle. I expect to see some familiar faces. But QB being what QB is, I also expect not to see some familiar faces if you know what I mean."
It was a two-way street, so to speak. As much as Queensbridge made Mobb Deep, Mobb Deep made Queensbridge, at least in the minds of millions of hip-hop fans as far away as Omaha and Japan. The big image came in the duo's greatest hit, 1994's "Shook Ones Pt. II," probably the most pungent aural evocation of project living ever. Set over Havoc's spare, bone-chilling beat, the lead single from The Infamous separates the authentic from the wannabe, the street truth from the fronters: "'Cause there ain't no such thing as halfway crooks," our twin Virgils to the underworld chant cautionarily. "Scared to death, scared to look, they shook."
The couplet is no less an invocation of an urban era than the Ramones' "what they want, I don't know, but they're revved up and ready to go." Hear that, and you are instantly transported back to a specific time and place, namely the windswept, bum-strewn Bowery of 1975. "Shook Ones Pt. II" works the same way, whether or not you ever set foot in a crack-infested project during the killing-fields days of the 1990s. It is a cartoon, to be sure, but one that could nonetheless leave facedown.
A lot has changed since the band exploded in the wake of the album's release in April 1995. Havoc moved out of the QB with his "first real check" in 1996. Prodigy has been involved in a series of beefs with other hip-hop stars, including the late Tupac Shakur, although, as Havoc says, "If a beef makes the paper, it ain't a real beef." Prodigy also wound up in jail, upstate for three years on gun-possession charges, during which time Havoc admitted to posting tweets wondering if his long-time partner's manhood had been compromised while behind the prison walls. (Somehow, they managed to make up.)
Queensbridge had changed, too, and you could see it by the couple thousand people who arrived for Mobb Deep's homecoming show. "Ten years ago you'd never see these people over here," said Havoc's very proud mom, Mercedes, in attendance at the concert. Homeless before moving into Queensbridge when Havoc was only three months old, Mercedes now lives on Central Park West in "a doorman building" but still keeps up with a number of old friends in the QB. "Ten years ago, maybe even five, this would have been impossible," she said, watching with amazement as a number of white hipster types, perhaps not aware of the history of the turf, ran around in shorts popping soap bubbles near second base of the park ballfield like some post-Woodstock deal.
Both Havoc and Prodigy had addressed this issue in our little talk. As hip-hop vets, they were long used to seeing mostly white audiences at their shows. They loved their French fans, the ones from Switzerland too. They knew, too, that gentrification had transformed many of the neighborhoods around Queensbridge and felt that the project's disappearance was pretty much a foregone conclusion. "For twenty years I've been hearing that Donald Trump was going to buy the projects and throw everyone out," Havoc noted. "I never paid much attention to it. But now, its like the tip has come. You got all that land right there on the river, so close to Manhattan. Subway stops. Waterfront views. The park. It's worth more than Williamsburg. It can't last."
Yeah, Prodigy said, returning to Queensbridge was "bittersweet" for a million reasons. For all the good things that had happened there, bad stuff had, too. Not all the memories were pleasant. Far from it. As Havoc said, "New York crowds are always tough. Knowing Queensbridge, I don't expect much mercy."
Still, when the group hit the stage, picturesquely set beneath the elegantly industrial arches of the renamed Edward I. Koch Bridge, a burst of joy came forth. "Queensbridge!," Prodigy shouted into the mike. "Queensbridge!" returned the crowd, which certainly included a large number of the QB "old-timers," some of whom have been living in the project for half a century and arrived in their wheelchairs to bop along to the beats. Never much for nonsense time-killing (no soft-ass, dreary R&B voicings for them), Mobb Deep went hard, kicking through their new stuff and bringing the old, really busting it on "Temperature's Rising," with its whoa! lines, "that snitch n***** gave the police your location/we'll chop up his body in six degrees of separation." The lines were just as foreboding as ever, but on this mid-summer evening, with the festive picnic crowd, the city gleaming in the sunset, no hint of mayhem could pierce the celebration.
Except then, quickly, the way things usually happen in the scenario Mobb Deep invented for themselves, the vibe shifted. Fittingly, it was right in the middle of "Shook Ones Pt. II." When the tune started out, everyone roared, greeting the classic opener, "To all the killers and the hundred-dollar billers, to all the real n*****s who ain't got no feelings," as if it were one more golden oldie. It was around then the sun dipped behind the Manhattan buildings. Night was coming, sure as it always does. By the last recantation of the chorus, one more "scared to death, scared to look, they shook," an unmistakable jitter of darkness fell across the park. And yet again it was 1995, that fearful, eternal 1995 nightmare state, that can never be erased.