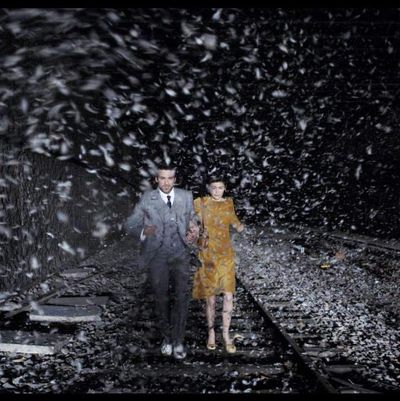 One imagines that if one cracked open Michel Gondry's brain and looked inside, it would look a lot like Mood Indigo — an elaborate, endless clown-car of whirligig contraptions and unreal images, with little bursts of romantic melancholy peeking out here and there. You might be tempted to assume that his work thrives when it's matched with a countervailing intelligence — someone to temper his charming madness — but his best collaborators, people like Dave Chappelle, Charlie Kaufman and Jim Carrey, are as inventive and all over the place as Gondry himself. Together they've created works of limitless soul and emotional fluidity. So what's holding Mood Indigo back?
Of course, this film isn't exactly a case of Gondry being left to his own devices. He's adapting the cult novel L'Ecume des Jours by Boris Vian (which was translated into English as The Froth on the Daydream, which could be a good title for a book about Michel Gondry). Plus, he's got Romain Duris and Audrey Tautou as his leads. She, as we know from her appearances in Amélie and A Very Long Engagement, can be quite a fanciful presence. Duris, however, is a more moody and intense actor. As on-again, off-again lovers in Cedric Klapisch's L'Auberge Espagnole trilogy of films, they complemented each other nicely.

Here, they're lovers again, but without the more real-world complications. Duris plays Colin, a wealthy inventor living in a blissful state of never-ending languor and whimsy, attended to by his friend, chef, lawyer, and manservant Nicolas (Omar Sy). This is a world where people travel by rainbows and clouds, where they catch and eat eels that slither out of faucets, and where Colin can take pride in his invention, a Pianocktail, a piano that mixes drinks for you based on the music you're playing: "You get a nostalgic taste from minor chords, and an optimistic one from majors … Easy on the loud pedal, that's beaten egg. If the tune's too hot, you get omelette." (I don't think any description could do the nuttiness on display in Mood Indigo justice, so I'll just direct you to my colleagues Kyle Buchanan and Lindsey Weber's GIF-laden demonstration.) At a party one night, Colin meets Chloe (Tautou), and his nervous first words to her are a lame joke on her name: "Ever been played by Duke Ellington?" It gets worse from there on, with him choking on a hedgehog spine. Nevertheless, she falls for him, and he for her. (As Christian Bale and Amy Adams can tell you, Duke Ellington works every time.)
The frivolity can transform really quickly, however; indeed, the wonder of the film's universe lies in its ability to turn on a dime. When Colin and Chloe arrive for their wedding, the priest announces that he'll only wed the couple that wins a go-kart race, setting off a furious (and goofily, adorably stop-motion-animated) contest between our heroes and their close, less-wealthy friends Chick (Gad Elmaleh) and Alise (Aissa Maiga). "We can change the narrative!" Alise yells. "If we win the race, we can be the heroes, and we wed!" Everybody still mostly has smiles on their face, but you sense that not all is right — that between surface and intent, between the film's happy veneer and its increasing, unpredictable moments of conflict and uncertainty, lies some darker meaning. Gondry hints at such layers through his design, which, for all its candy-colored loveliness, at times recalls something more spectral, angular, and uncanny, like something out of The Cabinet of Dr. Caligari, or a Salvador Dalí painting.
It's a slippery subtext, however, and I'm not sure Gondry does enough with it. The racial overtones of the black Nicolas and the white Colin's relationship are clearly there, but they go nowhere. The story eventually settles on a slowly gathering illness that begins to consume Chloe after a water lily drifts into her lung and slowly freezes her insides. This is a tough spot for the director to be in: He can't completely abandon his strategy of relentless fancy, but he also needs to bring the more corrosive and cruel aspects of this world out. This is the realm of people like Terry Gilliam, for whom darkness is built into a sense of visual whimsy. But Gondry is a sunny, laid-back director — he's too playful for the story's darker overtones to really register. And so, the film never quite becomes the more profound thing it's threatening to turn into. But it has an energy all its own, and Gondry's voice is always welcome, and essential. Mood Indigo is somehow both unmissable and whisper-thin.
*A word on the version playing in U.S. theaters: It's a little under 100 minutes, whereas the original French version is around 130 minutes. Neither version is perfect. The longer cut is more chock-full of wonder, but it's also more exhausting.