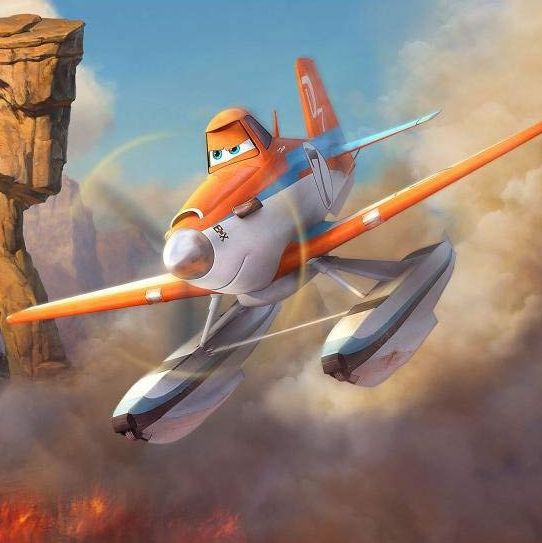 Photo: Disney Enterprises, Inc.
Disney's Planes, released last year, felt less like a creative endeavor and more like an opportunistic bit of corporate synergy. Created by DisneyToon, the folks who do downmarket straight-to-video sequels for the Mouse House's classic films, it was an attempt to broaden the world of Pixar's Cars franchise, thus allowing kids to buy more toys and experience more adventures with adorable anthropomorphic vehicles. The film, originally intended solely for home-video, was weak but inoffensive — a generic underdog-outsider-competes-in-the-big-race story with a fairly dry visual style and bland humor. Unlike other animated movies that try to throw some irreverent bones to the adults, Planes seemed to recognize the fact that parents who took their kids to see it could have used the opportunity to catch a quick in-theater nap. The sequel, Planes: Fire and Rescue, is still a DisneyToon production, but it does aim higher, with a visual zip that was lacking from the first. It is, in almost all respects, a better movie. It's still not particularly good, though.
The first movie ended with lowly crop-dusting plane Dusty Crophopper (still Dane Cook, sadly) realizing his dreams of becoming a world-class air-racer, and the new one begins with him as a high-flying international celebrity, hot-dogging his way through the racing circuit and grinning for the cameras. A failing gear box, however, cuts short his racing career, and non-compliance on fire-safety issues gets his beloved Propwash Junction's airport permit pulled. (Damned government regulators!) In order to save his airstrip, Dusty decides to become an aerial firefighter and putters off to the Piston Peak Air Attack squadron to get certified. There, he finds himself at odds with the crusty, take-no-crap copter Blade Ranger (voiced by Ed Harris), who doesn't like Dusty's impulsive, go-it-alone attitude. Anyway, something something something, planes planes planes, fire fire fire, more planes, life lessons, the end. The only thing notable about the script this time around is how serious it is. The film is dedicated to firefighters and, surprisingly, it carries that solemnity throughout. I think I counted three jokes; The Purge: Anarchy has more humor.
Planes demonstrated that a world made up entirely of planes and cars has a vaguely uniform feel — even if the vehicles come in all shapes and sizes. Put more simply: Watching planes fly, even when they're going fast, gets kind of boring after a while. But that first film did come alive during one sequence involving Dusty and the ocean — the almost sensuous unpredictability of the waves felt like a reprieve from the straight, shiny steel of this universe. Planes: Fire and Rescue has learned its lesson, and does it darnedest to deal with this inconvenient reality, cutting faster and panning the camera vigorously (or "panning" the "camera" vigorously) as the planes whoosh past us. It's a more impressive cinematic environment, too. Now the planes zoom through vast canyons of fire and thundering clouds of smoke. They swoop down to scoop water (and sometimes almost crash) in rivers and lakes. They spew out vast pink sprays of retardant. Visually, what we're seeing feels more charged and diverse, filled with volatile and ever-changing elements. That may feel like a subtle distinction, but it's not. Planes: Fire and Rescue has a big-screen vitality that keeps us watching. In the end, it's still a movie for little kids, but this time around, you may not be so compelled to snooze while the young ones are marveling at all those planes.