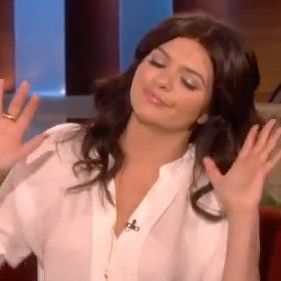 Here's a new rule: Don't mess with Nancy Meyers. The Martha Stewart of movie kitchens (God, they are gorgeous) is not amused by anyone mocking her impeccable sense of luxury (and unrealistic realities of what a normal person's kitchen actually looks like!). And that's why Casey Wilson might never get a chance to appear in one of those wonderful kitchens, as she told HitFix:
Casey: Nancy Meyers hates me! After It's Complicated came out, I did a video for Funny Or Die in which I was a housewife masturbating to all of the kitchens in Nancy Meyers' movies. And she called Funny or Die screaming her head off and she was like, "This bitch!" And "You better take this video down!" So I won't be acting in Nancy Meyers movies any time soon. Once I was like, "Why am I not getting any auditions with Nancy Meyers?" It was like, "She's not seeing you for shit."
[Hotwives of Orlando co-star] Danielle Schneider: It's not your fault! You were just doing your part.
Casey: And we took the video down too.
Come on, Nancy! Take a compliment. Those kitchens get everyone hot and bothered.