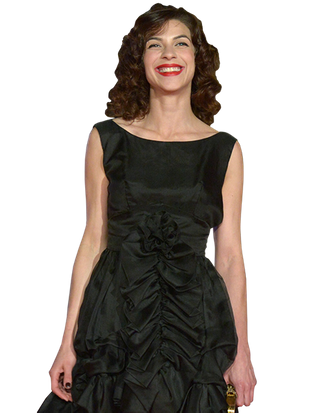 Natalia Tena.
Photo: Carlos R. Alvarez/Getty Images
The whereabouts of Osha on Game of Thrones are currently unknown, but Natalia Tena — the actress who plays the Wildling spearwife tasked with protecting the youngest Stark lad, Rickon — is a little easier to pin down. Tena, who also played Tonks in the Harry Potter film series, touched down in New York at the end of June to promote her lead role in 10,000 KM at BAMcinemaFest (the indie film will be released in the fall), and Vulture pounced on the chance to meet her while she was in town. Because Tena's trip was so brief, Vulture helped her with her shopping and then chatted with her over coffee about Skype sex, where she'd like to see Osha and Rickon end up, and why the Stark girls need their wolves.
What have you picked up during your shopping spree so far today?
I've got everything now — barbecue sauce, a bag of sweets for everyone I love, and melatonin, because in England, it's bollocks, basically.
When I've been in England and have needed to sleep, I've taken this thing called Kalms.
Yeah, that's shit. I've literally taken, like, ten of them, and they do nothing. But melatonin is the hormone that helps you go into it, you know? It's like, Yes! What else do you pick up?
Tylenol with codeine, because it's over-the-counter there. For emergencies, you know?
Yeah! Codeine — my mate, he's always got it, and it's great for when you're really, really hungover. Because then you can just carry on. It's weird the kind of stuff you can get in other countries. [She picks up a bottle of conditioner.] Conditioning, what is that? Is that a rinse?
Yeah, it's for after you shampoo.
Amazing.
So, your character in 10,000 KM moves to L.A. and tries to keep up a long-distance relationship with her boyfriend, who lives in Spain. They're having a hard time connecting.
And she's lonely in L.A. She and I are very different women. When I go somewhere, I want to get balls-deep in it. I immerse myself entirely. I won't feel lonely. I think it's sadder being the person left behind than the person going. Long distance, it's the all-time question, isn't it? Can love work long-distance? Especially when we've got all these means to communicate? But it doesn't substitute smelling or touching someone. And it almost makes it worse, because it's like torture, because they're not quite there. That's why for me and my boyfriend, I don't usually ring him or speak to him while I'm away. For me, the online thing, I'd rather just write him a letter, and then when I see him, tell him everything. So when I'm in Madrid [shooting the new BBC show Refugees], I'm going to see him on the weekends. But I'm not going to attempt to chat with him during the week at all. It's just pointless. I think it makes you miss them more.
The couple has three sex scenes — one in person before she goes, one on Skype, and one in person when he visits her.
Yeah. The first time, they're having sex to have a baby, and the last one, they realize something is broken, which happens. Like sometimes you have sex with an ex, and it's so sad, because now the feeling is gone. That's why it's so sad, because they love each other so much. This film is basically saying love is not enough. It's also about time and place.
You can document how much their relationship deteriorates by his interest level in fulfilling her sexual needs. At first, he really wants them to come together, which she doesn't allow. And then the Skype sex scene starts off being about her but by the end she may as well have not even been there.
We talked about how at the beginning — and loads of girls have done this, I've done it — there's a power in making someone come when they don't want to. And when you've been with someone for seven years, whether you come or not doesn't matter. Maybe later on that same day they have sex for three hours. So I think it's quite sweet that it doesn't really matter to her. But then, when they're Skyping, it's awful. That bit was dark. It's almost like you get embarrassed watching it. But I'd say the hardest one to shoot was the third one, because it was the end. So there's a distance, and an awkwardness, and we were doing night shoots, which just really fucks up your mind.
You mentioned a book that you said every woman should read. What was that?
Women Who Run With the Wolves, by Clarissa Pinkola Estes. She has a Jungian perspective on helping people deal with bad shit. And she basically talks about how women, our psyche is a wolf, and trying to strip down all the bullshit of being what a woman is [so you can ask,] What is a woman?
If the female psyche is a wolf, what do you think it means for the two Stark girls who are missing their wolves?
That's kind of why their shit's not going great! They need that power. That's a very basic thing. I think it's very sad, and very telling, that the father kills one of the daughter's wolves — the author of Women Who Run With the Wolves would be like, "Ah! What does that mean?" She's hitting puberty and he's trying to rein her in. That's what she would say to that. That's what they need. They need their wolves back, right? Arya needs Nymeria, right? Then everything would change. I'm hoping in the next book, the sixth book, that will happen.
The show has so far opted not to get into Arya's psychic connection to Nymeria, and skipped over the book event in which Nymeria pulls someone out of the river.
You're right! Of course! Fuck! Shit! I've forgotten about that! I read all the books in one go, because I was with my band, Molotov Jukebox, and we were in Brazil, and I took my accordion and all the books. I wedged them all into my accordion case! [Laughs.] I had just done the first season, and then I was reading them, going, "What?!" I read them all in one go, like when you binge-watch the episodes, so you get all of it together and you don't really let it sink in properly. And when I watch Game of Thrones things, I have to watch them all in one day. Like ten hours straight of TV, and you're just going, "Next! Next! Next!" It's too much information for your brain to take in, I think! [Laughs.]
Apparently, because of the way you've portrayed Osha, George R.R. Martin is reconsidering how he's writing the character in the next book.
I don't know! I hope so! I hope it bears fruit. Let's see what happens in the sixth book. I'm hoping he gives us more adventures! Fingers crossed. I don't know entirely what they're going to do yet on the show, if they're going to pick up with us next season. I don't think they've finalized the scripts yet, or who's doing what, or what they're picking up from the books, or where they're going off-book. Where is it going to go? I don't know.
At the point where they left off on the show, Osha and Rickon were heading towards the Last Hearth, the Umber stronghold. But in the books, they're rumored to be in Skagos, the island of cannibals and unicorns.
Brilliant. I love unicorns. I want a parrot-colored unicorn. Done! Let's go there! It's all in George's head, and he could do anything, you know? I've heard so many fun theories, like how Bran is going to help her control the dragons, and then Dany will take over and be a good queen. I'd love that. I'd love it to be a queen in the end, obviously. I've only met George a few times, but I never ask about that. We never go deep on that level. I just have fun with him.
What Game of Thrones–themed drink would you want to have with him, like the Red Viper he had with Pedro Pascal?
I think Osha's drink would be bark schnapps. It's basically like tree alcohol, tree moonshine. I just went to Iceland, where they film a lot of the beyond-the-Wall stuff, the Wildling land, and I went with my band to play for the summer solstice. Longest day of the year, the sun never goes down, amazing. It's one in the morning, and the sun is still up. And they drink a kind of fucking hardcore drink, this schnapps, with bark in it, and they've got two versions. They've got a sweet one, and they've got a bitter one. I had a little bit of both. And I think Osha would drink that, definitely. I think she would have two bottles of both of those. Proper hardcore, feral. But she doesn't strike me as a big drinker. I think she's more about killing shit and eating it with her hands!