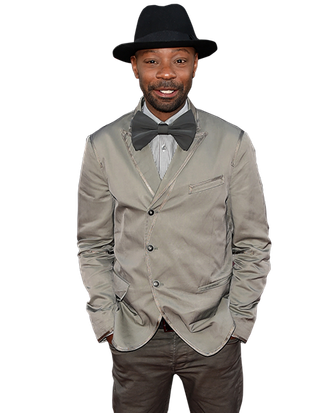 True Blood's Nelsan Ellis.
Photo: Jason Merritt/Getty Images
Warning: Spoilers abound in the following interview, up through "Lost Cause," the July 20 episode of True Blood.
It's not a stretch to call Nelsan Ellis's Lafayette the heart of True Blood. He's the one Sookie and other Bon Temps residents continually go to for both the tough love and the laughs, the one who comforts them when they need it most and who won't let them mope when they need to celebrate life. So is it so wrong for him to get a little loving, too? Okay, granted, getting it on in the parking lot with Jessica's boyfriend, James, before they've actually broken up may not have been the best way to start fresh, but Lafayette has a point — he deserves some happiness, too. Coincidentally, it's the same point that Ellis's portrayal of Bobby Byrd has in Get On Up, the James Brown biopic, out August 1: Just because you're the support system, the sidekick, the best friend doesn't mean you don't deserve a little love, too. Ellis chatted with Vulture about Lafayette's love life, how he feels about Luke Grimes dropping out of the show, and how he overcame his "two right feet."
Lafayette's been lonely for a really long time …
I think this season for Lafayette is about redemption and taking command of his own happiness. He's not happy in the first half of the season, but he becomes happy the second half of the season. And I can't say why he's not happy in the first half of the season. Wait — yes, I can! That [episode] already aired. [Laughs] Tara died.
It's completely understandable that he's been in mourning and unhappy for so long, because Jesús died, and then Tara died. But we've been rooting for him to get some for a while. A lot of people have — as long as it's love this time.
It is. It is. It's love. I'm a very lucky actor, because this is my second love interest. We deal with certain fans of that, and we have good chemistry, and we throw everything into it. I can't say enough about Nathan. Both of my love interests are great guys, great actors, both Kevin Alejandro and Nathan Parsons, and I love them onscreen. Every moment with them. You know what? I kind of fall in love with both of them! I guess I'm supposed to.
What was it like shooting the scene with Nathan? Did you do anything to bond with him beforehand?
It was easy breezy, just like Kevin. Because Nathan is a professional. He shows up and does his job, and he puts his heart into it. Kissing him was weird at first, but then I went, "Okay!" Same with Kevin — I can close my eyes, and you can be the girlfriend. It's not really a big deal. It's easy breezy. I mean, he's a wonderful actor. I love watching him work. Love watching him work. Our first scene together, I just listened to him talk most of the time. And we have good chemistry, and it worked. It worked.
Did you ever get a chance to talk to or bond with Luke Grimes when he was playing James, before they switched off?
I didn't, but I'm completely … I mean, I can say I'm not going to make a comment, but I just think that, you're an actor, you're an actor on a show that's True Blood, we're all sitting there going, "You quit your job because … really?" I'm just… I'm over him. You quit your job because you don't want to play a gay part? As if it's … You know what? I'm going to stop talking.
That's okay. I get what you're saying. If you're going to be on True Blood, you have to be open to a lot of experiences.
You have to be open. But more importantly, you make a statement when you do something like that. I did a documentary called Damn Wonderful, about gay suicide, and you make a statement, a big statement, when you go, "I don't want to play this part because it's gay." If you have a child, if you have a son, and he comes out as gay, what are you going to do? If you have a daughter who comes out gay …? You just made a statement, and it has ripple effects. First of all, this show, it's True Blood, and shit, we get scared when we read scripts! Excuse my language. When scripts come, we're like, "What are they going to have us do this week?" But when you make a statement that is a judgment … I was kind of like, "Have you met Alan Ball?" I'm supposed to do what my boss tells me to do, as an actor. I can't approach a character with judgment. I certainly can't tell my boss, "I can act what I want to act, but not what you tell me to act," especially on a show where you come in, knowing what it is. I was like, "Okay… I guess?" I just thought that, having just done the documentary, I didn't like what he did because he made a statement, and sometimes you have to take responsibility.
Is it safe to say he won't be invited back for the True Blood musical?
[Laughs.] I don't think he'll be invited back to HBO.
Would you be game to do the musical?
If they invite me, I'll do it! I do everything they ask. I can at least do a whole lot of dancing.
That's what Joe Manganiello said, and we know he can dance, from Magic Mike.
Yeah, he's a better man than me, because I thought I could dance, but 90 percent of my job in Get On Up has dancing in it, and I apparently have two right feet. [Laughs.] It was a lot of dancing for me, and I actually found out that I can't dance.
But you dance on True Blood!
[Laughs.] Every time I dance on True Blood, I pay the choreographer out of my own pocket to come in, and I ask, "What should I do?" Because I don't know how to be a stripper! I had rhythm, but I didn't know I couldn't dance until Get On Up. They had two very good choreographers, and then I had to bring in a person from an agency — [a man] named David Sincere — to be my dance coach and live with me. When I got off work, we danced until my eyes bled. So when they call "Action!" I can produce. We did the work. We did the work. And now, I've got way more funk. [Laughs.] I'm doing the mashed potato! And I don't kid. When people ask, when I'm in the club doing it, I'm sorry, I like this! I do all those dances, because James Brown invented some dances. The jerk, he invented that style of jerk because he was a boxer. He invented dancing. Usher does what James Brown does. Yeah. The difference is, I have an old face. I don't have a contemporary face. So when I do that style of dance, everyone calls me an old man. But I spent five hours a day rehearsing these dance moves, and then going home to a person and rehearsing for hours again. So I'll probably be doing these dance moves for the next two or three years! [Laughs.]
Did you manage to steal anything from the set? Or what are you going to take away, to say good-bye?
What am I going to take away? It's sad. I'm not going to see Anna Paquin's babies. I'm not going to see Sam [Trammell]'s babies. I mean, we had babies all together. We started this show with no families, and then we had families. We made families together. And I'm in love with Anna's son with the curly hair, with this Afro that's weird, and her feisty daughter, and Sam's big ol' sons. So moving away, I'm losing a lot of family. We've had babies together. My son is 7, and we all had these kids on the show, and we all bring them to work. I mean, we had a trailer committed to the babies. And we had a set that allowed our dog, as long as he doesn't bite anybody, to run free. So all our dogs, too. I'm going to miss seven years of a family. That's the thing I'm going to lose. Because the reality is, we're not going to talk. Because that's what actors do: They go off a show, and they go off and do what they're going to do. It doesn't discount the fact that you honor and love the people in that family. I mean, my son is going to miss Anna, the dog, the kids. And to explain to him, "Daddy has to move on," that stuff doesn't compute with a child. And it doesn't compute with me, because I thought this was going to be forever. That's the thing I'm going to lose. I'm going to lose fourteen families.
What about at Comic-Con and future reunions?
All that other stuff is bittersweet. You go, "Okay, I saw you now, but I'm not going to see …" The reason that it's bittersweet is that I'm so used to seeing them every day. And the babies, the dogs, the families. My son, jumping in Sam's girlfriend's lap. I won't have anymore memories like that. It's going to be gone.