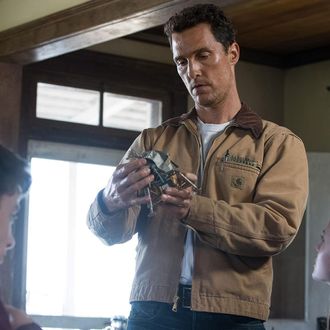 Matthew McConaughey in 'Interstellar.'
You know that Comic-Con is about to spring some surprises on you when they've got Megan Fox up on the dais at Hall H, yet they start rushing her off after five minutes. "Why can't the audience have more time to ask questions?" asked a confused Fox, who was at Comic-Con to promote Teenage Mutant Ninja Turtles — ostensibly Paramount's biggest coming attraction here — and had barely spent any time onstage before the studio terminated her Q&A. The unofficial reason for Fox's quick hook came later in the Paramount panel, when two unannounced guests appeared and immediately became the stars of the show: Matthew McConaughey and his Interstellar director Christopher Nolan, Comic-Con virgins both.
"We thought it'd be a fun thing to come and see what all the fuss is about," said Nolan, placid at the podium even in the face of mass fanboy freakouts. The director is considered a geek god after helming the Dark Knight trilogy and Inception, but he says scheduling conflicts have prevented him from attending the Con before — that, and his penchant for secrecy, which is at odds with Comic-Con's usually orgiastic footage bonanza.

But perhaps Nolan is ready to lift the veil on Interstellar a bit more. At first, he spent his panel time saying a lot but revealing precious little about his sci-fi space adventure; the only little teases came when he mentioned wormholes and said that McConaughey's shuttle pilot leads an expedition "not just through this solar system, not just through this galaxy, but into a whole other galaxy."

Then, though, Nolan surprised the crowd by actually showing a brand-new trailer, one that he said general audiences won't be seeing for a little while. As with the previous two trailers, this marketing tease begins on Earth, where dust storms and a scarcity of resources have humanity seeking salvation in the stars. "Nothing in our solar system can help us," claims a worried Michael Caine, who dispatches McConaughey, Anne Hathaway, and a bevy of other astronauts to find a solution in space.

The thing about the new trailer is, we actually get to see what happens. Plenty of time is spent on their ship — I think I spied Hathaway getting romantic with her co-star David Gyasi, possibly a precursor to joining the outer-space equivalent of the mile-high club — but the wormhole the astronauts travel through takes them to a formidable ice planet, once full of the water and chill that Earth is so sorely lacking. As Hathaway thrashes around in this extraterrestrial ocean, and McConaughey makes pixellated video contact with someone mysterious (could it be the daughter he left behind?), we hear McConaughey ponder, "We'll find a way. We always have."
Paramount exhorted Con-goers not to upload footage of the trailer, but we'll see whether a few industrious internet pirates take that McConaughey line as a rallying cry instead. In any case, the new trailer is something to look forward to and analyze until Interstellar actually comes out on November 7.