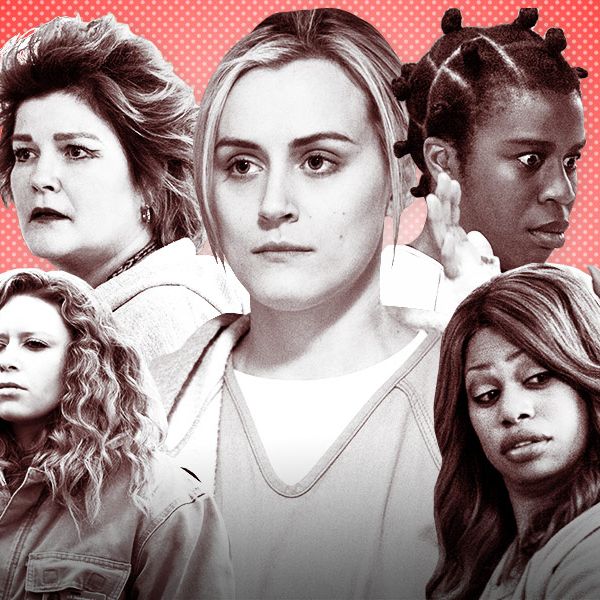 Photo: Maya Robinson and Photos by Netflix
If you're excited about Orange Is the New Black's Emmy haul — 12 nominations, the most of any comedy series this year — you might still be wondering about the obvious: Why the hell is Kate Mulgrew competing as a supporting actress and Natasha Lyonne as a guest star? Same thing with Uzo Aduba and Laverne Cox. Guest stars? They're all essential members of the ensemble who appeared regularly throughout the first season. So, WTF?
First, congratulations are in order. Scoring five nominees in the high-profile acting races — Taylor Schilling is also up for lead — is a coup for any show, especially a show starring a group of mostly unknown actresses on a first-year show. Schilling and Mulgrew are officially series regulars, so those categorizations make sense. But what about Lyonne, who plays the colorful Nicky and appeared in all 13 episodes of season one? Or Aduba, who played scene-stealing Crazy Eyes in 11 episodes; or Cox, who played transgender inmate Sophia in nine?
Here's what happened: It sounds crazy, given their importance on the show, but Lyonne, Aduba, and Cox were billed as "guest stars" in the first season. (Lyonne and Aduba were subsequently promoted to series-regular roles in season two.) The actresses technically could have chosen to compete in any of the categories. Choosing where to submit is usually a decision made by either the network and/or studio, or the actor and his or her reps — and it can be very strategic. Sometimes a smart move can pay off. Margo Martindale competed — and won — as a supporting actress on Justified even though she was billed as a guest star. John Lithgow won as a guest actor the year before for a similar season-long arc as a serial killer on Dexter.
Sometimes doing what seems to make sense can backfire. Danielle Brooks, who plays the popular Taystee on Orange, was billed as a guest star in season one, and just like Aduba, she appeared in 11 of 13 episodes. Brooks opted to submit in the supporting-actress category and came up empty. Ditto Samira Wiley, who plays Poussey. On the flip side, Veep "guest star" Gary Cole appeared on every episode of the show's last season, stuck with the guest category, and landed himself a nomination.
In fact, according to the Emmy eligibility rules, the only regulated acting categories are the guest ones. Only people contracted as guests can enter. In other words, Schilling or Mulgrew could not choose to compete as guest stars. But a "guest star" like Taryn Manning, who appeared in nine episodes in Orange's first season, could have submitted herself as a supporting actress if she wanted.
For those balking at Orange Is the New Black competing as a comedy instead of a drama, we refer you to the long line of dramedies that could go either way competing in the comedy race: both half-hours (Louie, Girls, Nurse Jackie, Jenji Kohan's previous show Weeds) and hourlongs (Ally McBeal, Desperate Housewives, Ugly Betty). Showtime submitted Shameless as a drama for the past three years, but this season, executive producer John Wells petitioned the awards committee to let the show jump to the comedy race (usually, once a show has competed in either, it has to stay put). Academy of Television Arts & Sciences senior vice-president of awards John Leverence told Vulture that Wells argued he'd hired comedy writers from the start and had always thought the series skewed that way. "The committee decided, as they often do, to go with the desire of the principal creative," Leverence said.
One admitted wrinkle: The first season of Orange Is the New Black submitted as a drama for both the Screen Actors Guild Awards (where the cast was stupidly overlooked) and the Golden Globes (Schilling earned the only nomination). Come Emmys, Netflix opted to enter the comedy race because frankly, it fits either category, and well, it couldn't hurt! The comedy category feels a little less cutthroat; had Orange tried to enter the drama race, it would have had to displace True Detective, Mad Men, Breaking Bad, Game of Thrones, Downton Abbey, or Netflix's other Emmy-award-winning show House of Cards, where it might have suffered the same fate as The Good Wife. And unfortunately, not even Alicia Florrick can make the case that her show is a comedy.