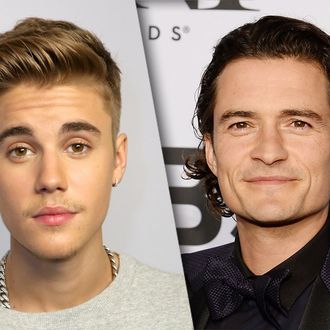 Photo: Ari Perilstein/Getty Images, Dimitrios Kambouris/Getty Images
Oooh boy. Here's a weird one! Early this morning at an Ibiza Cipriani filled with celebrities (it's apparently 2010 in Ibiza, because Lohan and Diddy were both there), TMZ reports Orlando Bloom took a swing at Justin Bieber after Biebs said something rude about Bloom's ex-wife, model Miranda Kerr. You see, Biebs and Kerr had "hung out," Biebs appeared to claim, after a 2012 Victoria's Secret fashion show. ("Bieber said something rude to Orlando, like, 'She was good,"" a source tells "Page Six.") Whether or not that had anything to do with it, Bloom and Kerr split soon after, in 2013. Even more ridiculous, Bloom also had a moment with Bieber's main ex: Selena Gomez — as evidenced by 2014's most loaded paparazzi photo. Yikes. Here's a video of part of the scuffle:
You can see the Bloom and Bieb entourages breaking the boys up. "Page Six" claims that you can hear Bieber yell "What's up, bitch?" but that might be some wishful thinking on their part. There are also conflicting reports from sources (wait, unreliable TMZ and "Page Six" sources? Shocking!) that Biebs went for Bloom first and missed and that Bloom swung for Biebs and connected. A report we do believe? When Bloom went for Biebs, the crowd cheered. Two hours later, Bieber Instagrammed and then quickly deleted a photo of Miranda Kerr — but not before it racked up 94,000 likes TMZ got a screenshot. Now that's what I call petty.