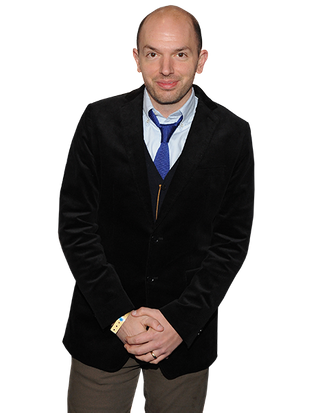 Paul Scheer.
Photo: Ilya S. Savenok/Getty Images
Three months after he and wife June Diane Raphael welcomed their first child, Paul Scheer is back in full gear. Currently filming the sixth season of FXX's The League (debuting September 3) and creating a series for HBO, Scheer also appears in and executive-produced the recently released Hulu series The Hotwives of Orlando. The spoof on Bravo's Real Housewives series goes beyond mimicry, with well-crafted story lines that showcase the talents of a solid ensemble cast, including Angela Kinsey, Kristen Schaal, and Casey Wilson. On a break from shooting The League, Scheer spoke to us about shooting Hotwives in seven days "for no money," what Andy Cohen might think about all of this, and being a proud member of the Upright Citizens Brigade cult.
First, I should congratulate you on having a baby, which is very exciting.
Oh my gosh, yeah, it's crazy. He's 12 weeks old.
I'm sure he's very funny. He has two funny parents.
Oddly, he makes a lot of obvious jokes. A lot of stereotypical humor. It's really upsetting.
Well, maybe he'll know better by 16 weeks. With such amazing talents in one room on Hotwives, what were shooting days like?
Here's the thing about the show: We had no money at all to do this. It's so comical to me, we had less than one-fourth of what the lowest-budgeted cable show has for an episode, and we did seven half-hour episodes in seven days, 20 or 25 [script] pages a day. It was the most intense process, but also the most fun because it kind of feels like summer camp. Everyone worked pretty much for free, and I think the benefit of that is you get to work with really good people and then you have no contractual obligations whatsoever. Hulu didn't give us any notes, so we got to kind of do our own thing. It was a really fun process, unlike anything really I'd done.
The characters are so great, and I love the little references to the Housewives in the story lines. How much Housewives research did you have to do for this?
Dannah and Danielle are Housewives aficionados. The reason why I came up with this whole idea was that Dannah and Danielle and a bunch of people that are in that cast were doing a live stage show of a Housewives reading. So I knew that they knew the franchise inside and out. I knew a lot about it, but not as much as them at all. When we started pitching characters, we shot a sizzle reel at first. We got to experiment with that sizzle reel and see what pushed things too far and how to pull things back because we didn't want to do something like Epic Movie where it's just a bunch of references. And then we brought in that cast, which is like my favorite cast of all time. It's the best cast I've ever worked with on anything. They're all so amazing and can do anything, and having them all there they just upped those characters a million percent.
The show has a lot of surprising comedy cameos. Joey McIntyre and Kate Walsh both turn up.
It's funny, Kate Walsh actually was one of the housewives in the sizzle reel, but because she was working on Fargo, she couldn't come back for the actual show. So she wanted to be involved very early on. Joey McIntyre is so funny. I don't think he knew exactly what he was doing. Like, I don't think he knew it was going to air or anything. He was so funny and so game, but I think because of just the craziness of the production, the 25 pages a day, the shared trailers, every part of that, I think he was like, I may be in like a student film.
But he's in it a lot. He's in every episode.
He's in it a lot. He's in it a ton! I think he just didn't know it was going to be publicized in any way. I think he was literally like, I'll do this, these people seem nice. But he was really amazing and super funny on set and he taught me how to tie a Windsor knot, so win-win in all situations.
And was that Weird Al Yankovic? Because I couldn't find anything online about it being him.
It is Weird Al, yes! He's amazing, and I'm so excited that he's got his No. 1 album. I've used him in a bunch of different things, and I think he's one of the funniest guys. I look up to him because he was very crucial in defining my sense of humor when I was a kid and he's so involved in the comedy scene, as you can see from all the videos that he released last week. I actually like seeing him not as Weird Al. I think he's been very game in the past to show up in things as Weird Al, but I like casting him as a character because he's really funny when he does characters.
Has Andy Cohen reached out to you about your portrayal of him? 
No, he has not. But here's the thing: I have a little bit of a connection with Andy Cohen, which is that I was the first ever studio-audience member on Watch What Happens Live. My friend worked on that show and June is a huge Watch What Happens Live/Bravo fan. So she's like, "Come and just watch the show one night." Joan Rivers was the guest, and we both sat there and Joan Rivers was amazing, was so funny, we were laughing. And Andy was laughing, and he said that that vibe of the room, with everyone laughing and keeping it alive, made him want to have a studio audience. From that day forward, we've had this kind of weird kinship. I see him at parties and we've always had this really nice thing. I don't know if he's seen my thing yet. So we'll see if he's still nice to me after that.
With Burning Love and Childrens Hospital and NTSF:SD:SUV, you've done a lot of parody. Do you think it's a really important element in comedy right now?
You know, I feel like we're trying to do something that's a little bit more, that starts off in a basis of parody and then becomes something that actually can exist on its own two feet. NTSF started off with a parody making fun of CSI or 24 and stuff like that, and then the characters really grew. As we kept on writing, it was like, Oh, we're just writing a comedy show set in this world. I think after you hit the initial parody, for anything to have legs, you have to keep on creating it. I will say one thing: I do think that parody gets a bad name sometimes because I think there are so many crappy things out there. Like, you see Epic Movie or Date Movie, where it's just a bunch of references strung together. I grew up with Airplane! The first Airplane! has a real story. Naked Gun has real characters, a real story. Those are the things that I look at as the parody that we try to do. That's what I try [to do].
Where you operate in the comedy and podcast world, people like you and Casey Wilson and Nick Kroll are really A-listers, but you're also working in broader Hollywood. Do you think show like The League or Silicon Valley are bridging that gap?
I'm going to rephrase the question so I'm getting it right. Basically: People are seeing us in our comedy world and then sucking us up for mainstream projects?
Exactly. Or just the sense that, for a lot of people who are UCB fanatics, you're probably a bigger name than, like, Brad Pitt.
[Laughter.]
Is that a weird dichotomy?
All I'll say is, The League is a show where Jeff and Jackie, the creators, went and saw shows at UCB, went and saw stand-up comedy and found people that they liked. I think that there's a power right now within the group of people that started off at UCB in New York. I started at UCB like years and years and years ago, and I was really like empowered by Amy Poehler, Matt Besser, Matt Walsh, and Ian Roberts. Not only did you act in a show, but you wrote the show and you produced the show and you handed out fliers in Union Square so they taught you how to tackle everything. So I think now, a lot of the times when you see a lot of us working together, it's because we now have the power to say, "Oh, I want this person and I want this person." I think we all want to work with each other because that's how we started out back in the day, and I do think that shows definitely are picking up on that. Like Bill Lawrence, for that show Undateable, he went to stand-up clubs and found Chris D'Elia and his buddies, and he's like, "Oh, that will be my show."
You're shooting the sixth season of The League right now. Did you always know it was going to go this long?
You know, it's crazy. This show, I think, has been an underdog since day one. Between season one and season two, when we went on Netflix, all of a sudden all these fans came out of the woodwork, and now it just keeps on growing and growing. I don't think we're ever the show that's going to get billboards or get written about or anything like that, but it's a really fun show with a great cast, so it's great to come to work and have fun. And we improvise the show, which is another rare thing, and FX gives us that chance. I think that's the reason why this cast has stuck around for as long as we have.
When the show left off it seemed like Andre was starting to get some wins in the game and that his career was maybe taking an exciting turn.
I think if we've learned anything from this character that I play, it's that no matter how high the highs get, by the time you come back the next season, it's all been washed away yet again. Whenever you see Andre going up, you know that the fall is close behind. But yes, he is now the No. 1 plastic surgeon in Chicago, and when he comes back this season, he definitely is riding that out. For how long is yet to be determined, but I think that you will see him fall again, as always.
I know it's a TV show, but he's a doctor who doesn't seem to work very much at all, so maybe it's inevitable.
I think I just do a lot of big money gigs. I think I just take like three or four just big ones that coast me through the entire year. No one on our show seems to work. We just go to a bar or we go to someone's house. All the time, we're just back and forth. Or we're just taking meetings in someone's office. We were doing this scene yesterday where Pete came into my office like, "Hey, just thought I'd stop by." I'm obsessed with that convention, and of course you need those conventions because it's television, but no texting, no phone calls, there's no plans. When have you ever dropped in on anyone at work?
Are there going to be great guest-stars this year?
Amazing guest-stars. We're doing another episode of Dirty Randy and Rafi, so Seth Rogen and Jason Mantzoukas and that [episode's] cast is one of the best casts. Actually, my wife June is in that episode, so that will be really fun. I will say this, and we're only 12 days in, [but] I'm actually more excited about these scripts than I've been in a while. This season, I'm really excited about where we're going, what we're shooting, what we've been shooting.
You have an upcoming HBO project, and I read that you mentioned it having some True Detective elements. How is that going to work?
It's True Detective in the sense that it's an anthology series and the cast will change every season. That was one of the selling points. We're in the middle of writing right now. It took a little bit of a back burner while I had this baby. I took some time off, which I think was good. Just two months to be at home every day and change diapers and do all that stuff. So we're just in the middle of writing. It will be a half-hour show. I'm keeping a little bit of the log line under wraps but it's in the vein of a documentary, I guess I can say. It's in the vein of a documentary, and it's a half-hour show that would be a full story in eight episodes.
This is going back a bit, but did you really have a Jack Nicholson impersonator as the best man at your wedding?
That is true, I hired a Jack Nicholson impersonator to be the best man. I was like, Oh, I don't know who my best man should be, and I had this idea: What if it was a Jack Nicholson impersonator? And my wife immediately said yes. I think that that solidified every instinct that I've ever had about my wife, which is that she is the perfect match for me. She thought it was really funny, and we wrote this speech for him that was all references, so he's like, "June and Paul are as good as it gets …" and "When I saw them shining through …" Just dumb references, really shoehorned-in references. So anyway, he gets there really early and apparently, this is unconfirmed, allegedly he was having a couple of drinks before he had to go give the speech, and he came out and gave the most wonderfully improvised speech ever. It trumped anything that we could have written because it was so crazy. I think his opening line was, "Sorry I wasn't here earlier, but I was at Roman Polanski's house for a pool party." So he does that, and then he goes into, he says the As Good As It Gets joke, and that worked. And then he started to forget references and he just started saying, "June, yummy yummy. Yummy yummy." I was like, that was never a line that Jack Nicholson's ever said. "Yummy yummy"? And then he ended his speech by saying, "I'll be over here if you want to give me some hugs." The family, I feel, really thought it was Jack Nicholson. Some of these people were like, "But that was him, though." I was like, "No, no, no. It wasn't him."
You wrote for John McEnroe's short-lived MSNBC show. What was the experience like?
Oh my gosh, yes. That was the most insane experience of my life. I mean, John McEnroe hosted a late-night talk show. Insane! If you said that now, you'd be like, "Wait, what?" He was a lovely guy. He was so nice and told the best stories ever, but I think, I mean, I'm maybe talking out of school, I don't even think he wanted to be there. I think he thought he was going to be on a show like Pardon the Interruption, and then all of a sudden he's behind the desk doing monologue jokes. So he had been coming to UCB and he pulled me and Rob Huebel. It was sort of like, do whatever you want. John did not care. He's like, "Yeah, write sketches, I'll do bits with you, I don't have to do bits with you, do bits with the guests …" He just left us to our own devices, and we basically would write stuff in the morning, shoot it in the afternoon, and be home by 6. It was a crazy couple of weeks there.