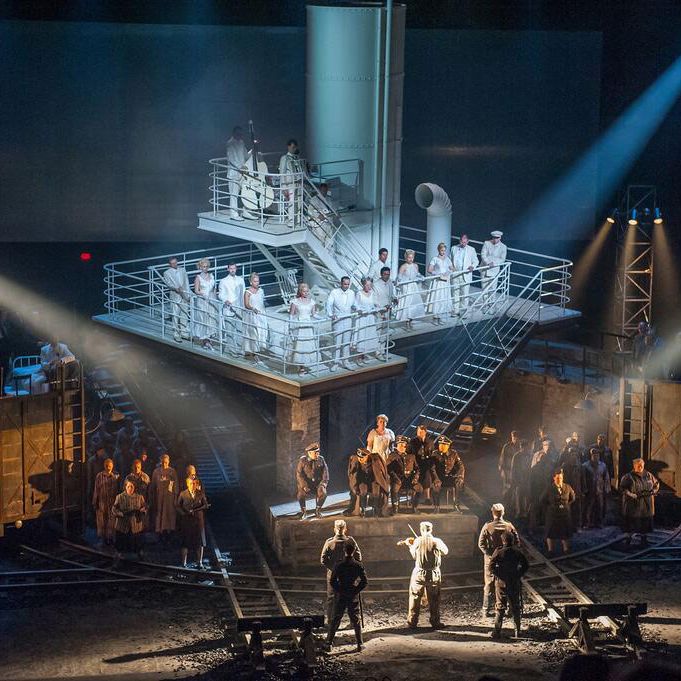 Photo: Courtesy of Lincoln Center
"Angesichts der Wirklichkeit ist alles Erfinden obszön." "In the face of reality, all fiction is obscene."
That sentence, by the Austrian writer Jürg Amann, came back to me during the Lincoln Center Festival performance of Mieczyslaw Weinberg's Holocaust opera The Passenger. The director David Pountney cites the line in a program note, acknowledging the moral challenge of transplanting a chorus of the doomed from Auschwitz to an operatic stage. Based on the novel by the Polish camp survivor Zofia Posmysz, composed in the 1960s, suppressed by the Soviet state, and left unperformed until 2010, The Passenger has been resurrected in the guise of a historical triumph — a tale that must be told, a score that must be heard. But it remains troubling, an earnest, frequently beautiful, and fitfully powerful drama about the relationship between prisoner and guard. Its many splendid moments aestheticize Auschwitz; its weaker ones fall back on brutal cliché.
Weinberg was born a Jew in Poland in 1919, and suffered official anti-Semitism of the Polish, Nazi, and Soviet varieties. His close family died in the extermination camps, but he eventually made his way to Moscow. In 1948, Stalin ordered the murder of his father-in-law, the well-known actor Solomon Mikhoels, heralding the start of a new pogrom. Only in a context of such grotesque misfortune could you call it lucky that the composer was arrested and sent to a gulag in 1953: Stalin died that year, and Weinberg was released. The permutations of his name are eloquent of the shifting, treacherous terrain in which he spent his life: Mieczyslaw, Mieczyslav, Moisei, and Moishei, and Moisey were variously combined with Weinberg, Vainberg, Wainberg, and Vajnberg. He outlived all his persecutors, as well as his protector, Shostakovich, and died in 1996 leaving a catalogue of music that deserves more excavation.
The Passenger begins in the early 1960s, on the deck of a transatlantic steamer bound for Brazil. A German diplomat and his wife Liese, dressed in angelic white and fleeing northern winters and bad memories, have neglected to ask each other some important questions about the past, though they have been married 15 years. Liese is spooked by a veiled apparition, and though for a moment we think she is a survivor who has spotted her tormentor, we soon learn it's the other way around. Weinberg treats this setup with magnificent skill. A composer who made his living writing for the movies and who scored the popular Russian cartoon version of Winnie the Pooh (Vinni Pukh), he could produce any style: woozy waltzes, nostalgic love tunes, dramatic soliloquies, horror-film revelations, ghostly mood pieces, Shostakovich-like explosions. All this variety gets a uniformly excellent performance. The baritone Joseph Kaiser sings the diplomat Walter with flabbergasted sincerity (but mister, what did you do during the war?), and Michelle Breedt is superb as his alternately self-justifying, ingratiating, terrified, remorseful, and ferocious wife. (It's curious that this story, told from a camp guard's point of view, reaches New York in the midst of the controversy over John Adams's The Death of Klinghoffer, which has been accused of empathizing with the Palestinian murderers of an American Jew.)
The Park Avenue Armory is the perfectly imperfect setting for this Houston Grand Opera production (which has its second and final performance tonight). In that vast vault, the singers have to be miked. In the absence of a pit, the orchestra, led by Patrick Summers, is shunted to the side of the stage. But Pountney compensates for acoustical drawbacks with a multi-story set so vivid you can practically smell the machine oil and coal smoke. Above is the pale ship where stairs, cabins, and ghosts materialize out of nowhere. Below is the darkened past of the death camp, crisscrossed by train tracks and rolling cattle cars. In that world, Liese's principal relationship is with Marta, a young Polish prisoner sung with fearless empathy by Melody Moore. Liese, uniformed in SS grey and sensible shoes, wants to be kind, but on her own terms. Generosity can be an instrument of control.
This is where Weinberg falters. Unwilling to write music as ugly as the situation and unable to plumb the complexities of the two women's mutual dependency and hate, he falls back on a series of manipulative setpieces. The writing is skilled, the drama taut, and I won't soon forget the moment when a violinist inmate is ordered to play the commander's favorite ditty and defies him with the Bach Chaconne instead. But the opera's emotional climax belongs not to either of the protagonists, but to Katya, a young partisan superbly sung by Kelly Kaduce, who brings her hardened barracks mates to tears with a plaintive Russian folk song. This may have been Weinberg's attempt to ingratiate himself with Soviet authorities, rather than an integral part of the story, but it works its magic on New York audiences, too.