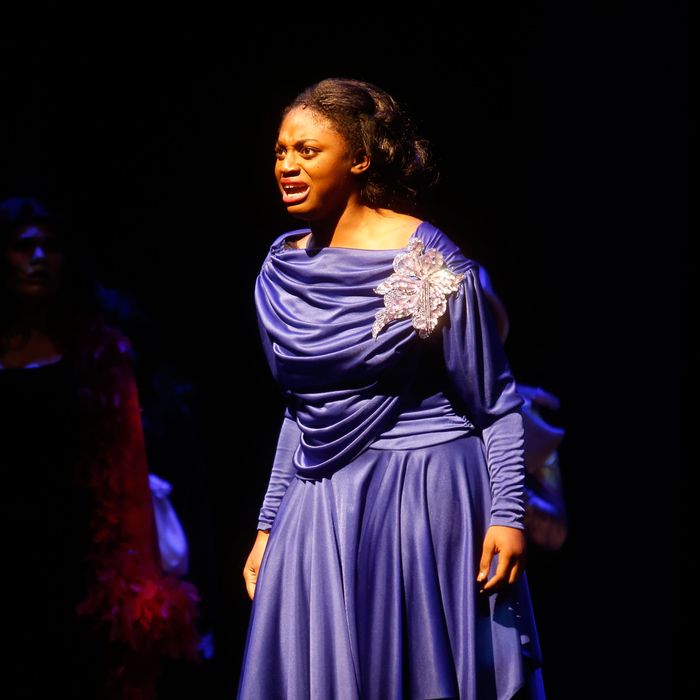 Jai'len Josey, a finalist at the Jimmys.
Photo: Henry McGee/NHSMTA
The Shrek with braces was adorable. Actually, so were the other two Shreks. All three had played the chartreuse ogre in high-school productions of the 2008 musical: one at Calvary Chapel Christian in Las Vegas, the others at arts magnet programs in Rochester and Charlotte. Each had then been named Best Actor in a regional contest, and had been sent, along with 53 other high school performers from around the country (including two Jean Valjeans, two Drowsy Chaperones, and two Usnavis from In the Heights) to the big time: the National High School Musical Theater Awards competition in New York. Over the course of five days, working with Broadway professionals, they prepared for the final show-cum-showdown, presented Monday night at the Minskoff Theater, on the vacated set of The Lion King. It was just about the cutest thing that ever happened.
Cute and instructive. In the first half, the students, in groups of eight to ten and segregated by gender, performed brief vocal highlights from their regionals-winning roles. These highlights were arranged in medleys that were sometimes comical and always surreal in their juxtapositions: the Cowardly Lion followed by Sweeney Todd followed by Pippin, for instance, or the Baker's Wife from Into the Woods responding to Effie from Dreamgirls by singing "You've changed!" And though the costumes, brought from home, varied widely — some looked like professional rentals, others like Pop-Pop's old suit — the talent varied much less. The level of vocalism was not merely high but amazingly consistent, despite the occasional American Idolization; the acting was also consistent, if not as good. (Clarion belts were often accompanied by semaphore or clenched hands.) How had kids from such radically different circumstances pretty much hit exactly the same targets? I'd planned on trying to grade them, but in the event found that two marks sufficed for almost all the contestants: double-checks, and double-checks-plus.
Clearly it was not going to be an easy decision for the six judges, a group that included producers, educators, and Broadway casting agents. However they voted, many among the screaming families and school chums filling the Minskoff were going to be disappointed. And yet the teenagers onstage had already won something just by getting to the Jimmys in the first place. (The awards are named for James Nederlander, of the theater-owning family.) As the emcee, the 2011 winner Ryan McCarten, recently in Heathers off Broadway, kept pointing out (and as other speakers, including Tommy Tune in gold oxfords, echoed in authentically cheesy scripted banter), arts education is not exclusively or even primarily for the benefit of future artists. Most Jimmy contestants will not seek a career in the theater, and fewer yet will achieve one. But it was somehow plain that they were all stronger for having tried to inhabit, even imperfectly, a character; for learning how to move, albeit stiffly, in their shoes; and for daring to sing for 1,700 people without falling apart.
After intermission, the six finalists — three boys, three girls — were revealed in silhouette as they rose on a hydraulic lift from beneath the stage floor. Now in mufti, each sang a complete song showing off a different aspect of their talent. The former Scarlet Pimpernel morphed into the singer of the tortured "She Cries" from Songs for a New World; one of the non-braces-wearing Shreks reappeared as Frank Abnegale Jr. singing "Goodbye" from Catch Me If You Can. (He cracked on the last note, a high B, as had another boy who braved the same treacherous song earlier in the evening. It was like watching figure skaters flutz.) Naturally, these were more polished and serious performances, and some were excellent. (Three checks!) One of the Usnavis now sang "If I Didn't Believe in You" from The Last Five Years, projecting into its story of a marriage gone sour an understanding that cannot have come from experience. (His youth did, however, render the husband's character unusually sympathetic.) And the Effie from Dreamgirls, an obvious standout in her handful of bars from "And I Am Telling You I'm Not Going," now sang "Raise the Roof" from The Wild Party, and did so. There was no question that these two — Jonah Rawitz from Adlai E. Stevenson High School, near Chicago, and Jai'Len Josey from Tri-Cities High School, outside Atlanta — would be the winners, and in due time, with a roll of tympani, they were.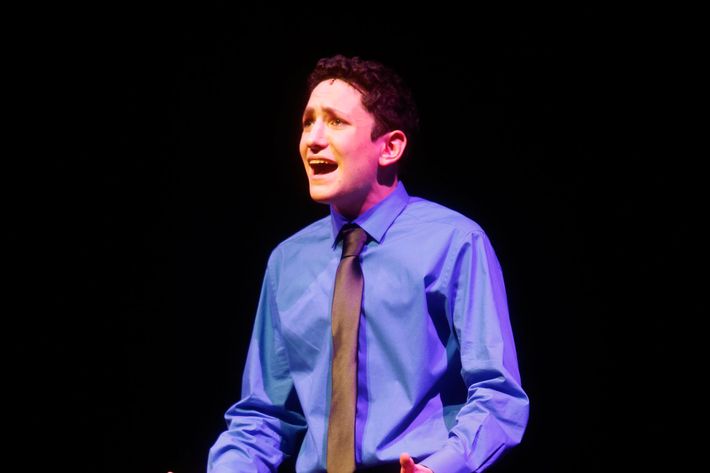 What did they have that the others had less of? Actually, it was more complicated than that. They both start with very strong voices; Jai'Len's is exceptional. They sing on the words, not above or behind them; they phrase naturally and with professional clarity. The Jimmys' vocal coaches, as well as their own teachers at home, would have helped them develop the technique and attention to do that. But it wasn't just what they'd acquired with training. It was also something they'd never quite lost, or had lost and regained, as great performers must: an open pathway from their heart to their voices, or the ability to give the impression that the two are actually the same.
Watching them (and a few of the others) perform, I was strangely reminded of the way toddlers sing themselves down the street, dancing like mental patients, as if this were the most natural thing in the world. Their feelings and their expression have not yet been pried apart. Just so, the two winners (who each received a $10,000 check from the Nederlander Organization) were poised at the beautiful place between artlessness and cynicism. Both looked like they would explode when their names were announced. Proto-professional they may be, but suave not yet. Jai'Len, tongue-tied and deer-eyed, had to be prompted by a shout-out from the audience to include her mother (and God) in her spontaneous thank-yous. "Mommy!" she instantly responded. Jonah's voice caught fetchingly as he saved his last thanks for the woman who taught him to make every word true. And for a moment, 1,700 people believed it.