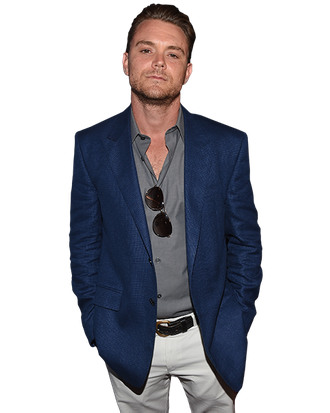 Photo: Michael Buckner/Getty Images
Chances are you know Clayne Crawford as that guy who always plays the jerk-off. The actor, 36, has long been typecast as the villain, most recently in 24 and Justified, and going back to his smirkiest work in teen movies like Swimfan and A Walk to Remember. But in Ray McKinnon's outstanding small-town drama Rectify, Crawford gets to be heartbreaking as a frustrated tire salesman whose world is turned upside down when his brother-in-law is released from Death Row. Vulture chatted with Crawford about feeling bad for fratty Ted Jr., long days on set, and coming to terms with a chronic case of what he calls relaxed douche face.
Things are falling apart for Teddy. His marriage is in trouble. The tire business is in bad shape. I'm sure there are plenty of people who still want to punch him for the way he treats Daniel, but I just feel so bad for him.
I tried as desperately as I could to build a character that people thought that they knew, and I wanted them to judge me immediately. It's why I'm chewing gum in episode one when Daniel comes out of prison. I wanted people to think, I know this guy. He's a jerk, because I knew Ray had zero intentions of having that be the case. Now Ted's starting to unravel, and you begin to feel for him. When you think about it, he's a good son! He tries to do his best, he loves his mother and wife. He's not a bad guy.
Why do you think he told Sheriff Daggett about Daniel assaulting him?
That's the beginning of Teddy's unraveling. He's not the put-together peacock we've been seeing. It felt right that he had to tell someone because for a guy like Ted, that coffee incident would be such a heavy thing to carry around. That scene with the sheriff was actually one of two that Ray read to me at the beginning of the second season. It was one of the first things he wrote.
What was it like hearing him as Teddy?
It's a treat because he's such a remarkable actor. We've all learned that Daniel, Tawney, Amantha, and Teddy are all parts of Ray. I don't know if that's intentional, but he's got a good ol' boy side to him like Teddy, he's got a very sensitive and spiritual, beautiful side like Tawney, and then a complex unusual side like Daniel. He can also be very opinionated like Amantha. To hear him read the characters is just lovely.
That coffee incident with Daniel was a real shock.
For me, too. Ray let me read it a few days before we shot it and he goes, "Buddy …" and I was like, "Okay, I guess if I'm going to have coffee in my butt, let's get coffee in my butt." I think everyone had a really good time at my expense, which is nice. It takes the pressure off of it. I'm from a very small town in the South, so I like a good old-fashioned ribbing. I was laying on my belly at one point, pants around my ankles, and the art department's sprinkling Folgers in my rear end, and the first AD is sitting over in the corner and goes, "Hey, Clayne. Roll tide." That makes more sense if you're an Alabama football fan like I am. But it broke the tension, which was nice of him.
There's so little dialogue on the show. How does that work on set? Are you constantly talking about how to calibrate a performance?
Yeah, it's never what's being said. It's what's underneath it all. I try to give every single kind of performance and reading I can so Ray can go back and manipulate the cut and build performances if he wants to. That's how we kind of built the show from the beginning. We'd do it so many different ways because, as Ray will say, "I can write it, we can rehearse it, but when you watch it on the monitor, things might not land." So we're constantly making adjustments. We all went to a screening of the first two episodes at the Sundance Film Festival a couple years ago — none of us had any idea what we were going to see.
I remember early on doing a scene with Addie [Adelaide Clemens, who plays Ted Jr.'s wife Tawney] and I go, "You ready to go?" and she's just covered in tears. We pause after the third take, and before the fourth, I walk back over to her and go, "You ready to go?" and she's laughing hysterically. So there's an indication of the range and the lengths we'll go to for a performance emotionally. And that's an average day.
That must make for long days.
One time, Addie just screamed her head off, "I can't do this anymore," because we'd been doing the same damn take for six hours. It's tough, but I'm so grateful that we have a leader who cares as much as Ray does. The cast tries to take the crew out as much as we can because, God love them, they're just totally silent throughout the day trying to be respectful to us. Its heavy stuff, man.
So what's next for Ted? Does his confession help at all?
I think by getting it off his chest, he feels like he can move on. Unfortunately, I think the damage is already done with Tawney. Daniel's come in, and Teddy senses there are things that he can't give her. He's not well read, he's never traveled, change frightens him. She's taken a bite out of the apple.
Why do you think Teddy's so insecure?
His dad married a woman whose son is on death row and they very quickly had another child. I feel like Teddy was always kind of left out. He's not a total jerk-off, but he's missing something, like he just wasn't hugged enough as a child, so he clings to things now. He's so scared of having things taken from him.
Do you hear from viewers who hate Teddy?
I try not to read anything. I moved my family from Los Angeles about four years ago. We bought a farm in the Southeast. I farm, I keep horses and cows and chickens, and I live in a part of the country where people don't watch Sundance TV, so no one has any idea of what I'm doing. My own family could care less. They're more like, "Hey, man, when are you going to get on NCIS? Mark Harmon is just fantastic." So I have zero idea of what anyone thinks of me or the show.
You're cast as the antagonist a lot, or even just as people who aren't that likable. Why do you think that is?
It's funny because I'm with my wife's family right now, and we were just having this conversation. On one hand, I seek out the bad guy, the guy who's misunderstood, the guy who has a past that is questionable. But even as a kid, I was immediately the bad guy. The teachers just gave me such a hard time and I never could understand why. My wife's little sister explained it to me just now. "Well, it's because you have relaxed douche face." There's apparently also relaxed bitch face. My daughter and wife have that affliction. We're always going around thinking there's something wrong with the other person, like, What's the matter? but it's just how we look. So, yeah, in any Nicholas Sparks story, I'm always going to be the ultimate bad guy.