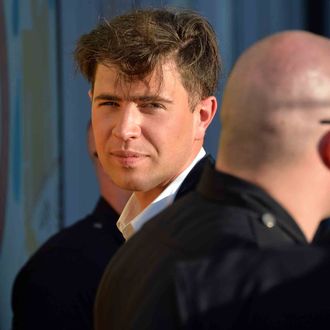 Photo: Frazer Harrison/Getty Images
Red-carpet "prankster" Vitalii Sediuk, whose catalogue of antics thus far has included attacking Brad Pitt, looking under America Ferrera's skirt, and hugging Bradley Cooper and Leo DiCaprio's crotches — on two separate occasions! — has issued an apology for his behavior, telling The Hollywood Reporter that he is leaving the U.S. to pursue a modeling career in London. "Basically, I'm changing my life," said Sediuk.
He continued:
I would like to thank Hollywood for having me this two-years-and-a-half. It was an experience that taught me a lot in life. Most importantly, I would like to say sorry for celebrities that had to deal with my stunts and thank them for being tolerant to me all this time. The motivation behind all my pranks was always positive even when some of them went wrong and were not understood by the public. I came to the decision to move overseas but there's some part of me that will stay in this city. I know you will not miss me.
Well, at least he got that last part right. Watch out for your crotches, London fashion industry.