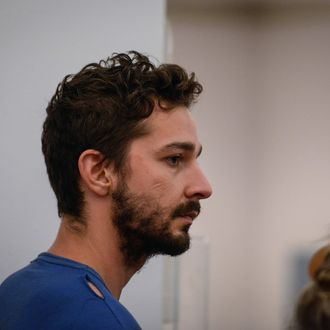 Photo: Anthony DelMundo-Pool/Getty Images
Update number two: Looks like both outlets quoted below were right. As first reported by TMZ, LaBeouf is receiving treatment for alcohol addiction (hence his possession of AA's Big Book) but did not check into rehab.

Update number one: After posting the below, E! News reported that LaBeouf did not check into rehab. No source or further information is provided by E!.
X17Online followed Shia LaBeouf to a private rehab facility, where it also took photos of him carrying the Alcoholics Anonymous Big Book. "It looked like he didn't want to do it, but he knew he had to," said X17's photographer, who also noted that Shia's stay was, so far, just for the day. News about LaBeouf will likely continue, as the actor was pulled from a performance of Cabaret and arrested for being disruptive last week.