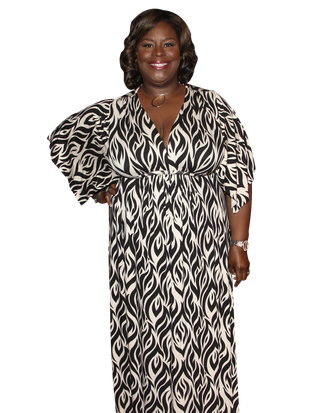 Parks and Recreation's Retta.
Photo: Paul A. Hebert/Press Line Photos/Corbis
At last night's NBC party at the Television Critics Association summer press tour, Vulture was on the lookout for anyone to commiserate with us about the upcoming final season of Parks and Recreation. Retta, mojito in hand, was more than willing to oblige. But not without shedding a few tears! We talked about saying good-bye, the real reason behind the season finale's time jump (read: Amy Poehler had a special request), and her upcoming cameo on Key & Peele.
What was your reaction to hearing it would be the last season?
Surprisingly calm. For the first five seasons, I panicked at the end of every season. I think we kind of knew in the sixth that Mike [Schur] wanted to wrap it up in the seventh. But at the end of every season it was like a panic attack. What am I going to do? You don't know if you're going to have a job. Jim [O'Heir] is my trailermate. I thought, I'm not going to be able to gossip with Jim every day? He's a big ol' gossip. Seriously. He's like a Brooklyn mom. So when this news came, it was almost a sense of relief because I want to know I can work toward what I'm going to do after. But then, it was probably a week ago, I started having panic attacks about not seeing everybody.
Are you back in production already?
August 11.
So you randomly had a panic attack?
Well, someone asked me about it. [She starts to tear up.] Don't make me cry!
I'm going to cry too — oh my God, you're crying.
[Tears begin streaming.]
I don't like imagining my life without Pawnee, either. Here, have some alcohol.
That'll make it worse! Wine is crying juice. Rum is worse. Oh my god.
It's okay! Take a minute … Did you know at the time you shot the finale that next season would be it?
This is the first time we knew we had a new season. We didn't know that it was going to be our last.
What did you think of the time jump? I was so surprised.
I never knew that was going to happen. Here's the thing: I don't ever read the script, so I just never read it. I only read what I get when we have to shoot, and because I wasn't in those last scenes … But I watched the show. Actually, I saw Amy Poehler at Aziz Ansari's birthday party and she was like, "I'm not working with babies, so I told them we're doing a time jump so I don't have to work with babies."
Ha, that's funny!
She was like, "I just had two kids. I've had my share of babies for the last three years. I'm not doing another year of babies. Especially triplets."
Totally understandable.
Yeah, so that's why they changed it.
And then you saw it and?
[Whimpers] And it's so good.
Has Mike told you anything about what's next for Retta?
No, but when he talked to me about Keegan-Michael Key [who played Joe] coming on last season, he alluded to him coming back. But I don't know because Keegan's on that other show, [USA Network's] Playing House.
I hope he comes back for Donna. I love Key & Peele.
I do too. I just did an episode with them for the new season. I gotta show you a picture. [Shows a picture of her and Keegan. She's got big hair.]
Wow, what's happening in this scene?
You know those characters they play? The jazz guys battling. Well, this is one where they scat and I come in and they're scatting over me. I get caught in the middle. Look at that hair.
Did you know Keegan?
I did. The first time I met him was at an improv at Comedy Sports. We all went back to his place and played some card game. He was mad because I had never played before and I was killing him.
Tell him to come back to Parks.
I want him to. I really do.
At the risk of making you cry again, have you thought about saying good-bye to the show?
When Rashida left — I wasn't there, I was on the road — they were trying to Skype me in to the party. It didn't work. But before that, Rashida and I did an interview and it was the first time we had talked about it, and we start talking and she was like, "Okay, I gotta go!" She couldn't do the interview. [Laughs.] It's like that now. If we don't talk about it, and it hasn't happened yet, it's not real.
I'm going to let you drink now, but just one more quick question. What do you plan on keeping from the set?
Probably Ron's gold gun. There's a lot of stuff, though. I have to look around. Our propmaster is really awesome about getting stuff, like if we really like something, she'll try and get us an extra one. I don't know if I could get that gun, but that's what I want.