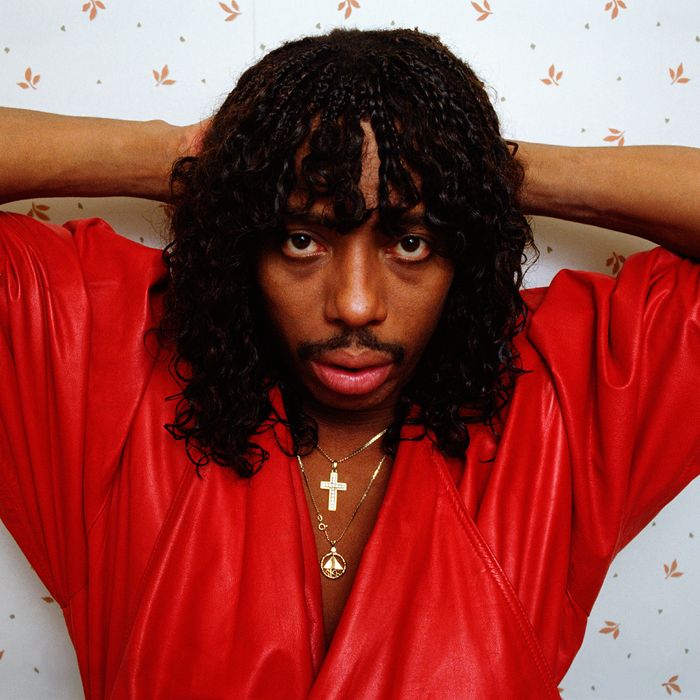 WEST HOLLYWOOD, CA - 1987: "Super Freak" funk and soul singer Rick James poses during a 1987 West Hollywood, California photo session. Plagued with a history of drug and alcohol abuse, James died of apparent natural causes in 2004. (Photo by George Rose/Getty Images)
Photo: George Rose/Getty
Earlier this week, Rick James posthumously published his memoir Glow, co-written with David Ritz. The book jumps around a lot, which James himself chalks up to his years of drug abuse, but an engrossing portrait of his life and career emerges in scattershot about his time coming up in a world in which black musicians could finally break through on the pop charts. Vulture flipped through chapters about his sex addiction, his chemical dependencies, and brushes with the law to collect 12 great info-nuggets about the man who brought the world "Superfreak."
1. He enlisted in the Navy but quickly fled from training camp.
James joined up in the hopes of avoiding the drug-addled paths of those he grew up with in Buffalo, New York, but as soon as naval officers shaved his Afro, he knew it wasn't for him. He left the country, seeking shelter in Toronto and changing his name from James Ambrose Johnson to Rick James. He would eventually serve time for his desertion.
2. Levon Helm once fought alongside him in a Toronto street brawl.
Upon his arrival in the Canadian city, the singer got jumped by three men on a side street. Three other men ran to his aid, one of whom turned out to be Helm, who at the time was an undiscovered member of Ronnie Hawkins's backing band. He invited James onstage with them that night.
3. On one of his first nights in Los Angeles after relocating there, he witnessed Jim Morrison slash his wrists.
"I awoke to see a young dude sitting on the floor in the lotus position, stoned as a motherfucker," James wrote. "Nothing unusual about that except for the blood dripping from his wrists." James quickly sought help, and Morrison repaid the favor by tricking him into dropping acid. All in a day's work.
4. He briefly pimped so he could finance his musical career.
One of the many women he slept with offered to "bring me money" so she could stay in his good graces, and James didn't exactly say no. "The idea of pimping was not all that appealing," he said, "but the idea of extra money was." He had four women working for him before he dropped out of the game.
5. He narrowly avoided being murdered alongside Sharon Tate.
His manager at the time, Jay Sebring, invited the singer and his girlfriend to a party at Tate's house. James was too strung out on drugs and alcohol to make it out of his bed, and woke up the next morning to the Los Angeles Times headline "Sharon Tate, Four Others Murdered." Sebring was among the dead.
6. When he moved back to Toronto, he spent time dealing drugs, and one of his clients was George Clinton.
The two ended up doing lines together and spent time playing each other new, unreleased music. Clinton encouraged him to eschew artistic independence in favor of a major label that had the proper resources.
7. Once he and Steven Tyler did cocaine together off a knife. They later spent two separate stints in rehab together.
James recorded his album Come Get It! at the Record Plant in New York, and during one of the sessions, Tyler popped his head in to listen. "This is the fuckin' bomb!" Tyler shouted happily "as he pulled out a big bag of blow and a long bowie knife." You can fill in the dots yourself.
8. Moments before his live television debut — on Dick Clark's show, no less — James snorted cocaine.
"The interview went well except for the fact that my nose started running," he wrote. Dick Clark didn't mind it, though; or if he did, he kept things professional on air.
9. James accused Prince, once his opening act, of stealing his shtick.
Things took a rocky turn between the men when Prince was supposedly "emulating my moves like a motherfucker." It pissed James off. "I know imitation is the sincerest form of flattery, but because my act followed his, it looked like Rick James was copying Prince rather than vice versa." Later, once Prince became famous, he refused to sign an autograph for James's mother. It didn't end well.
10. James got kicked out of a Graceland tour for signing too many autographs for his fans.
When a fan yelled "The King is dead! Long live the King!" at James inside the mansion, he knew it was all downhill from there.
11. After a quick affair with Linda Blair (yes, from The Exorcist), James wrote "Cold Blooded" about the star.
He spent time getting to "know" the actress during a short stint living at the Chateau Marmont in Beverly Hills. Later, he found out that Blair had gotten pregnant by him and obtained an abortion without his knowledge. "Cold Blooded" came from that discovery. "It was about how Linda could freeze my blood," he wrote.
12. Debbie Allen (from Fame) staged an intervention for James after he fell asleep during one of her Broadway performances.
"All you do is get high and have sex," she screamed at him backstage while sitting on top of him so he couldn't escape her. "Don't you see how blind you are to all the things sapping your soul?" He promised her he'd get clean, but in typical James fashion, "I broke that promise later that night."