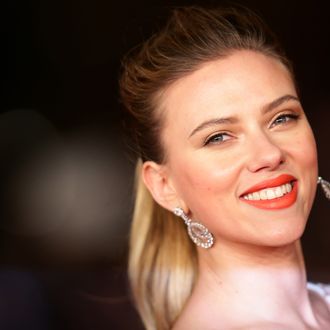 Actress Scarlett Johansson attends 'Her' Premiere during The 8th Rome Film Festival at Auditorium Parco Della Musica on November 10, 2013 in Rome, Italy.
Photo: Vittorio Zunino Celotto/Getty Images
Scarlett Johansson and Jonah Hill are both in talks to join the Coen brothers' forthcoming Hollywood Golden Age flick Hail Caesar!, about a fixer who helps keep movie studios' stars in line. The impressive cast already includes George Clooney, Josh Brolin, Channing Tatum, Tilda Swinton, and Ralph Fiennes. In a fine example of art imitating life, Johansson would play an actress who suddenly gets pregnant when her film is about to begin production. Still no word on what character Hill will play — Channing Tatum's BFF, perhaps?