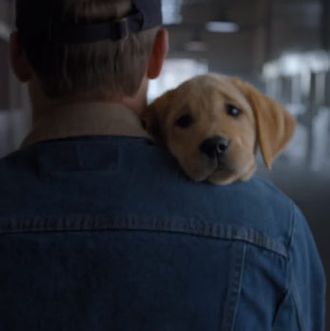 Emmy nominations were released today, and mixed in among the TV shows is one category for commercials. While all those other shows were busy making you laugh and cry, commercials were busy making you laugh and cry and internalize brand positioning for a number of multinational corporations in the hopes that you eat more, drink more, and buy more in general. Puppies and kids ahead!
1. "Childlike Imagination"
A little girl describes what she thinks her mom does at General Electric; it sounds almost too good to be true.
2. "Hero's Welcome" 
You may recognize this commercial from Super Bowl XLVIII. In it, an American hero recieves a warm welcome home, which includes family, friends, and, of course, a Budweiser.
3. "Misunderstood" 
The commercial that made it okay for everyone to play on their phones rather than spend time with family.
4. "Possibilities" 
Nike expands the possibilities of "just do it" to include challenging Serena Williams to a game of ping-pong and riding a rhinoceros.
5. "Puppy Love" 
Another Super Bowl XLVIII favorite, because puppies.