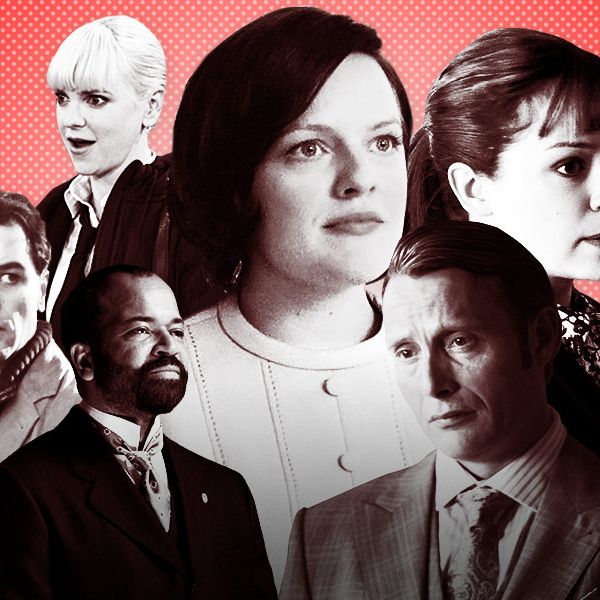 Photo: Maya Robinson and Photos FX, CBS, HBO, AMC, NBC and BBC
My iPhone autocorrected "Emmys" to "enemies" this morning. It was a sign. The Emmys, the Oscars, the Grammys, and other awards groups are all guilty of overlooking great new or newish work in favor of known quantities; call it the Institutional Tendency, maybe. Hand-in-hand with that are some oversights that seem strange, because the Emmys snubbed shows or performers that you would think the Institutional Tendency would have favored. There were so many head-on-desk-worthy omissions this year that it's probably impossible to list them all.
But what the heck, let's try.
Along the way, we'll say nice things and mean things about shows and artists that did get nominated for Emmys, and we might work in a comment or two on the state of the industry, too. But let's not kid each other: This column is mainly about the snubs. The snubs, people. THE SNUBS.
There. Are. So. Many.
OUTSTANDING TELEVISION MOVIE
The Normal Heart will win, and deserves to. It's a powerful film on a powerful subject, and because its hero is basically the guy who wrote the original play, Larry Kramer, it doesn't matter that it sometimes steps on toes or slams its head into the wall or gets lost in a self-righteous monologue and tumbles down a flight of stairs. It's an amazing piece of work. It comes straight from the gut. Maybe lower.
OUTSTANDING MINISERIES
This will probably go to Fargo, which I was somewhat less enthused with than a lot of my colleagues, though I did like it a lot. American Horror Story should not have been up in this category. Its third season was so inconsistent and sometimes morally repugnant that you can't even defend it as a guilty pleasure. It's nice that the Emmys nominated Treme's fourth and final batch of episodes, but a grudging half-season order by HBO does not a miniseries make. I know it never could have happened this way, because Treme was watched by me and maybe nine other people, but: I would've liked to have seen its final run of episodes recognized in the drama category, as a retroactive apologia for having mostly ignored it during its first three seasons. It should have swapped places with True Detective because, like Fargo and American Horror Story, it's not a traditional drama, but a miniseries-anthology whose unit of measure is the season rather than the episode. I'll bitch about HBO's gamble in the drama section below.
OUTSTANDING SUPPORTING ACTRESS IN A MINISERIES OR A MOVIE
Allison Tolman should've been nominated in the lead miniseries actress category — she's definitely a lead in Fargo — but I understand why FX tactically under-submitted her (for the same reason that Paramount under-submitted Al Pacino as supporting actor for The Godfather back in the day). Hers is one of the most exciting nominations because she came out of nowhere and landed a great part on merit rather than connections or track record. She was working at a coffee shop when she got the call telling her she'd won the role. And what poise. She carries herself as if she's been a star forever.
OUTSTANDING COMEDY SERIES
No point wasting breath complaining that The Big Bang Theory and Modern Family get nominated year after year because (1) they're known quantities on major networks; and (2) they've already been nominated multiple times, and that makes them more likely to get nominated in each successive year. We all know this is how it works. I'd have swapped them out for Looking (a series whose mundane treatment of its subject was genuinely revolutionary) and Girls. (I know a lot of y'all were lukewarm on Girls season three, but I thought it was the show's most controlled and purposeful season yet.)
The other nominees are more than worthy: Louie, Orange Is the New Black, Veep (a known quantity as well — but what a cast, what energy, what a season!), and the category's true surprise, HBO's freshman sitcom Silicon Valley, which captures the beta male-intellectual version of meathead macho better than any TV comedy I've seen. Louie's the most artistically innovative (if divisive) nominee in this category, but creator Louis C.K. is to the TV sitcom what filmmakers such as David Lynch or Mike Leigh are to feature films. Once in a while, those types of artists get a nomination from a mainstream awards-giving body, but it's often an "all right, fine, you're a genius, here," nomination. There never seems to be love in it. And this year, C.K. seemed perversely determined to make things as hard on his loyal audience as possible; that the show wasn't snubbed altogether seems like a cosmic mistake.
I have a feeling Orange will take the prize and finally end Modern Family's four-year stranglehold on the category. Loyal fans don't just like it; they love it. They feast on every second like an inmate devouring a contraband candy bar. The show is serious and fun, surprising and comforting, a potent mix of traits.
OUTSTANDING SUPPORTING ACTOR IN A COMEDY SERIES
Andre Braugher needs to win this for Brooklyn Nine-Nine. No other outcome is acceptable.
OUTSTANDING SUPPORTING ACTRESS IN A COMEDY SERIES
Allison Janney needs to take this for Mom. Kate Mulgrew is magnificent on Orange Is the New Black, but I'd have liked to see another Orange actress or two, or three, or four get nominations in this category as well. Taryn Manning, Danielle Brooks, Laura Prepon. Orange is the supporting-actress show. (Speaking of Orange, did you see Samira Wiley play a lovestruck, heartbroken, fluent-German*-speaking teenager in those season-two flashbacks? Her team should start thinking about a 2015 campaign right now.) But at least we have the guest-actor category. Laverne Cox's nomination is historic, not just because the excellent Cox is the first trans actor to be nominated in a major category, but because the nod complicates the gender binaries inherent in the very titles of these acting categories.
OUTSTANDING LEAD ACTOR IN A COMEDY SERIES
I'm not over the moon about anybody in this category, most of all Ricky Gervais. He should not have been nominated for Derek. Both the show and his performance in it are regrettable for all sorts of reasons.
OUTSTANDING LEAD ACTRESS IN A COMEDY SERIES
Lena Dunham for Girls, Edie Falco for Nurse Jackie, Julia Louis-Dreyfus for Veep, Amy Poehler for Parks and Rec (her 728th nomination, it seems), Melissa McCarthy for Mike & Molly, Taylor Schilling for Orange Is the New Black. A good bunch. I can't see anyone egregiously occupying a slot that rightly belongs to someone else, though I'm not crazy about Falco's frequent presence in this category at the Emmys and in other awards-giving venues; she's excellent, but she doesn't astonish me with her invention or audacity the way the other women here do. I don't know who I'd kick out to make room for Mom's Anna Faris, but her remarkable performance should not have been forgotten.
OUTSTANDING DRAMA SERIES
This is the category that really, truly ticked me off. No, I'm not "surprised" that Hannibal, The Americans, Orphan Black, Masters of Sex, or other excellent if somewhat off-puttingly wild or intense dramas didn't make the cut. But the omissions of Boardwalk Empire and The Good Wife — both of which did their best collective work to date in their fourth and fifth seasons, respectively — strikes me as bizarre. The Good Wife is a handsomely produced, intelligent, star-packed broadcast network show that has been nominated in this category three times previously. It's good and it's smart, sexy, warm, and exciting; there is no reason, none whatsoever, for the Emmys not to have nominated it. As for Boardwalk, I'd understand giving it the prickly-pear treatment if it hadn't  been nominated in this category twice before, for seasons one and two. You'd think this is the kind of lavishly funded period series that would just keep getting nominated year after year no matter how cruddy it was, just for the hats. But no: Downtown Abbey got that privilege, despite having limped through its weakest season. And House of Cards season two? Seriously? If you're going to nominate an extravagantly silly, nasty, political series, you go with Scandal. Breaking Bad might take this category because its fans miss it terribly, and because its final half-season was mostly masterful (even though Rian Johnson should've been nominated as best drama director for "Ozymandias" and wasn't). I'm fine with it or Mad Men going home empty-handed, though, because nobody can plausibly claim that they've gone unappreciated all this time.
I also need just to go on record here and say (1) the worst ten minutes of Hannibal display more tonal control and visual imagination than the best hour of almost any other drama you can name, even the great ones; and (2) it should have been nominated here; and (3) it doesn't matter that it wasn't nominated because 20 or 30 years down the road, young students of cinema and television will ask their elders if they watched Hannibal during its first run, and they'll all lie and claim they watched every second, like people do today when young viewers ask about Twin Peaks.
Kudos to HBO, I guess, for entering True Detective in this category even though by all rights it should have been submitted as a miniseries; but when I think about the fact that it's squatting in a slot that could have gone to a show that actually belongs here, it pisses me off a little bit. Apparently it's in the drama category due to a technicality that HBO and the series' producers would have had to petition the academy to correct, and they chose not to. Vulture's Denise Martin has the full explanation here.
OUTSTANDING SUPPORTING ACTOR IN A DRAMA SERIES
Where the hell is Breaking Bad's Dean Norris? Also, where the hell is Boardwalk Empire's Jeffrey Wright?
OUTSTANDING SUPPORTING ACTRESS IN A DRAMA SERIES
This category should be called Best Suffering Actress. I sort of want Anna Gunn to win this one for playing Skyler on Breaking Bad, just to hear the sound of millions of Team Walt dudes' heads exploding all at once.
OUTSTANDING LEAD ACTOR IN A DRAMA SERIES
Cranston might win this category yet again, over Jon Hamm, who I am beginning to suspect may have to wait until 2015 for the Emmy he should've gotten years ago, if he doesn't turn into the Susan Lucci of intellectual beefcake and end up collecting some kind of "We love you, we're sorry, thanks for the memories" award in the distant future, when Hamm looks like the Grail Knight from Indiana Jones and the Last Crusade and TV shows are jacked directly into our neural pathways by nanobots. If I were God, man (he typed, quoting All That Jazz again for no particular reason), I'd have kicked out Kevin Spacey, who's fun but awfully obvious and hammy, and Jeff Daniels, unbearable in an unbearable part, and slotted in Mads Mikkelsen or Hugh Dancy from Hannibal, or maybe Matthew Rhys from The Americans, to whom I gave a Vulture award this year, a prize that'll get you a cup of coffee if the guy serving it is me.
OUTSTANDING LEAD ACTRESS IN A DRAMA SERIES
Of the nominees, Julianna Margulies is the one I'd most like to see win. But Elisabeth Moss should've been up for Mad Men. She's the other anchor of the series, along with Jon Hamm, and her character's growth has been just as pronounced over the seasons. And Tatiana Maslany's human-hall-of-mirrors act on Orphan Black deserved a nomination. Outside of a sketch-comedy series, you almost never see such a virtuoso display of range. How great is she? She's so great that she's been sitting at my desk writing this column since 10:17 this morning and nobody noticed.
* This post has been corrected to reflect that Poussey speaks German, not French.