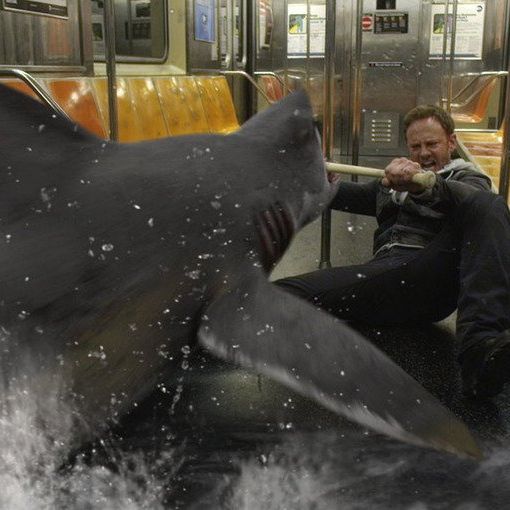 A year ago, Syfy's Sharknado came out of nowhere to become one of the surprise pop-culture success stories of summer 2013. While not many people actually watched the movie when it first aired (and if that applies to you, everything you need to know can be found here), the tsunami of Twitter activity around it (and the subsequent saturation of media coverage of said tweets) caused several of the movie's five repeat airings to outperform the original telecast substantially in the ratings. All told, Syfy estimates just over 14 million shark-and-or-tornado–curious Americans ended up catching at least a few minutes of the gloriously awful "film."
Tonight, the inevitable sequel — Sharknado 2: The Second One — arrives, and TV industry insiders will be watching to see whether a year of shark precipitation hype will translate into yet another Twitter "event" and, perhaps even more important, a jump in the ratings. Given the relentless marketing campaign Syfy has mounted for the sequel, it's a safe bet execs at the network are also counting on lightning striking twice. But here's the thing: The actual numbers, from either Twitter or Nielsen, don't really matter all that much in the case of Sharknado 2. The mere existence of Sharknado 2 means Syfy has already won. Let's count the reasons why.
1. It costs next to nothing. Syfy isn't releasing budget figures, but various reports last year estimated the budget for the original to be anywhere between $1 million and $2 million, with Syfy actually picking up just a portion of that cost as a license fee paid to production company The Asylum. Let's assume all parties involved went all in and doubled the budget for the sequel: It's still a dirt-cheap sum for TV content (some one-hour TV pilots now push close to $10 million in budget). The Asylum also likely doesn't have to worry about losing money, either. After the social-media storm erupted over the original, chief operating officer Paul Bales told Wired the movie was suddenly snapped up by international buyers: "We sold it all over the place." The sequel likely sold just as well, meaning the movie has probably paid for itself already.
2. Other companies are marketing Sharknado 2 for Syfy. The network has gone all out to market tonight's sequel, but most of its efforts are built around using partners (and free media) to serve as promoters for the film. Subway agreed to put up Sharknado promotional material in over 26,000 of its sandwich shops, movie site Fandango is in the middle of a Sharknado week (a slew of movie-related content is splashed all over its homepage), Random House has a Sharknado-inspired disaster-prep book on offer, and there are even Sharknado-themed Philips lightbulbs. Naturally, all corners of the NBCUniversal empire (where Syfy is based) are pitching in to promote the movie, including NBC News. And in addition to a lavish Sharknado 2 premiere pool party the network threw earlier this month for journalists at the TV Critics Association press tour (full disclosure: Your correspondent enjoyed a delicious hot dog and a box of Red Vines), Syfy sent members of the media and other celebrities not one but two launch kits for the film packed with Sharknado swag. The result: Journalists such as CNN's pop-culture-savvy Jake Tapper are out spreading the gospel of Sharknado on Twitter this week.
3. Every mention of Sharknado is an indirect plug for Syfy, further boosting the network's brand. While Syfy is a reasonably successful network, it hasn't had a massive, buzz-worthy scripted-series hit since the days of Battlestar Galactica. While Sharknado is a world apart in terms of quality, it's still a Very Big Deal in terms of the culture (for better or worse), and it's inextricably linked to Syfy. Ad revenue is very important for cable networks, but buzz and perceived "hotness" are nearly as crucial. Wal-Mart could soon been moving those Sharknado pajamas to the bargain bin (right next to the Duck Dynasty bandannas), but for at least a year now, Syfy has been able to associate itself with a fun, quirky, and young-skewing pop-culture meme. That's a victory.
4. Nobody will care if and when the ratings tank. It's possible the Nielsen numbers for tonight's telecast will disappoint, though odds are they won't. (After all, the ratings for last year's debut were pretty low, meaning Sharknado has a low bar over which to, er,  jump.) More likely is that a sizable faction on Twitter will turn on Sharknado 2, if only because tonight's telecast has been built up so much by those of us in the lame-stream media (while last year's social-media wave was organic). But so what? As noted, the financial risk to Syfy is nonexistent, even in a worst-case scenario in which the network has to shell out some free ad time to sponsors if ratings don't match guarantees. Also, because the whole point of Sharknado is that it is intentionally bad TV, nobody in Syfy's programming department is going to get yelled at by their bosses because the movie was a "disappointment." If Sharknado unexpectedly bombs tonight — or, more likely, next summer, when a second sequel is already scheduled to air — the TV business and the internet will do what they do best: move on to something else.