Silicon Valley Star's Improv Festival Diary
Photo: Sandy Honig/New York Magazine
[For a delightful photographed account of the weekend click on the image above or on the tab at the bottom of the diary.]
Every year, the Upright Citizens Brigade Theatre puts on the Del Close Marathon (DCM) in honor of its legendary Chicago improv teacher. Now in its 16th year, the festival has grown from 24 hours of shows on a single stage to hundreds of shows on eight stages for nearly 56 hours straight. Every year, performers from the past return to do shows and hang out at this part-festival, part-convention, part-reunion. Last year, we had The Office's Ellie Kemper keep a diary of her DCM. This year, Vulture asked Silicon Valley star Thomas Middleditch, who performed at UCB New York after time spent in Chicago and before his move to L.A. Read about his five shows, partying anxieties, paella dinners, and general fun-having.
Day 1: Friday, June 27
9:50 a.m.
I wake up in Westlake, Ohio. I'm about to start filming a very funny R-rated comedy called The Bronze with Melissa Rauch. But before that begins, I gotta get my ass to New York for the plaid-shirts-and-hoodies parade of Improv Festival, USA.
12:00 p.m.
I'm in the air. I take the time to play the classic Amiga game Defender of the Crown [a computer game set in the Middle Ages] on my Samsung. I play as good old Geoffrey Longsword. The man can raid a castle, I tell you what. After rescuing a few damsels in distress, my fellow Saxons collapse and the Normans take hold of England. I lose the game. I'm now in a deep and total depression.
2:58 p.m.
In a cab, and the driver and I are gabbing about NYC versus L.A. I point out the Kings being Stanley Cup champions. My guess is he doesn't watch hockey. He tells me there's too much traffic in L.A. I literally laugh in his face as we are caught in a bumper-to-bumper traffic jam as far as the eye can see and there's an angry Ethiopian taxi driver honking and shouting at us. Why? Where can we go? Where are any of us going, really? What is life? It's becoming very existential.
4:36 p.m.
At last, Hotel Yotel. For anyone who hasn't stayed at this bizarre Japanese-style, Virgin Airlines–inspired, space-travel-themed hotel, do yourself a favor and check in right now. Water pressure: A+.
5:20 p.m.
I'm walking to the press line at the Del Close Marathon, and run into pal and convicted felon Brian Huskey. We laugh and I bring up how the cab driver complained about traffic in L.A. His cab guy got into an accident on his drive into Manhattan. We snicker like two secretaries named Kathy. Oh, and Brian isn't actually a felon. I was just being silly! Classic Kathy!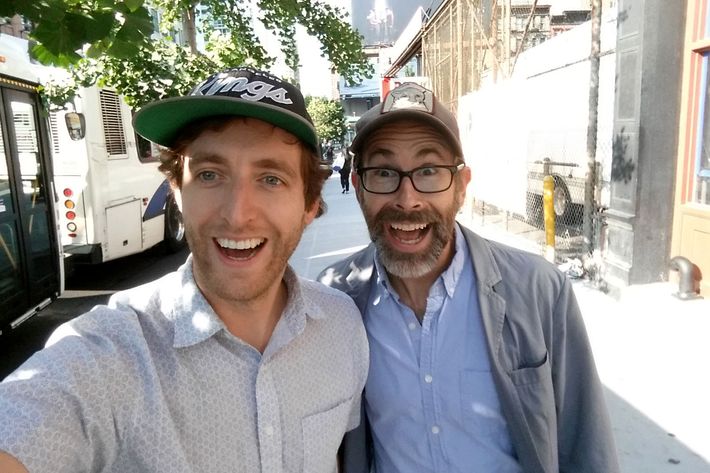 5:45 p.m.
Press stuff. Meeting lots of friendly faces — some I haven't seen in years, some I see all the time in Tinseltown. Take some photos. Halfway through, I realize this is a comedy festival, and I start acting like a ham. I'm talking glazed and salted, girlfriend.
7:00 p.m.
The first show: "Director's Commentary." It's the first of many shows with my dear old friend Ben Schwartz. It also featured Horatio Sanz, Bobby Moynihan, Katie Dippold, Gil Ozeri, Matt Besser, and myself. What a cast. We watch the movie Jobs and make fun of it. Sorry, Ashton. You're welcome, Steve.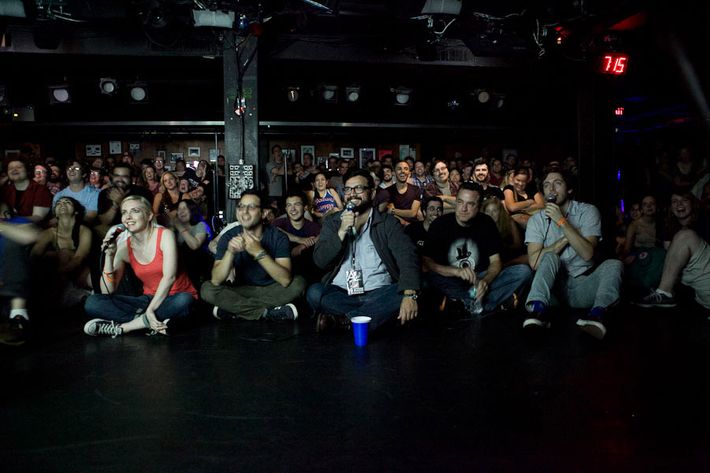 9:07 p.m.
After walking around with Ben, he goes and does another show, and I take the time to visit friend and director Todd Strauss-Schulson. What's unexpected is that he's got people over and has hired a short little Spanish man to cook everyone dinner. Great company, great food, and I leave smelling like a paella factory. The Spanish chef calls me homeless because when I was eating, I didn't say much (because I was enjoying your food, ya knucklehead!) and also because I had to leave right after I was done (maybe I don't like being called homeless).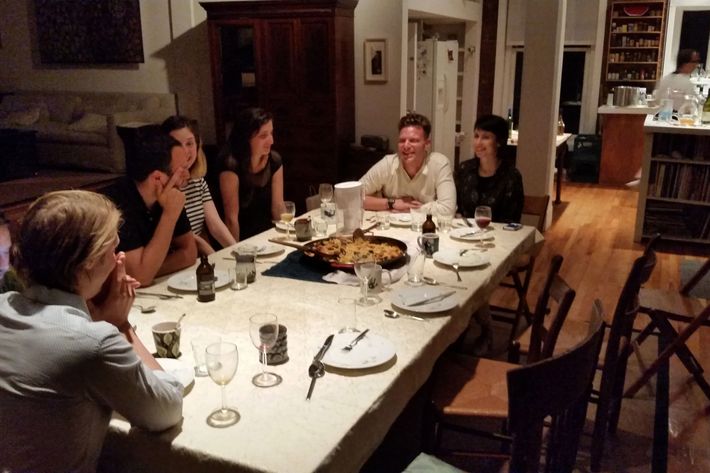 11:30 p.m.
"Middleditch and Schwartz." Always a joy to do two-person improv with Ben. It gets very silly. I think our lips touch in a scene where we are eating what I think is a large sub sandwich Lady and the Tramp–style and eventually meet in the middle. That image is for you, ladies. Put that in the Rolodex for the next candlelit night in the tub.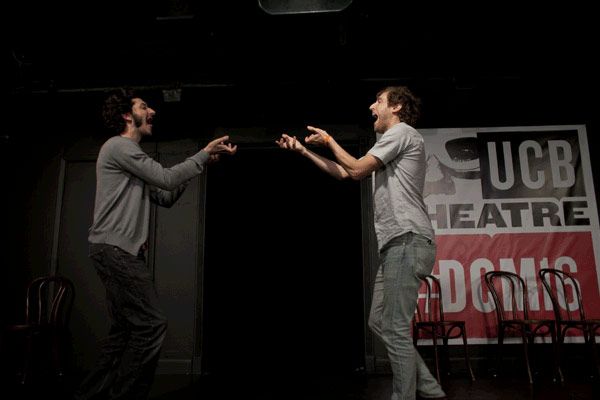 1:17 a.m.
I tried to hit up the party the festival is throwing and couldn't handle it. I kept complaining that it was too loud and that my feet hurt. Apparently, I turned into an old Jewish man on the walk over. So, I'm in bed instead and really pleased about it. Tomorrow, more make-'em-ups and quality time with some of the funniest people on the planet. Good gig.
Day 2: Saturday, June 28
11:05 a.m.
Thank you, Zzzquil, for this epic sleep. It was most needed.
12:00 p.m.
I meet up with a pal I haven't seen in a while. We go eat lunch. She complains about her ex. I tell her she needs to stop dating men 20 years older than her. She doesn't listen and points out some cotton-top that's really "sexy."
1:30 p.m.
On my walk back to the hotel, a sporting-goods store has the Brazil versus Chile game on in its window display, with a large crowd gathered on the curb to watch. Extra time, shoot-outs — the crowd grows. This old guy next to me desperately wants someone to talk to, but his brown paper bag and crack pipe tell me I should let him keep that conversation for the demons inside his head.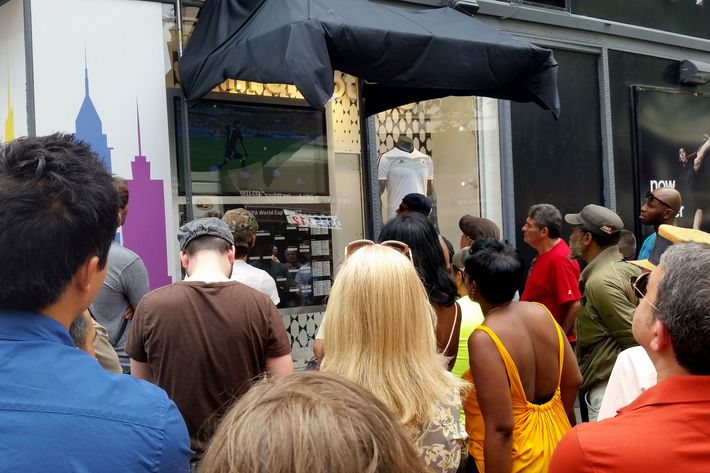 6:00 p.m.
First show of the night is "Snowpants," courtesy of that pesky Schwartz! [It's a recurring show Ben Schwartz does, in which he pairs experienced improvisers with famous people who've never done improv before — like Don Cheadle, Adam Scott, and J.J. Abrams.] In the spirit of DCM, we have the special guest be an audience member. I think his name was Dave. Or was it Alexander? No. Fontleroy, maybe? Can't remember. The show was great, as was our guest. I got to play a Blaxploitation hype-man character and a raunchy female Jewish stand-up comedian. Pretty standard Middleditch.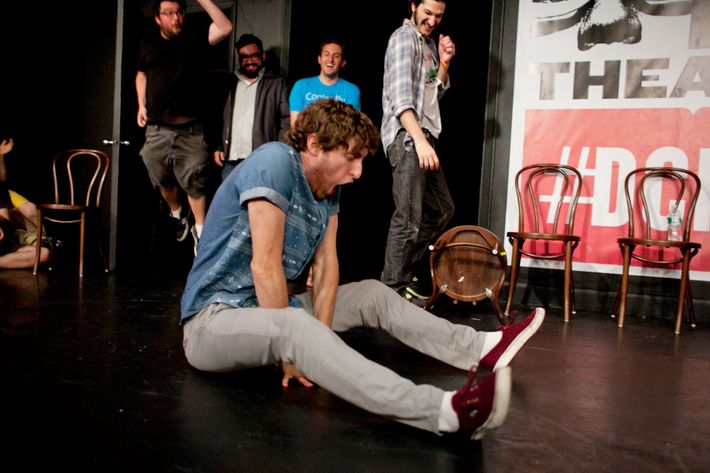 7:30 p.m.
"Gravid Water," one of my all-time favorites. [It's a show in which two actors perform a scene from a play, but one actor is going off lines from the script and the second is completely improvising.]  Pretty impressive cast, including Olivia "Maybe the Most Striking Woman in the World" Wilde. I perform with Krysta Rodriguez — very beautiful as well. It is a nice change of pace to do something grounded instead of all the crazy hambones stuff I have been doing all DCM. Very funny but very patient. Krysta told me that if I messed up, she'd kill me. True story. I've ordered a restraining order.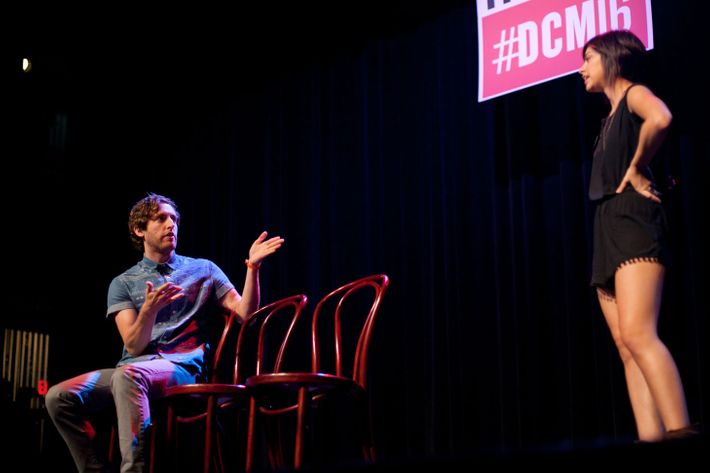 9:00 p.m.
Truly the show I go out of my way to make sure people see: "The Improvised Shakespeare Company." [A show in which performers improvise a fictional Shakespeare play.] I've been doing this show since the beginning, in Chicago, eight years ago. When Blaine Swen, the director, asked me to be in the show, I told him it was a dumb idea and it wouldn't work. Tonight, as with most nights, we get a standing ovation. The boys I have the privilege of performing with in the ISC are gentlemen and scholars each, and I wish us many more years of doing the show. Plus, I just love wearing this tunic. So billowy.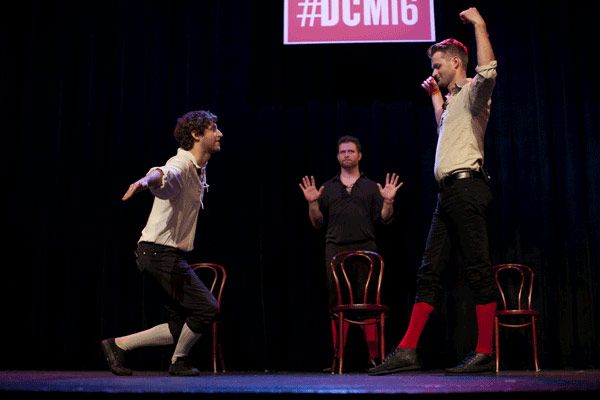 1:42 a.m.
After eating Korean barbecue and being rudely ushered out of the restaurant (I took a dollar off what I'd normally tip – I'm such a badass), I'm back in the hotel writing this. I haven't been to the Del Close Marathon in a couple years, and it was great to be here this year. Back to Ohio tomorrow, where I'll begin filming on The Bronze. I hope to spend the Fourth of July at Cedar Point. Daddy likes a good coaster. Oh yeah, I'm also a 12-year-old. K bye.
You can follow Thomas Middleditch on Twitter @Middleditch or Instagram @tombini.