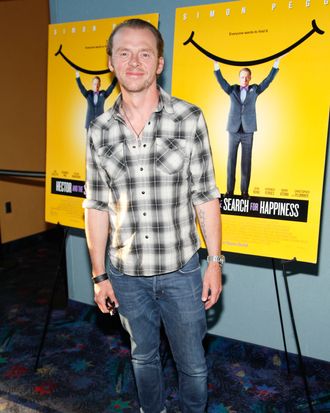 Simon Pegg.
Photo: ADRIEL REBOH/Patrick McMullan
Simon Pegg is no stranger to keeping sci-fi secrets: For the better part of a year, he contented to refute the rumor that his Star Trek Into Darkness co-star Benedict Cumberbatch was playing Khan, even though that turned out to be the case. Now, though, turnabout is fair play, because at Comic-Con this past weekend, Cumberbatch seemed to imply that Pegg is an unannounced part of the cast of Star Wars: Episode VII (which, like Star Trek Into Darkness, is directed by J.J. Abrams). We caught up with Pegg last night at an East Hampton screening of Hector and the Search for Happiness hosted by Serena & Lily, and when asked about the rumors, he got … well, let's just say very cagey.
Here's the whole exchange, if you'd like to parse it for clues:

Regarding Benedict Cumberbatch's recent comments about you being on the set of Star Wars, are you in the next movie?
Yes, Benedict said something at Comic-Con and on MTV.
 
Yes …
Well, J.J. uses me in different roles, and we're good friends. I feel like my face in Star Wars would pop people out of the movie. Look, I love Star Wars, and I don't want people to watch and go, Oh, there's Simon Pegg's face. The film is cleverly cast with these amazing, unknown actors.
 
So, you're not in the movie?
[Smiles.] Of course I visited the set. It's amazing, and I love Star Wars. I want to see everything happening. It looks wonderful, and you need to believe those characters. Any type of stunt casting might just pop you out of the movie.

Interesting that Pegg kept bringing up his face, eh? Does that make you think that he might indeed pop up in Episode VII, but in disguise? Or would he be wiser to sit this one out?