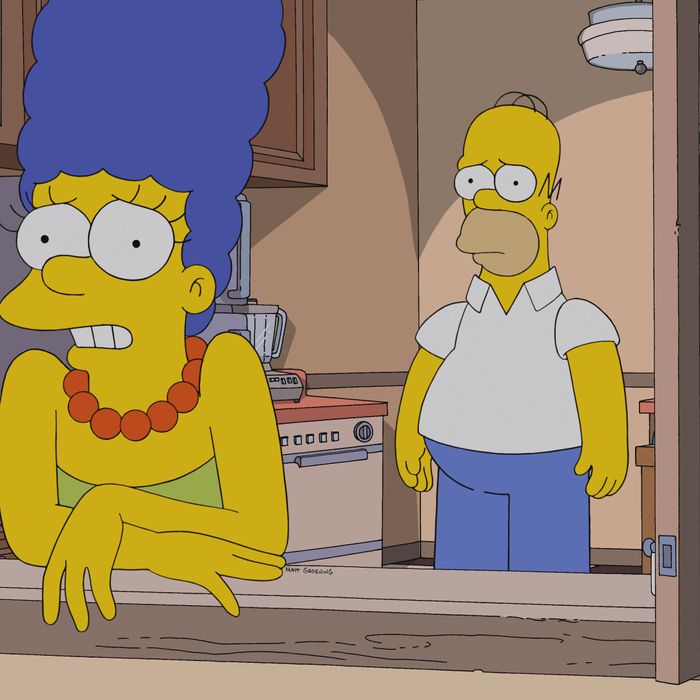 THE SIMPSONS: Marge tells Homer who turned him in to the FBI in the all-new "Steal This Episode" episode of THE SIMPSONS airing Sunday, Jan. 5 (8:00-8:30 PM ET/PT) on FOX. THE SIMPSONS ™ and © 2014 TCFFC ALL RIGHTS RESERVED.
Photo: FOX
Looking over the Emmy nominations this morning, I stopped for a second at Outstanding Animated Program and thought, Oh, cool, Archer. The FX comedy received its first nomination in the category, which is a big deal given its years of excellence. Only then did I notice what wasn't there: The Simpsons. 
This is the first time The Simpsons has been left out of the Outstanding Animated Program category in 20 years — since 1994. But wait: The only reason the show wasn't nominated for Animated Program in 1994 and 1993 — after being nominated in 1990, 1991, and 1992 — is because in those years, The Simpsons was submitted for Outstanding Comedy Series, and Emmy rules say you can't be up for both categories. (It didn't get the Outstanding Comedy nom, but that's a different story.) In summary: This year is the first year that The Simpsons has ever been denied an Outstanding Animated Program nomination.
As a fan who still watches the show every week, this is especially surprising because this season was particularly solid (as later seasons go, anyway). The episode "Brick Like Me" — a.k.a. the Lego episode — was damn near classic: hilarious, heartfelt, and structurally/conceptually/visually inventive. (Read more on "Brick Like Me" here.)
Was the category just too crowded this year? Bob's Burgers and Archer have been wonderful for years and arguably had their best seasons yet — so those are hard to argue with. South Park had a fine enough year, and has routinely been an Emmy favorite; I know literally zero things about this TMNT show, but generally Outstanding Animated Program always includes a kids' show, which makes sense considering it is a category about cartoons. And then there is Futurama, a show also created by Matt Groening, which has 12 Emmy nominations in its own right and wrapped up its series this year. The Emmys love final seasons since it's their last chance to appreciate a show. So it's hard to argue for cutting any of these shows, but still: The snub kind of sucks.
The Simpsons has been an institution for so long that calling The Simpsons an institution is an institution. It doesn't need another Emmy — it has already won an incredible 28 of them — but a nomination is a symbol that though the show might be a bit more hit-or-miss nowadays, it's still relevant. I, for one, am not ready to see it fade out of the conversation. Fortunately, later this year, every episode will be available for streaming for the first time ever, introducing the show's early episodes to a new generation and reminding the older fans what they originally became obsessed with. Also, knowing The Simpsons, the show won't stop anytime soon. It can start another streak next year.