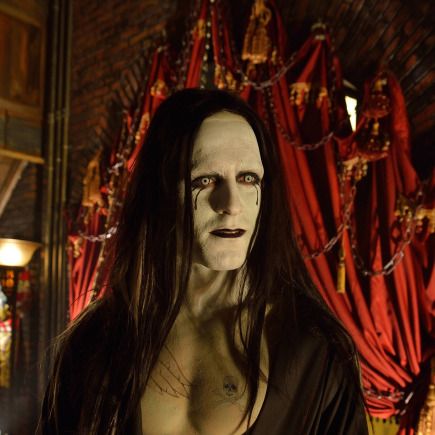 Photo: Copyright 2014, FX Networks. All rights reserved.
When Eph leans over Captain Redfern's incubator and assures his team their highest priority is saving the man's life, he probably didn't count on bashing the poor guy's head in with a fire extinguisher minutes later. But this is the new world we live in now, or at least the new New York. From Flight 753 survivor Ansel's Flatbush house to the site of Vasiliy's latest job on East 52nd Street in Manhattan, evidence of the apocalypse is mounting. Even in the comparative quiet of Kelly and Zach's Woodside abode (the Goodweathers still don't strike me as being a clan from Queens, but whatever), as the camera zooms out from their open living-room window amid darkness and tears, the danger isn't far behind.
The Strain still has plenty of rough edges. "Gone Smooth" busies itself brushing up against stock characters like Vasiliy's latest millionaire client — who's too concerned with how "the Regis fiasco's crushing my portfolio" to realize his Cuban cigars are what's attracting rats — and nose-ringed hacker girl Jax (Genevieve Kang), who swaps manifest info with Abraham in exchange for a video-game console. (Maybe Jax can trade slacker secrets with Revenge's the Falcon.) We also meet Jim's wife, Sylvia (Melanie Merkosky, aka lonelygirl5!), who's tragically unaware that her inclusion in an experimental cancer-treatment trial is less miracle of odds than deal with the devil. Jim, however, is beginning to intuit that Stoneheart and Eichhorst (surely the new Finkle and Einhorn) have no intention of holding up their end of the bargain.
Whatever gave Mr. Kent that idea? Maybe it was the moment when Redfern's veiny proboscis made a beeline for his esophagus, or that aforementioned climax of Eph bashing the captain's cranium to putty. And hooboy, was there ever some gooey stuff in the second half of "Gone Smooth." Our friendly pilot's demise coincided with Ansel slurping down some blood and cartilage from a tray of uncooked mystery meat as his horrified (and conveniently placed) wife looked on, while Eichhorst was busy making Rorschach patterns on the walls with Regis CEO Mr. Flaxton's (Barry Flatman) brain matter. None of which held an LED light to the nonchalant plop of Bolivar's balls into the toilet as he struggled to take his final piss. To quote the penultimate scene of Spaceballs, "Water, my ass — get this guy some Pepto-Bismol!"
Gabe and the other evolving vamps (we shall presumably see what's become of attorney Joan, halfway-there Ansel, and fully sated Emma next week) no longer require a fussy system for dispensing nutrients. And now that the goth star's made his transformation, hopefully this means less time spent with stock entourage members like pill-pushing Dr. Box (Neil Crone). Unless, of course, they're merely bait. (Jack Kesy, who plays Gabe, cuts the figure of a potentially stealthy night crawler.) As creature metamorphoses go, watching Bolivar's dick do an eddy down the drain isn't quite as thrilling as something out of The Howling or Hellraiser. But more than any development yet, it illustrates the kind of deadpan horror Guillermo del Toro and Chuck Hogan were hoping would translate onscreen.
And fortunately for anyone getting antsy, those rats Vasiliy spies seemingly scampering for their lives foreshadow a pace that's about to quicken. It's doubtful Eichhorst would bother putting on his face every morning — an opening that featured both terrific old-school makeup effects and a canny bit of misdirection — if the end of feigning flesh and blood weren't near enough to taste. The cat's out of the bag, the Master waits in the wings, and there's nowhere for mankind to run and hide. The manifestation of evil demands that Eph, Nora, Gus, Vasiliy, and our requisite ragtag heroes — all otherwise representing a mere handful of the city's infinite stories — figure out what's important before it's all eclipsed by a darkness that, as Abraham warns, "will to devour the world and swallow the light."
Apart from all that:
Can't go wrong putting an episode in the hands of a director (David Semel) who's helmed episodes of both American Horror Story and Beverly Hills, 90210.
Looks like Vasiliy has a not-so-secret admirer … who we will no doubt see as a vampire later on.
If Jim died there, I would have bought it.
Of course Zach has asthma.
Geez, Eph, way to reassure your kid after that custody hearing.
Bolivar had to have been a hot item if his YouTube numbers soared by "over two million views!"
Cool touch that Mr. Arnot's bathtub was bloodless, on account of Emma feasting on every last drop.
So I guess former WWE star Robert Maillet (aka Oddities member Kurgan) portrays the Master in massive frame only?
In recaps for the site, I typically end on music notes from the episode. Belatedly, here's some retrospective info from the first couple of weeks: First, Game of Thrones composer Ramin Djawadi did the show's theme music. The pilot episode, "Night Zero," featured a rendition of the popular, traditional Southern folk song "When You and I Were Young Maggie" as Abraham toiled in his basement, and the cut "Gimme Tha Power" by Mexican rap-rock outfit Molotov as Gus drove that ill-fated van over the bridge. And in "The Box," in case you were wondering where that middling goth-grunge sound was derived during some of Gabe's deterioration, you can thank Canadian troupe Jet Set Satellite.