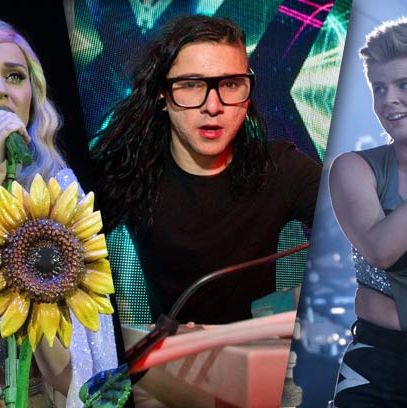 Photo: RD/Kabik/Corbis, Splash News/Corbis, David Bro/Corbis
If you are looking to spend mountains of money in order to see a famous person dance around a stage, then you have plenty of options this summer: Bey and Jay, Drake and Wayne, Katy Perry, Miley Cyrus, One Direction, and more. But if you are only looking to spend as much money as you have to — if you would like to get the best bang for your concert buck — then Vulture has you covered. Using the best of our mathematical abilities, and a good amount of set-list-peeking and YouTube-watching, Vulture has ranked this summer's biggest blockbuster tours in order of worst deal to best deal.
Please note: Ticket prices can vary city to city by a few dollars. We've done the best we can to assemble the average tour ticket prices in general rather than by specific city. Fees are also included in the average ticket price.
Luke Bryan
Average ticket price: $164.20
Set list: 22 songs
Openers: Lee Brice, Cole Swindell, Dierks Bentley, Brantley Gilbert
Hits included: "This Is How We Roll," "Crash My Party," "That's My Kind of Night," "Play It Again"
Added surprises: He rides in a pickup truck that's on fire, and who knows, he might fall off the stage at your show.

Cost per song: $7.46
Worth it? It depends on how drunk you get, but probably not.
Aerosmith
Average ticket price: $130.95
Set list: 18 songs
Openers: Slash
Hits included: "Dream On," "Sweet Emotion," "Cryin'," "Dude (Looks Like a Lady)"
Added surprises: It's an oldies-packed set that eschews most of the band's newer, less well-received material. Plus you get to see Smash play "Sweet Child O'Mine" if you show up early.

Cost per song: $7.28
Worth it? It depends on how much you like Aerosmith deep cuts. It's a pricey ticket.
Bruno Mars
Average ticket price: $99.00
Set list: 15 songs
Openers: Pharrell, Aloe Blacc, Nico & Vinz
Hits inlcluded: "Treasure," "Billionaire," "Grenade," "Gorilla," "Locked Out of Heaven"
Added surprises: Killer graphics (think the massive gorilla videos he used at last year's VMAs) and indoor mini-fireworks.

Cost per song: $6.60
Worth it? Here's why we say no: He's been touring in support of the same 2012 material for a very, very long time. Wait until Mars releases new stuff before catching his show. You'll be glad you did.
Outkast
Average ticket price: $158.08
Set list: 25 songs
Openers: Raury, Kid Cudi, Childish Gambino
Hits included: "The Way You Move," "Hey Ya!," :Int'l Player's Anthem," "Ms. Jackson"
Added surprises: A gigantic projection-screen cube, setpiece throwbacks to the duo's humble beginnings, and special guests at nearly every show.

Cost per song: $6.32
Worth it? If you're a fan of Outkast, go. If not, you can miss this one.
Lady Gaga
Average ticket price: $111.06
Set list: 18
Openers: "Lady Starlight, Hitsune Miku, Crayon Pop, Babymetal
Hits included: "Bad Romance," "Just Dance," "Telephone, "Poker Face"
Added surprises: A section during which Gaga reads letters that fans throw at her, and she throws in the occasional cameo (T.I. popped up in New York for "Jewels N Drugs").

Cost per song: $6.17
Worth it? No, and this is coming from a huge Lady Gaga fan. Save your money for the greatest-hits tour and avoid this Artpop-clogged spectacle.
Katy Perry
Average ticket price: $117.43
Set list: 20 songs
Openers: Capitol Cities, Kacey Musgraves, Tegan and Sara
Hits included: "Teenage Dream," "Dark Horse," "Roar," "I Kissed a Girl"
Added surprises: Balloons floating around the arena; a brief "Vogue" cover; a section that pays homage to Andrew Lloyd Webber's Cats.
Cost per song: $5.87
Worth it? This is an arena spectacle like no other this summer, and the price is certainly right. Go dance the night away.
Miley Cyrus
Average ticket price: $109.85
Set list: 21 songs
Opener: Lily Allen
Hits included: "Party in the U.S.A.," "Can't Be Tamed," "Wrecking Ball," "We Can't Stop"
Added surprises: Miley actually switches her covers up nightly, but she's done Arctic Monkeys, Coldplay, and Dolly Parton proud, and she brings out a guy dressed as Abraham Lincoln during "Party."

Cost per song: $5.23
Worth it? Yeah, just let the cheesy show wash over you. You know you'll have fun.
John Legend
Average ticket price: $87.88
Set list: 20 songs
Openers: Marsha Ambrosius, Mapei
Hits included: "All of Me," "Ordinary People," "Let's Get Lifted," "Where Did My Baby Go"
Added surprises: Covers of Bruce Springsteen and Simon & Garfunkel songs, plus a firm emphasis on the music over the spectacle.

Cost per song: $4.39
Worth it? If you like emotions, sure.
Lauryn Hill
Average ticket price: $85.53
Set list: 20 songs
Openers: None
Hits included: "Killing Me Softly With His Song," "Ex-Factor, "How Many Mics," "Ready or Not"
Added surprises: Three Bob Marley and the Wailers covers; a Stevie Wonder cover; an acoustic set in the middle.

Cost per song: $4.28
Worth it? By all accounts, Ms. Hill has gotten her live shows back on track, and it's hard to say no to a legend.
One Direction
Average ticket price: $87.65
Set list: 23 songs
Opener: 5 Seconds of Summer
Hits Included: "Little Things," "Kiss You," "Live While We're Young," "What Makes You Beautiful"
Added surprises: Fireworks! And Niall plays guitar during some of the songs.

Cost per song: $3.81
Worth it? For the tweens in your life, sure; and for your inner child, also sure.
Paul McCartney
Average ticket price: $134.25
Set list: 39 songs
Openers: None
Hits Included: "Hey Jude," "My Valentine," "Lady Madonna, "8 Days a Week"
Added surprises: You get to hear McCartney do Beatles and Wings classics — you don't need anything else, you greedy person.

Cost per song: $3.44
Worth it? It is always worth it for Sir Paul, but at these prices, it is especially worth it.
Beyoncé and Jay Z
Average ticket price: $138.47
Set list: 45 songs
Openers: None
Hits included: Where do we even begin? "Crazy in Love," "Partition," "99 Problems," "Drunk in Love," and "Single Ladies"
Added surprises: Never-before-seen home-videos of Blue Ivy; Beyoncé wears a wedding dress; there are fireworks and gigantic flamethrowers, too.

Cost per song: $3.08
Worth it? Every penny and more.
Robyn and Royksopp
Average ticket price: $69.50
Set list: 24 songs
Openers: Zhala
Hits included: "Happy Up Here," "Indestructible," "Dancing on My Own," "Do It Again"
Added surprises: Robot costumes; a full-scale laser light show; Robyn wears high-top sneakers.

Cost per song: $2.90 per song
Worth it? Yes, and we shouldn't even have to tell you this.
Miranda Lambert
Average ticket price: $53.03
Set list: 21 songs
Openers: Justin Moore, Thomas Rhett
Hits included: "Platinum," "Fastest Girl in Town," "Automatic," "Priscilla"
Added surprises: She wears a bunch of different outfits and has some of the best live vocals around, country music or otherwise.

Cost per song: $2.53
Worth it? Her disposition permeates the room when she walks in a place, so yes.
Skrillex
Average ticket price: $59.10
Set list: 50 songs (some full-length, some snippets)
Openers: What So Not, DJ Mustard, Milo & Otis
Hits included: "Bangarang," "Kyoto, "Wild for the Night"
Added surprises: Skrillex performs in a spaceship; lasers and fog; some Diplo and Daft Punk "covers."

Cost per song: $1.18
Worth it? There are songs on iTunes that cost more than the $1.18 cost of hearing one song at a Skrillex concert. Why not?