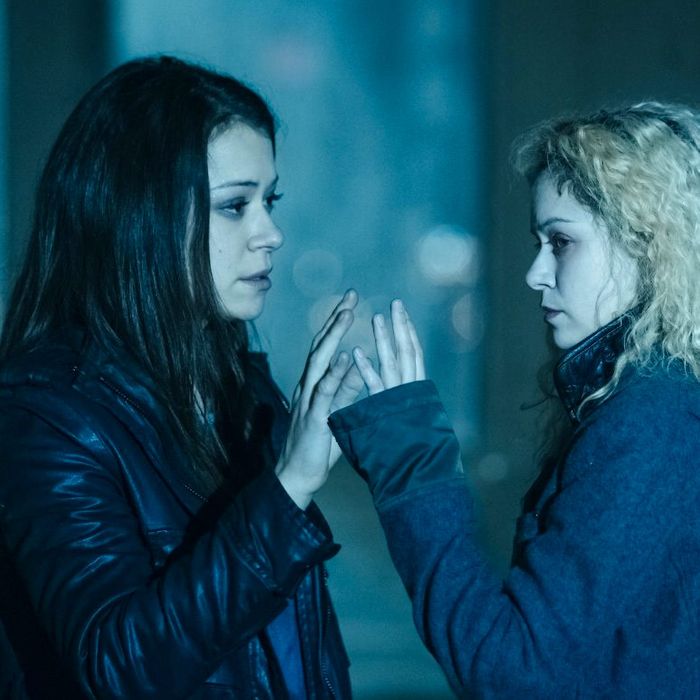 Once again, Orphan Black star Tatiana Maslany was left out of the running for a Best Actress Emmy. "But she played seven different characters this season!" you cry. "One of them was a man!" The outrage is just — Maslany's chameleonlike talents have landed her the cover of Entertainment Weekly and earned her professional recognition elsewhere: two Critics Choice Awards and a Golden Globe nomination, to start. (In fact, Maslany will probably get another Golden Globe nomination next year, because the Hollywood Foreign Press Association typically makes offbeat choices and really has no connection to what happens at the Emmys. Look at Brooklyn Nine-Nine, which won comedy and actor at this year's Globes, and is in contention for neither at the Emmys.)
There are several sad truths about the Maslany snub in play here. Voters aren't paying attention to BBC America's Sci-Fi Saturday. They just aren't. These are not the kind of folks who go to Comic-Con. Orphan Black's ratings are teeny-tiny (550,000 viewers on average watch it live), and sci-fi in general has a hard time breaking through (just ask those Fringe fanatics), and then only for those massive hits like Lost, Heroes (in its first season, anyway), and The X-Files. Maslany may be a superstar shape-shifter in your heart, but picking up votes in the drama categories is notoriously difficult unless you're on a prestige show, or in the case of Scandal's Kerry Washington, the hottest show on television.
And Emmy voters love themselves some stars. Maslany has online buzz by the boatload, and famous outspoken champions like Damon Lindelof and Patton Oswalt, but none of that adds up to actual star power. Take House of Lies, a Showtime comedy that generates zero chatter — quick! what's that show about? — and yet Oscar-nominee Don Cheadle has been nominated for Lead Actor in a Comedy three years running. Alas, love from the internet cannot move Emmy votes the way it rescues Community. But take heart, Orphan Black fans. Tatiana Maslany is in good company: Emmys voters ignored Buffy the Vampire Slayer's Sarah Michelle Gellar for years.