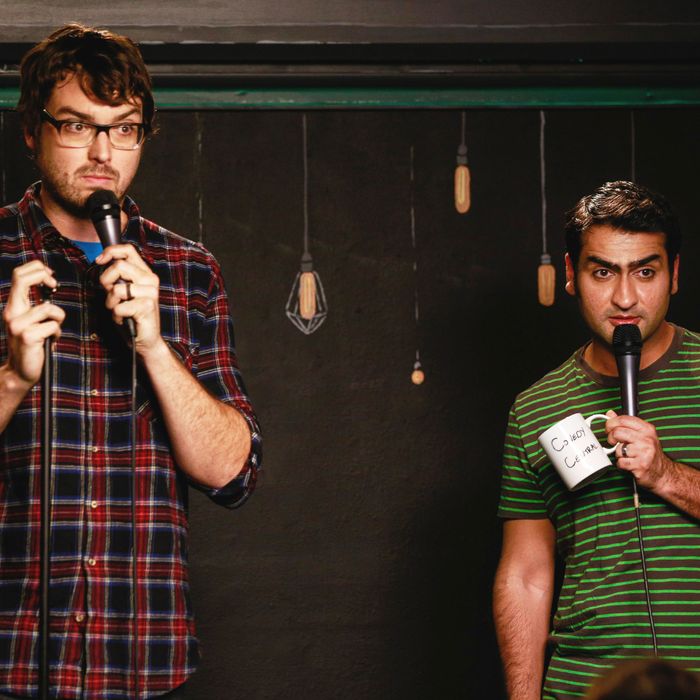 Jonah and Kumail.
Photo: Mediapunch/Shutterstock
"I've always been fascinated with the moment people go from being a just a group in a room to one unit – for me, that's the most interesting thing on the planet," says Emily Gordon, co-producer of The Meltdown with Jonah and Kumail. "Movies do that, and church does that, and comedy shows do that, and I always wanted to make an environment where that happens."
Every Wednesday night, it happens in an unlikely place: the dim, unfinished back room of a comic book shop on Sunset Boulevard.
Just a few blocks east of Los Angeles' biggest comedy clubs, the NerdMelt Showroom is home to one of the most welcoming and well-respected stages in the city. Over the past four years the theater's flagship show, The Meltdown, has hosted hundreds of incredible lineups while cultivating a uniquely inclusive atmosphere, making it as much a clubhouse for comedy nerds as it is a coveted credit for comics. Hosts Jonah Ray and Kumail Nanjiani bring infectious energy each week, peppering recurring bits, unplanned tangents, and conversations with the crowd in between The Meltdown's billed acts and frequent unannounced guests.  Fans know they're just as likely to see a drop-in from Louis CK (or Robin Williams, or Sarah Silverman…) as they're likely to be surprised by pies from the producers around Thanksgiving, or to be encouraged to dress up like their favorite comedians around Halloween.
Emily Gordon and Kumail Nanjiani met in Chicago (incidentally, at a comedy show) and were married within a year. As Kumail's comedy career took off, the pair moved first to New York – where Emily, a former couples and family therapist, took a job at the (now defunct) Comix comedy club and began helping pal Pete Holmes produce a live show – before ending up in Los Angeles. In 2010, when they arrived, Emily had every intention of continuing her comedy career.
"I wanted to start a show anyways," she explains, "but then I was like, I want to start a show that feels like New York shows do, where people just hang out and it's a fun atmosphere."
A few months earlier, Jonah Ray had started a monthly show in the back of Meltdown Comics at the time a largely unused space. But between his own standup dates, and his tours with the Nerdist podcast, he was finding the production duties a bit exhausting. Emily and Kumail's arrival in LA, coupled with Jonah and Kumail's buoyant friend chemistry, made the next steps a no-brainer.
"I had been looking at venues and actually, we were just having dinner – Jonah and Kumail and [Jonah's wife] Deanna and I – and I was like, 'Hey guys, do you mind if we stop and take a look at this venue on the way? I'm trying to find a place to do a show,'" Emily recalls. "Jonah was like, 'I've got a place to do a show, and I don't like doing anything for it,' and it kind of evolved from there."
As quickly as the show attracted a devoted audience, it developed its own distinct character. Fans began to look forward to the routine of the show as much as the show itself, like the high fives they'd receive from resident hype man Ed Salazar, who greets each audience member on their way in, and the weekly crowning of an audience VIP.
"I'm a big believer in ritual," says Emily. "I'm kind of weird about it. We started, from the beginning, rituals within the show. We tried to make the show feel like you're included in this thing where you knew what was going to happen but, within that, anything could happen."
It didn't take long for Emily, Kumail, and Jonah to realize their audience was unique. Grown from the Meltdown shop's community of self-proclaimed nerds, and attracting more hardcore alt comedy fans as its reputation spread, the show cultivated a strikingly respectful, empathetic, and up-for-absolutely-anything crowd. Fans began to give enthusiastic responses to the host's inquisitive banter, often offering up intensely personal stories.
"One of my favorites," recalls Emily, "was when we were asking about theme park stories, and there was this kid who had gone with all his school friends to Disneyland. His friends made a plan to abandon him there, they just refused to hang out with him and he had to walk around Disneyland all day by himself, wondering why his friends hated him. He told the story and the audience started chanting 'we would hang out with you!' It was fucking beautiful."
For regular attendees, the show is often more than just a night out. Groups who met in line now hang each week, and have their own Meltdown-related rituals; couples have met and gotten engaged at the show.
"For me the bigger moments are when audience members will come with stories that will blow your mind – psycho, bizarre stories – and they just reveal them and they feel safe to, and the audience kind of bonds over it," Emily says. "I hope that they leave thinking that they have seen some people be creative and vulnerable, and I hope that they feel like they belong."
The Los Angeles comedy landscape has grown exponentially in the four short years since The Meltdown debuted. Every month, there are increasingly more high-quality shows hosted outside the traditional club circuit, but when Emily and Kumail arrived, there were fewer inexpensive, "alternative" rooms curated for true comedy fans.
"All I was seeing when I got to LA, other than [former UCB mainstay] Comedy Bang Bang or whatever, was guys in ties doing tight six minute sets," Emily remembers. "And I was like, I know other comics are out here, I know them – a lot of them have just moved here. Where are they, where are they going up?"
The success of The Meltdown paved the way for more programming aimed towards the show's savvy fans. The fact that the show's producers were able to turn a cavernous room filled with floor-to-ceiling beams and the incessant (often hilariously timed) chirping of crickets into a cozy enclave established the space as a viable home base for the community growing around it.
"There were random shows happening here and there, but there wasn't a lot of unification to what was happening in the space," says Emily of NerdMelt's earliest inception. "There were a lot of comic book-style shows, but we were the only standup show there. And then, about six months after we started, Chris Hardwick decided he kind of wanted to adopt the theater as a whole, and he picked me to be the program director."
As NerdMelt grew under Emily's curatorial guidance (expanding to offer comedy shows nearly every night of the week, with highlights including Harmontown, Sketchmelt, and Howard Kremer's annual Summahfest), so has The Meltdown (which has been featured at festivals including Bridgetown, SXSW, the South Beach Comedy Fest, and the New York Comedy Fest).
And as The Meltdown's gotten bigger, it's given Emily, Kumail, and Jonah more opportunities to mold the shape of the show. For example last year, during production of The Jeselnik Offensive, host Anthony Jeselnik had an ongoing residency to workshop monologues, where he'd bounce ideas of the crowd and commune with producers immediately after to exchange notes on audience feedback. The producers also always have room for a drop-in or two, and expect to get at least one a week. "Louis, I've never gotten any advance warning from," laughs Emily. "I'll just walk into the store and find him there, which is a lovely surprise."
LA comics look forward to their first Meltdown spot, and out-of-town acts always hope to get booked when they're traveling. Impressively, Emily's managed to keep up with the volume of requests she receives. "I watch every single clip that is sent to me and I try to book the show with a variety of people, where there's big names that you've seen before and people who you've maybe never heard of before, and people who I just know are going to bring something really interesting and new to the audience."
It's important to Emily that performers feel like they're as much a part of the community as the die-hard fans. She has a well deserved reputation as the kind of producer who always puts her performers first, who's always waiting with a compliment the moment a standup steps offstage. "I'm not saying that the show is therapy, but I've been able to use my group therapy skills to run a comedy show, and that's been amazing for me to realize – I've been working in all kinds of fields and everything I've done has kind of perfectly led to this. The skills that I've used to make this safe spot that everybody feels like they belong in, that was all I was ever trying to do in my previous career."
Any given week, NerdMelt's tiny backstage area – a narrow passageway plastered with posters – is host to a handful comics who just come to hang out. "I often have to shush people, which is my least favorite thing on Earth because I feel like a horrible schoolteacher," Emily laments, "but I often have to shush the comedians backstage because they've having fun."
As it turns out, The Meltdown's jovial atmosphere is partly responsible for the show landing its own Comedy Central series, which premieres later this month.
Mike Rosenstein, a producer at Ben Stiller's Red Hour Films, was a fan of the show long before he began working on it. "Mike just came to the show every week for a full year and didn't ask anything, just wanted to come hang out. I just thought he was this random comedy dude, and slowly he was like, 'Hey, have you ever thought about doing this as a TV show?'" Emily explains. "He was the one who brought Lance Bangs, our director, who was also just there to hang out and watch the show. And when we started piecing together what the show would maybe be, with stuff happening backstage as well as onstage, there's nobody better at capturing fly on the wall moments than Lance Bangs. It just kind of fell together."
The Meltdown with Jonah and Kumail, the Comedy Central version, was filmed at home on the NerdMelt stage, and features many of the show's regular performers (the first episode has Steve Agee, Moshe Kasher, Neal Brennan, and David Koechner) alongside plenty of endearing Jonah/Kumail banter.
It's also got lots of behind-the-scenes footage, which is especially exciting for Emily. "The idea that this is going to be on television, and that other people will see me running a comedy show and know that's a job is really, really cool, because I didn't know this was a job until I was in my late 20s," she says.
"I love the idea that someone would see that and think, 'Oh, that's what I want to do.'"
For hundreds more Meltdown photos from over the years, checkout show photographer Tyler Ross's Flickr.
Samantha Pitchel is a Los Angeles-based comedy booker.