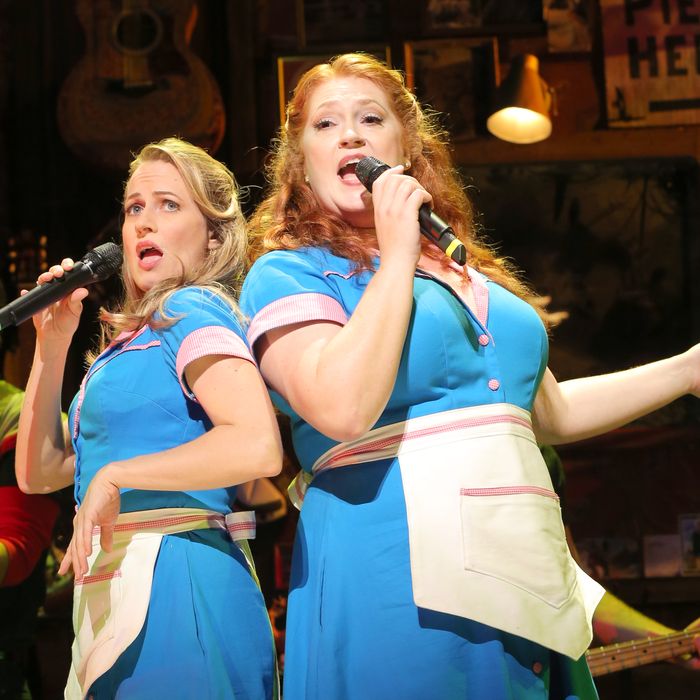 A pair of the Dinettes.
Photo: Joan Marcus
Can friendliness be baked into a song, the way peaches are in a pie? On the evidence of Pump Boys and Dinettes, the final presentation of the Encores! Off-Center series this summer, the answer is yes. More a country-music revue than a musical, Pump Boys offers a series of relentlessly ingratiating clap-alongs that melt sophistication as if it were a pat of butter on a steaming biscuit. Sorry for the grits-and-gravy imagery, but after sitting through the show's 19 numbers — rockabilly paeans to roadside culture, a cappella hymns to catfishing, twangy odes to Mamaw, boot-scooting two-steps, and honkytonk declarations of a mostly notional ideal of female empowerment — my New York brain is basically Southern-fried.
The original production opened Off Broadway in 1981 and moved the next year to Broadway's tiny Princess Theatre — now the M&M's World store. It was a handcrafted if not down-home affair: The authors, who were also the performers, were no hicks. (Among them were Debra Monk and Cass Morgan, both of whom remain Broadway stalwarts.) Their achievement was to make country music, with all its lard, palatable to a theater audience by doubling down on its double entendres and deftly hinting at the darkness behind the sentimentality. So yes, there's a filament of a plot about a bunch of redneck attendants at a South Carolina gas station and the sisters who run the Double Cupp diner across the road. And yes, the wisp of a love story between Rhetta Cupp (the spitfire Dinette) and Jim (the leading Pump Boy) teases its way to a satisfactory conclusion without ever saying much that isn't a hoary country trope. But especially in the women's solo songs, we get quick flashes of sadness and hardscrabble accommodation that enrich all that zingy cheer: Rhetta is a single mother tired of bad men ("Be Good or Be Gone"); she and Prudie work themselves to the bone ("Vacation"); and the comfort of family (the song "Sisters" tells us) is no surefire protection from alienation:
Could we go back to when we were children
The best of sisters, but never friends
You were a stranger then, you are a stranger now
Could we ever be children again?
It would be a mistake to read too much into what is basically just a celebration and, to some degree, a falsification of Southern life. We are, after all, on Strom Thurmond's turf; if the show didn't keep itself within the protective nimbus of its feel-good construction — and whiteness — it might admit to more than a vague sense of dread. As it is, Pump Boys works beautifully when done fast and light, as is the case in this production, directed by Lear deBessonet. On another delightful Off-Center set by Donyale Werle, this one a bricolage of country accouterments, the cast, with shockingly little rehearsal, offers Broadway-ready charm and vocal expertise. (Also instrumental: The men accompany themselves on guitars, bass, and keyboards; the women on devised kitchen percussion including spatulas and pie chains and spoons.) The standouts are Hunter Foster as Jim, with a slightly acid delivery to cut the grease, and Katie Thompson as Rhetta, rescuing every blowsy mama cliché with the laser precision of her huge and versatile voice.
But even with such multi-talents, Pump Boys and Dinettes would be a hard sell on today's Broadway. (A planned revival, to be directed by John Doyle, was scuttled last year.) Its pleasures are too simple — and yet, it pains me to say, not simple enough.
You can see Pump Boys and Dinettes at City Center through July 19.