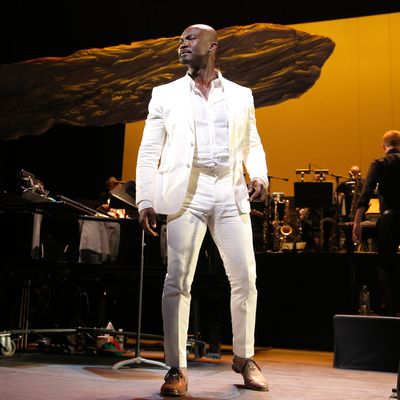 Isaiah Johnson in Randy Newman's Faust.
Photo: Joan Marcus
"It's not the length," a friend said after seeing Randy Newman's Faust last night, "it's the Goethe." Indeed, the Encores! Off-Center concert of the 1995 musical was plenty swift, its book (such as it is) jettisoned by narration, most of it provided by Newman himself as the devil, that came amazingly close to not outstaying its welcome. But even a brief two hours was enough to make clear what a mess this show is, and why, after a high-power concept album and full stagings in La Jolla and Chicago, it never got to Broadway, or even off. The original story, a high point of European Romantic sublimity, has been reduced by Newman to the lowest sort of sophomoric spoofery, as the devil and the lord fight not for the soul of God's favorite human — a despairing scholar, in the Goethe — but for a nitwit Notre Dame undergrad who fancies himself a punk rebel. With the engine of the plot thus disconnected, amusing if knee-jerk blasphemies are left to provide the only narrative spark: God is a "master of bullshit" who is bored to the point of golf. The devil is no less dull.
Apart from the red horns and red-satin-lined cape, Newman's characterization of Beelzebub barely differed from his usual shambolic stage persona. He seemed to have a passing familiarity with the proceedings (which were unavoidably underrehearsed) and usually came within an octave of the written melody. His best contributions were mostly ad-libs, including a dead-on description of his songs as endless old-timey shuffles. Dead-on as far as the devil is concerned, anyway. For the odd thing about Newman's Faust is that there is a gorgeous score hidden like a field-and-ground figure within it. That score is given to the supporting players: God, God's for-some-reason-British assistant, and Margaret (Faust's beloved) each get a beautiful and  highly original song or two that could, under other circumstances, form the basis of something worthy of the tale. (The Off-Center series' luxury casting gave us Isaiah Johnson, Michael Cerveris, and Laura Osnes in those roles.) The gospel choral material, sung by the fantastic Broadway Inspirational Voices, may not make much sense for Catholic South Bend, but provided some necessary thrill. Perhaps that's the real Faustian bargain here: The good guys get the good numbers, and the devil takes the hindmost.
Faust played July 1 only, at City Center.