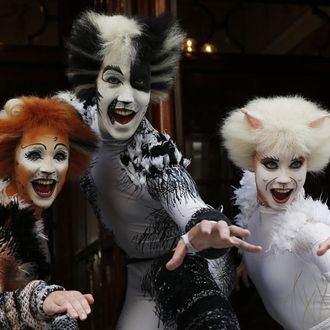 Photo: Courtesy of Lefteris Pitarkais
London's West End is reviving the musical Cats once again — which is not a surprise considering the success of the previous runs and that cats are still huge on the internet. But while he isn't at the point of working Grumpy Cat or Lil Bub into a production (even my own suggestion makes me shudder!), Yahoo reports that composer Andrew Lloyd Webber is planning to spice things up with some "hip-hop flavor":
Lloyd Webber said he was making the character of Rum Tum Tugger a rapping street cat because "I've come to the conclusion that … maybe Eliot was the inventor of rap. "The thing about the Eliot verse is that you can tell he's American. Nobody other than Eliot would have written 'The Rum Tum Tugger is a curious cat,'" the composer said.
All we need is an appearance by MC Skat Cat and a feature by Macklemore, and this is a guaranteed hit.