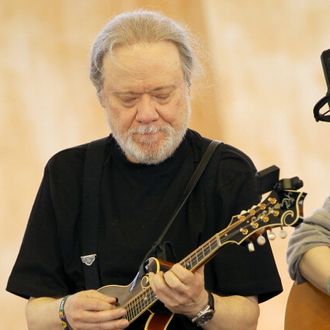 Tommy Ramone, the last original member of the punk rock group The Ramones, died Friday in Ridgewood, Queens. Ramone, born as Tom Erdelyi in Budapest, Hungary, began as the group's drummer before handing over his sticks in 1978, and working as the band's record producer. He was 62.
The Ramones Facebook page announced his death earlier on Friday with the following quote from Tommy:
"It wasn't just music in The Ramones: it was an idea. It was bringing back a whole feel that was missing in rock music — it was a whole push outwards to say something new and different. Originally it was just an artistic type of thing; finally I felt it was something that was good enough for everybody."
The Ramones' influence vastly outstripped their commercial success. None of their albums ever cracked the top 20 on Billboard, and their biggest hit was arguably "Baby, I Love You," which reached number eight in the U.K. And yet their musical style with their minimalist guitars and thrumming frenetic pace shifted the tectonic plates of rock and roll.
In a video during their 2002 Rock and Roll Hall of Fame induction, producer Rick Rubin said, "The Ramones really invented a whole new genre. I don't know if music would sound the same if it were not for the Ramones." Here's a clip of the induction ceremony, where Tommy talks about bandmate Joey, who had died the previous year: