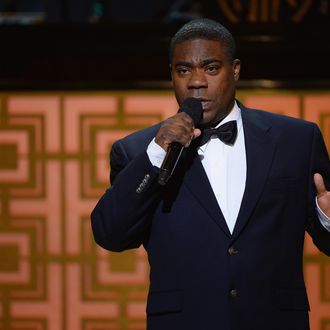 Photo: Theo Wargo/Getty Images
Tracy Morgan is suing Walmart for negligence in the June car crash on the New Jersey turnpike that left him and several others hospitalized and killed fellow comic James McNair. According to the suit, Morgan and others allege Walmart was "careless and negligent" because the company "knew, or should have known" that the driver, Kevin Roper, who had to commute over 700 miles before starting his shift, had been awake for over 24 hours prior to the accident. The suit alleges that this was "unreasonable" and that Roper's hours were not in compliance with federal standards to combat driver fatigue. Furthermore, they claim that Walmart "not only failed to condemn, but condoned this practice of its drivers routinely violating" federal regulations.
In response, Walmart released the following statement: "This has been a terrible tragedy … Our thoughts continue to go out to [the victims], their families and friends, as well as to the families and friends of everyone involved, including Mr. McNair, who lost his life. We are deeply sorry that one of our trucks was involved. As we've said, we're cooperating fully in the ongoing investigation. We know it will take some time to resolve all of the remaining issues as a result of the accident, but we're committed to doing the right thing for all involved."
Update: A representative for Tracy Morgan announced today that he has left the rehabilitation center to convalesce at home.