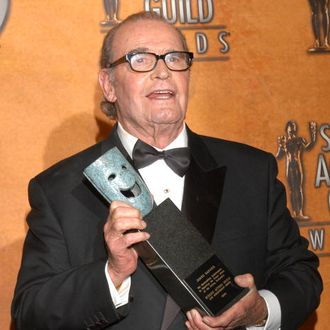 James Garner, best known for his TV roles as the reluctant heroes of Maverick and The Rockford Files, died at his home in Los Angeles at the age of 86. While younger generations might know him better as Ryan Gosling's older self in The Notebook, Garner was a fixture on TV for decades, first landing his Emmy-award-winning role as the sardonic gambler in Maverick in the late 50s, and then playing private eye Jim Rockford in The Rockford Files for much of the 70s. The late director Robert Altman, who directed him Health, told Esquire, "He is often overlooked because he makes it look so easy, and that is not easy to do. I don't know anyone in the business with his charm and charisma who can act so well."
Born James Scott Bumgarner, he was the youngest of three sons in Norman, Oklahoma. He worked a series of odd jobs and served in the army during the Korean War before eventually landing a non-speaking role in the Broadway play The Caine Mutiny Court-Martial. When the play went on tour, he took the main role as Lieutenant Stephen Maryk. 
He was also known for his TV commercials for Polaroid with fellow actress Mariette Hartley. Even in those 30-second spots, his charm abounds.